Callaway Golf & MLB's Padres Go for Green with Stadium Golf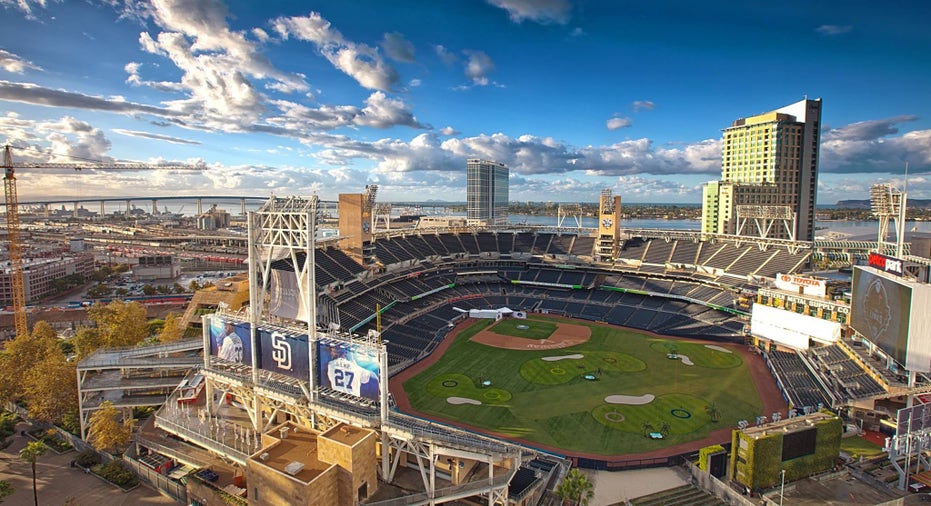 Callaway Golf (NYSE:ELY) and its playing partner, the San Diego Padres, have opened play on a unique nine-hole "golf course of dreams" inside the Padres' Petco Stadium.
Executives from Callaway and the Padres as well as some VIPs and media played Wednesday, November 4, taking cuts on the infield and from the rooftop tee boxes.
Harry Arnett, Callaway's Senior Vice President of Marketing, helped hatch plans for the promotion. In an interview he likened the experience to a first visit to Disney Land or the hallowed grounds of Augusta National Golf Club, adding, "We want people to see we're the type of brand that's willing to think differently to create incredible fan experiences for golfers."
Arnett notes the approach sets up everything else. "The journey to the first tee goes through the clubhouse, the locker room, the private players area, the private batting cage, and then you enter the tunnel we created that takes you to home plate."
And it's this type of exclusive access that attracts serious golfers and trendsetters from attractive demographics and who undoubtedly like to share online; just the type of people Callaway wants swinging its clubs and putting its golf balls, which are provided as part of the green fees.
"For us it's a cool brand association with the Padres and Petco," Arnett says, adding, "We want to be the most aspirational and accessible [golf] brand."
The promotion gets high marks from Scott Minto, Director of San Diego State University's Sports MBA Program. "This is incredibly creative, both the Padres and Callaway deserve credit for something that benefits the ball club and the brand. It's an effort to make Callaway seem younger and hipper."
It's also a way for them both to reach Millennials. "Someone attracted to hit a golf ball off of a terrace onto an infield is a thrill seeker, up-for-anything type of golfer--that's something Callaway would covet as a market…Baseball is trying to hit that same demo."
The urban golf experience, dubbed The Links at Petco, opened to the public Thursday, November 5 and runs through Monday, November 9. The tee sheet is full, even after organizers added two additional days of play when tee times sold out hours after the event was announced. Green fees range from $50 to $200 per person for the Upgraded Platinum package that includes a Padres-branded limited edition MD3 Wedge. Callaway expects some 1,600 people to play The Links at Petco over the weekend.
Big Bertha drivers and other prizes will be awarded on the course. The Par-3 layout lets golfers tee off behind home plate and swing for the fences, while the outfield doubles as a fairway that most duffers can find, even from rooftop and upper deck tees. Padres officials say mulligans are not only acceptable, but hitting a second ball is encouraged (unofficially, of course).
Meanwhile, Callaway's stock is hovering at a post-recession high; the golf gear maker last month reported third quarter sales and profit gains versus the period last year and boosted its full-year forecast.
Arnett is optimistic that the golf gear maker, and the game itself, will stay on the upswing. "From a business standpoint we've gained a lot of share. People are buying golf equipment again, we're really positive about the future…I think we're still in a share-gain industry right now, but this year is up a little from last year. We've had a couple years where the entire industry is down."
Padres CEO Mike Dee told FOXBusiness.com that the course "was better than we dreamed."
And he has done more than dream about playing golf in big-league venues including baseball diamonds and football gridirons. The sports executive admits to sneaking on to practice his golf game at Boston's Fenway Park and Miami's Sun Life Stadium at previous jobs.
"It's the ambience we've created that makes a difference," Dee says, "We have sand traps and palm trees around the greens, and video of famous golf holes and sound effects on the scoreboard."
He adds it was a joint effort to take the course from a pipe dream shared over lunch to this week's tee box. "We may have had the idea from my late nights (hitting golf balls) at Fenway or Sun Life, but the genesis came from a collaborative effort with Callaway. For them it's getting clubs in the hands of golfers, there's no better way than having people using their equipment…whenever we can attract new visitors it benefits our core business as well. We're trying to make sure we utilize the stadium year-round."
And Dee says he's already looking forward to hosting the event again next year.
"We're excited, and based on interest from the golfing community and the sellout we have this weekend, and Callaway is thrilled with the course, its design and the reaction we've gotten; we're already talking about The Links 2016."