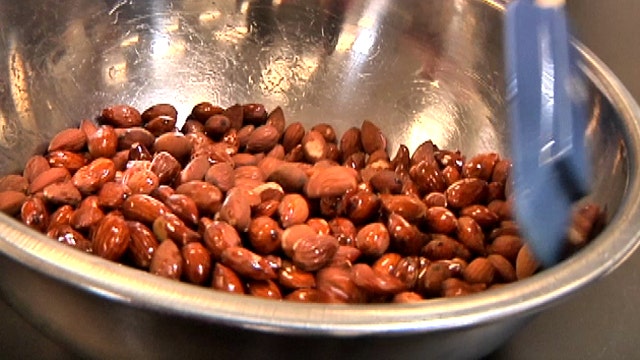 Imagination is meeting science for California's almond industry, as Blue Diamond Almond Growers have opened up the world's first and only Almond Innovation Center.
"You can imagine a food, and we could put it together here," said director of research and development Mike Stoddard of Blue Diamond Growers.
Future almond growers are looking to incorporate almonds into anything they can think up and the Almond Innovation Center will be the place to find the newest creations of almond-based products.
"You can make anything out of almonds. You can make it better, more nutritious and more valuable to the consumer," said John O'Shaugnessy of Blue Diamond Growers.
The Innovation Center is half medical lab and half kitchen. The five-member staff creates tasty almond products including flavored almonds, almond crackers, and almond milk.
"In 1998, Blue Diamond introduced Blue Diamond Almond Breeze Almond Milk. It was the first broadly commercially available almond milk in the world. Its popularity can't be understated, it's currently growing at 80% annually and it's larger than sales in soy milk in the United States," said O'Shaugnessy.
The 6,500 square-foot center allows Blue Diamond Growers to expand by adding new equipment and developing new products for the almond industry.
Almonds are a billion-dollar industry for the Golden State and one of the largest in California's agricultural economy. Farmers in California produce 80% of the world's almonds.
"[Growers] continue to deliver the high-quality almonds that they have been doing for 102 years we can do the rest," said O'Shaugnessy.
Blue Diamond Growers represent about half of those almond farmers in the state. For new almond farmer Kyle Balakian, he's excited to try his luck at growing the nut for the first time.
"I definitely think we are going to do really good continuously, because these new products will be coming out and I think they really entice people to almonds. And the greater demand for almonds, the better price we're going to get and the more trees we're going to be able to plant," said farmer Balakian of Reedley, Calif.
On average it takes about 6 months for a new product to be developed -- and the smokehouse flavored almond is the No. 1 seller.