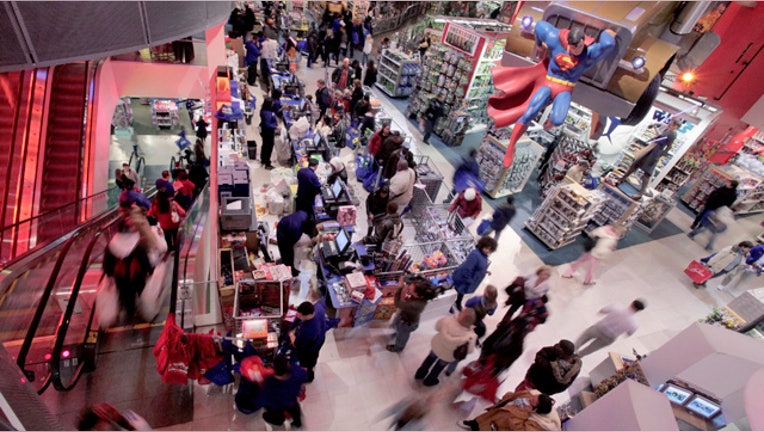 Blame it on the lack of available credit or 1970's nostalgia, but expect layaway to make a big comeback this holiday season.
Buying early and paying the store back over time may seem like a good deal, but experts warn that shoppers need to be cautious when participating in layaway programs.
Retail behemoth Wal-Mart (NYSE:WMT) started its holiday layaway option on Oct. 17: Shoppers who buy at least $50 of products can put 10% of their total purchase down along with a $5 fee to be able to pay for their purchases incrementally over the next two months.
The idea behind layaway is to keep consumers from racking up debt during the busy holiday season, but Carmen Wong Ulrich, author of The Real Cost of Living, advises against these plans because it also prevents them from cashing in on sales.
"You are basically locking in items at the full price," Wong Ulrich says. "You are just not going to get access to the sales. The huge sales between now and December-- you will see between 20 and 70% off."
Most shoppers put items that are more than $100 on layaway, according to Wong Ulrich, and retailers are more than happy to sell things full price earlier in the holiday season.
Scott Gamm, founder of HelpSaveMyDollars.com, says his biggest concern is that consumers will sign too many layaway contracts under the guise of saving.
"I think the idea is interesting that you can pay off your gifts by the time the holidays roll around," he says. "But don't keep signing on layaway contracts, you are paying so much money in fees that you could have bought another gift."
Here are experts tips that consumers need to know about using layaway this holiday season:
No. 1: Plan ahead. Before signing a layaway contract,make sure you can actually come up with the money to pay for the products, Gamm advises. Unlike outstanding credit card debt, which will just accumulate interest, failure to pay your layaway means you lose the product.
"They still get to keep the items and your fees," he says.
No. 2: It may make more sense to save. Wong Ulrich argues that if consumers are going to use layaway and then pay off the store in either eight or 12-week payment cycles, it may make more sense to save that cash instead.
"If you pay in eight weeks (after saving)  in full, you can still get the discount," she said, rather than opting for a layaway plan.
No. 3: Know the fees.,  According to Wong Ulrich, most stores charge a service fee for their layaway plans. Some stores also charge a cancellation fee if you fail to meet payment obligations.  K-Mart charges a $5 service fee for an 8-week contract and a $10 fee for a 12-week contract.
Some retailers, including Wal-Mart and K-Mart, also ask for a down payment on the item(s).
No. 4: Read the fine print. Before agreeing to any terms for a layaway program, Wong Ulrich recommends to ask the store for a printed copy of its layaway policy, and read it. This will ensure you know what you are getting into, and what your responsibilities are as a part of the program.
No. 5: There will be other sales.  Wong Ulrich says consumers who use a layaway programs wind up losing out on sale prices. With the current economic climate and lack of consumer spending, retailers are expected to offer deep discounts.
Gamm says retailers are so desperate to cash in this holiday season, that there will be "Black Friday-esque" sales each week.
"Retailers are going to take advantage of this entire season, so I wouldn't be too concerned about missing out on deals," he says.