'Buspreneurs' on the 2014 StartupBus Experience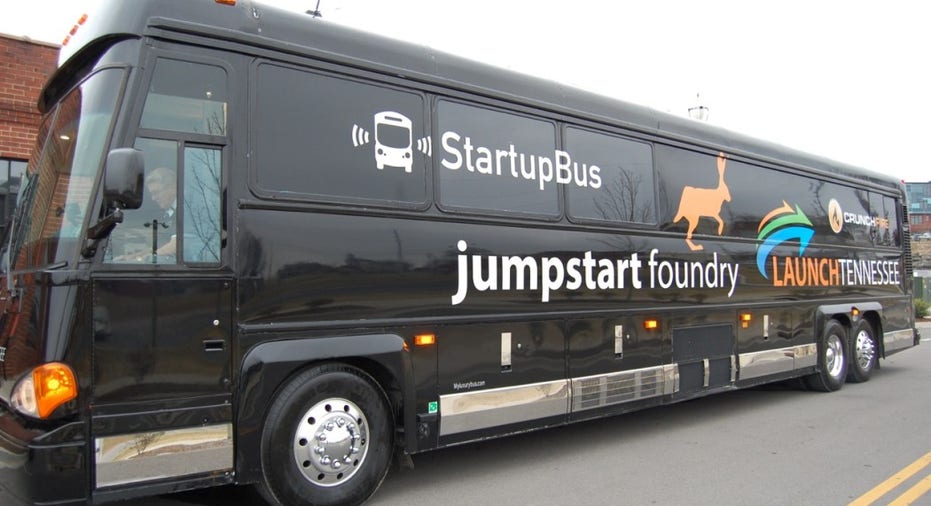 While many entrepreneurs are flying in this weekend to the SXSW festival in Austin, Texas, others took the StartupBus.
For the fifth year, the StartupBus competition placed would-be entrepreneurs on buses headed for Austin with a lofty goal: Create a startup in only 72-hours with strangers.
This year, seven buses left from cities including New York City, Tampa, San Francisco and Seattle, says StartupBus North America director Jon Gottfried.  Here are some stories from the bus:
No. 1: Ashley Mooney, Tampa Buspreneur
Digital concept manager Ashley Mooney rode the bus from Tampa for the second year in a row.
"I think it's a great experience to learn and get exposed to so much in such a small amount of time," says Mooney.
Mooney's team worked on a makeup discovery app called BelleLush, which allows users to share the latest product trends and buy them instantly.
"In a perfect situation, the app will have a live demo and then be available right after StartupBus," says Mooney.
She says participating in the competition has taught her valuable lessons about entrepreneurship.
"The best thing is to always take action and be exposed to opportunities. And even if you're failing, fail forward and lean from it, without losing enthusiasm," says Mooney.
No. 2: Tatiana Becker, Seattle Buspreneur
Coffee industry veteran Tatiana Becker is a first-time entrepreneur. She pitched an idea called Beander, which helps small roasters purchase green coffee.
"Small roasters need to buy coffee that's already here – it's inefficient. They have to go to importers' site, go through spreadsheets that are hard to read and go back and forth calling the importer and visiting for tastings," says Becker, explaining the challenges faced by smaller coffee roasters.
With Beander, Becker and team are working on an ecommerce site that allows roasters to browse through coffee offerings, read reviews and place orders – all in one place.
Becker says the experience was gratifying, but not without its challenges.
"Figuring out how to leverage everyone is key. You have three or four days to build a full company and figuring out how everyone can maximize their time and talents is essential," says Becker.
No. 3: Evan Hammer, New York Buspreneur
Evan Hammer's team took the top prize at the StartupBus finals on Thursday, debuting SmartHost, a tool for expertly pricing vacation rentals for sites like AirBnB and HomeAway.
A software engineer by training, Hammer says he was impressed by how much his team was able to accomplish in just a few days on the bus.
"You put a bunch of really driven people on a bus for 72 hours and lock them in a room them together  -- it's amazing what they can do," says Hammer.
Hammer says it's also been rewarding to see how supportive all the buspreneurs were – even those on other teams.
"Every single person wants to help or connect us with someone," says Hammer. He says the team is going to reconvene in a few days to decide whether to continue working on SmartHost.
"It's a special thing to find people of the same mindset and feel this community around you," says Hammer.