Businesses Offering Veterans-Day Deals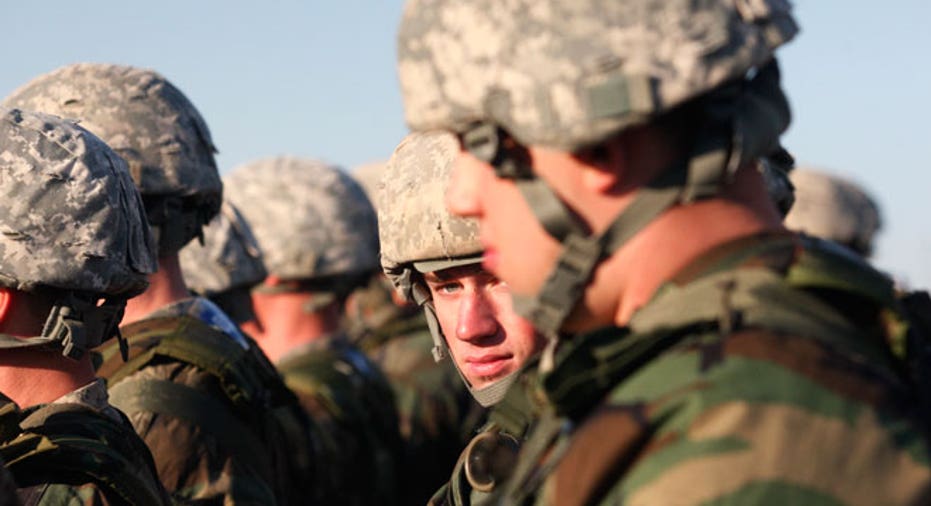 This Veterans Day, businesses across the country are giving back to our nation's soldiers. From restaurants to medical clinics, a host of small and large businesses are saying thank you by offering up all sorts of freebies.
"We want them to know we are here to serve you and thank you," says Tom Linafelt, a spokesman for Applebee's. "Applebee's is the heart of America. We want to honor those who serve the country."
To honor veterans and active duty military, Applebee's will be giving away a free meal on Veterans Day. Veterans and active duty military can choose a dish from the free Thank You Meal menu. In addition to the free meal, this year, as part of its Thank You Movement, Applebee's is encouraging the community to tell the story or stories of veterans, active duty military or military families in need by describing their situation, what arm of the military they served or are serving and what everyday household items they are in need of.
"We find it makes an impact on their life, maybe more so than one meal a year," says Linafelt.
California Pizza Kitchen (CPK) also plans to say thank you to members of the military on Veterans Day by giving veterans and active military a complimentary entrée from its special Veterans Day menu.
"We are grateful each and every day for the tremendous commitment, sacrifice and heroism exemplified by our military, past and present," said California Pizza Kitchen Chief executive G.J. Hart in a press release. "Veterans Day provides us with an opportunity to come together and honor the men and women who defend this country, and I speak on behalf of all California Pizza Kitchen employees when I say 'thank you and, please, be our guest on Veterans Day'."
Wayback Burgers will be giving U.S. veterans and active-duty military a free Wayback Classic Burger with the purchase of any side and drink. Gillian Maffeo, director of marketing, says the company will be providing free food to everyone on the Port Hueneme Naval Base in Ventura California where it has a location. The giving doesn't stop on Veterans Day. Maffeo says participating locations offer discounts to members of the military and veterans all year long. "Many of our guests have connections to the military, so giving back to those who serve our country is very important to us," says Maffeo.
Golden Corral, which has been giving a totally free meal on the Monday following Veterans Day for 13 years, serving 440,000 last year, also offers its Camp Corral program to children of active duty military. Camp Corral is a free week of summer camp with an emphasis on children of wounded and fallen heroes, says Bob McDevitt, senior vice president of Franchise Operations for Golden Corral. The company also teams up with Disabled American Veterans to raise money to increase their ability to offer services to Veterans. Last year it raised more than $1 million.
"It's important to recognize the sacrifice that our veterans and active duty military make every day to defend our freedom," he says.
East Coast Wings & Grill will offer veterans a free appetizer or free dessert of their choice on Veterans Day. The deal is valid at all locations nationwide, says Maria Capparelli, director of marketing. The offer is good with a minimum $10 purchase. Items on the "Sharables" section of the menu are excluded. In addition to honoring vets on their special day, Capparelli says East Coast Wings in participation with VetFran offers veterans a $5,000 discount off its initial license fee for a franchise and reduces the royalty by 1% for the first full year of a new store operation.
While many restaurants will be offering deals, it's not the only type of business that will be honoring Vets and active duty military.
AFC/Doctors Express Newark in Newark, Calif. is one example. They are offering a free medical exam by a board certified doctor, as well as any follow up recommendations or referrals to specialists or written prescriptions if needed. The costs of the check up and any associated services like X-rays or lab work will also be picked up by AFC/Doctors Express Newark.
"Our organization has a lot of respect for our service people. They offer their time and service for us," says Tom Cusumano, owner of AFC/Doctors Express Newark. "My son served in the current wars, I had brothers in the Vietnam War, and relatives in the military, too. We want to thank them and all the other veterans out there for their service to us."