Business Owner in Cyprus: 'Nobody Has Any Money'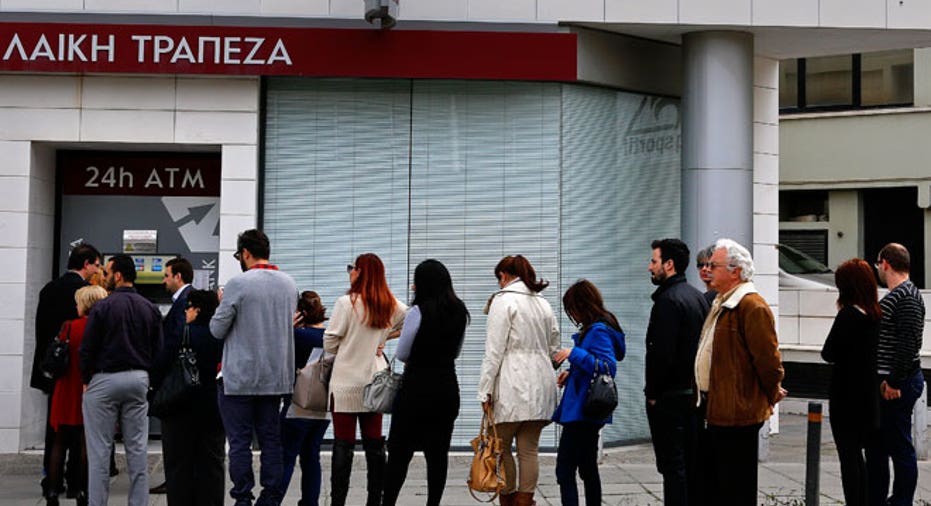 After a nearly two-week shutdown, local banks in Cyprus opened their doors on Thursday -- but it may be a long time before life on the small island nation returns to normal.
Residents and business owners lined up for their first chance to access cash since March 16, but it was hardly business as usual. And some say it won't be for some time, if ever again. As along with the international bailout package that rescued the tiny nation from what some feared would be financial implosion, also came capital controls, plus a haircut of up to 40% for deposits over 100,000 euros.
"Banks will lay off employees, the government will cut spending and jobs, and then these people won't be able to go to restaurants or spend money. It's going to cycle downward from there," forecasts Dr. Peter Morici, an economist and professor at the R.H. Smith School of Business at the University of Maryland.
"In the end, I think Cyprus will be permanently depressed, like Greece," adds Morici, who estimates that the Cypriot economy will contract by at least 10%.
Adding insult to injury, he says, is the fact that Cyprus will still be tied to the euro. As a result, prices won't drop low enough to result in a huge jump in tourism, which could kick-start the economy. "It's a sacking of Rome-sized tragedy," says Morici.
Francesco Saraceno, a macroeconomist at Sciences Po, in Paris, says that consumer confidence of the tiny island nation will plummet and decrease demand. "The short term effect of the recent episode will be calamitous for small businesses," he predicts.
On the ground in Cyprus, however, there are conflicting accounts by those in the tourism and hospitality industry: Some say that the economic drama has already cost them business, while others say they have nothing to fear. Economist Nicolas Veron, a visiting fellow at the Peterson Institute for International Economics, says that the fact that tourism tends to be of the "premium" variety in Cyprus may help cushion the blow to the industry – though it won't replace the banking sector, he cautions.
Stavros Rossos, the manager of the Golden Bay Beach Hotel, a five-star hotel in Lanarca, says that the media has been blowing the chaos out of proportion. "Aside from the fact that banks are not open, things are running OK," he says.
Rossos says there have been no cancellations, and there have actually been quite a lot of new bookings made in the past week. "People seem to be very relaxed," he says, referring to tourists. "I haven't had a single question."
In Protaras, Capo Bay Hotel manager Maria Anastasi agrees with Rossos, saying that the media is completely "misrepresenting" the situation in Cyprus.
"I read one article where they said tourists are being attacked by thieves, when in fact the only direction was to be more cautious when carrying cash – as all tourists should be in any country!" says Anastasi.
She says that the Capo Bay Hotel hasn't had any cancellations yet.
One troubling sign, though, is tourism's reliance on Russian travelers, who may decide to go elsewhere if they pull money out of Cyprus, suggests Veron. Marios Panteli, manager of the Aeneas Hotel in Ayia Napa, says that as of now, there is still interest from Russian travelers, and he believes there won't be any cancellations.
While the other hotel managers claim that nothing is amiss, Panteli says that he's been having some issues with suppliers in terms of keeping his hotel stocked. "They won't accept checks and want to be paid in cash – it's not a big problem, but a number of small problems," he says.
In the capital of Nicosia, though, the problems facing the euro-area nation seem more magnified. Marios Kyprianides, who runs the upscale Domus Lounge Bar in Nicosia, says that revenue over the past ten days has decreased by over 80%. "We still need to pay running costs like rent, and we haven't had barely any income," he says.
Kyprianides says that "nobody has any money," and refers to the city as totally frozen.
"For now, there's patience, but it's been only ten days. I'm definitely worried about the long-term future of the restaurant," adds Kyprianides.
Veron predicts that the troubles faced by Kyprianides will become commonplace: "Payments are very difficult now, credit is problematic, and so it disrupts the relationships between businesses, clients and suppliers. A lot depends on how long the country will keep capital controls, but for right now it will be very disruptive."
That said, one small business owner in Nicosia isn't complaining:
"Before, people were afraid to spend any money," says Kenny Fihd, a taxi-cab company owner. "All day I would make 30 to 40 euros, which is peanuts. Now, with all these foreign reporters, I'm working good. Before, it was hell."