Business Leaders: GE's Jeff Immelt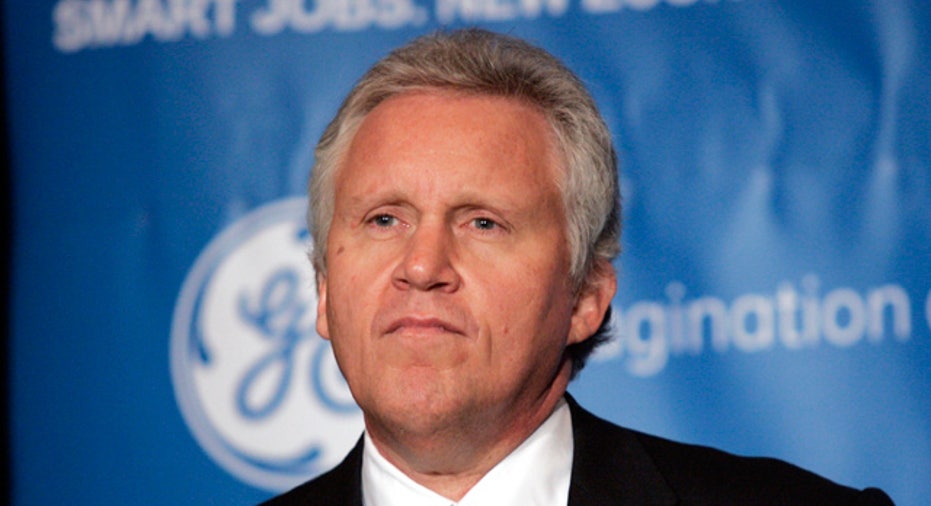 Name: Jeffrey R. "Jeff" ImmeltAge: 56Company: General Electric Co.Position: CEO and chairmanEducation: MBA '82 from Harvard Business School, bachelor of arts in applied mathematics '78 from Dartmouth CollegeQuote: "I have learned that nothing is certain except for the need to have strong risk management, a lot of cash, the willingness to invest even when the future is unclear, and great people."
Four days before the 9/11 terrorist attacks, Jeff Immelt began his tenure as CEO of General Electric Co., which makes products ranging from jet engines to light bulbs. He succeeded John Welch, who retired from GE after serving in the position for 20 years, where he increased the value of the company from $13 billion to several hundred billion.
Immelt arrived at GE in 1982 and held a variety of positions during his tenure, working in GE's plastics, appliances and healthcare businesses. While Welch was reportedly loud and brash, Immelt doesn't shout; rather, he is said to prefer the sound of ripping unsatisfactory business plans to shreds.
Unfortunately, Immelt's first decade with the business was marked by the terrorist attacks (which hurt the company's aircraft engines business), as well as the recession. In an interview with "The "Wall Street Journal," Immelt called the decade "a mess from a macro standpoint."
Specifically, GE Capital (the conglomerate's finance unit) was hit hard in 2008 during the financial crisis because the unit was responsible for almost half of GE's overall profit. The conglomerate was also stripped of its triple-A credit rating and was forced to cut its dividend for the first time since the Great Depression. Then in 2010, the company was plagued by the failure of GE-designed reactors at Japan's Fukushima nuclear plant.
Amid the chaos, Immelt has been staying away from large acquisitions and divesting risky businesses. Under Immelt's tenure, GE has also expanded jobs overseas while cutting positions in the U.S.
Externally, Immelt is involved in a variety of activities. President Obama selected Immelt to chair the Council on Jobs and Competitiveness (the outside panel of economic advisers that succeeded the Economic Recovery Advisory Board). He is a member of the Business Council (an association of CEOs) and was on the board of the Federal Reserve Bank of New York. He also previously served under former Federal Reserve Chairman Paul Volcker on the Economic Recovery Advisory Board.
Immelt is on the board of directors of two nonprofit organizations: Catalyst Inc., which focuses on advancing women in business, and Robin Hood, which works toward ending New York City poverty. He is also a member of Dartmouth College's board of trustees.
According to forms filed with the U.S. Securities and Exchange Commission, Immelt's total compensation for 2011 was valued at nearly $11.4 million, which includes a $3.3 million salary, $4 million bonus in 2011 (unchanged from 2010), and $3.6 million in stock awards.
Born in Cincinnati, Immelt is the son of an elementary school teacher and a retired GE employee. (His father, Joseph, worked in GE's aircraft engines division for 38 years.)
Standing at 6-foot-4, Immelt played football at Dartmouth and was president of Phi Delta Alpha fraternity. He worked in Procter & Gamble's brand management operation before heading to Harvard Business School to earn his MBA. He and his wife, Andrea, have one daughter, Sarah.