Business Leaders: Ford's Alan Mulally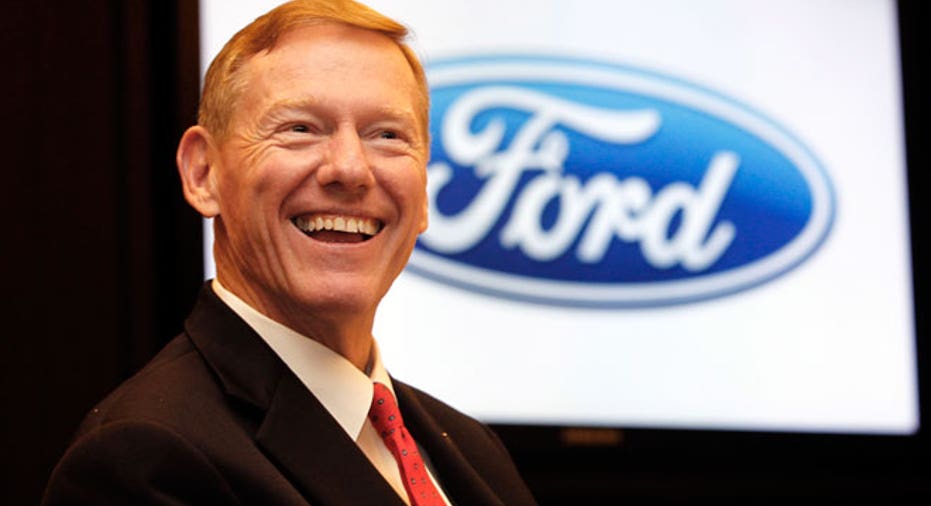 Name: Alan MulallyDate of birth: Aug. 4, 1945Company: Ford Motor Co.Position: Chairman, president and CEOEducation: Bachelor of science, master of science in aeronautical and astronautical engineering from the University of KansasQuote: "We achieved great success as we rebuilt our company in extremely challenging economic conditions. Now we are eager to show the world what a revitalized Ford Motor Company (NYSE:F) can accomplish in a growing global economy." - 2010 Letter to Ford Shareholders
Alan Mulally was elected president and chief executive of the ailing Ford Motor Company (NYSE:F) in 2006, as the country stood on the brink of a recession that would bring the American auto industry to its knees. With Mulally -- an engineer by trade who spent decades working for Boeing -- at the helm, the long-established auto giant managed to successfully weather the storm and return to profitability within a few short years.
When Mulally succeeded William Clay Ford Jr. as the head of Ford, he also took over the company's new restructuring plan designed to reverse its falling sales and market share. Dubbed "The Way Forward," the plan included a variety of cost-cutting initiatives, including resizing the company to meet current market realities by closing certain plants and dropping unprofitable product lines.
Just as he joined Ford, Mulally famously told a room of journalists that his Lexus LS430 - which he purchased when he was a Boeing - was "the finest car in the world."
In late 2006, Mulally also closed a deal which saw the company remortgaging its assets to borrow $23.6 billion. The move was interpreted by many as an indication of the company's growing desperation. However, his efforts proved fruitful, and Ford became the only major American car manufacturer to avoid government-sponsored bankruptcy during the recession. By 2010, the company was reporting a pre-tax operating profit of $8.3 billion.
Ford's resurgence wasn't the first time Mulally brought a major company back from the brink. When he served as CEO of Boeing Commercial Airplanes, Mulally was credited for playing a major role in the company's recovery against its chief competitor, Airbus, in the mid-2000s.
Lower airplane sales in the wake of the September 11th attacks, coupled with an unsuccessful product ramp-up during the 1990s, had led to significant losses in Boeing's market share. Similar to his strategy at Ford, Mulally helped achieve a major reversal by downsizing the airplane manufacturer's workforce, facilities and product mix, and updating existing airplane models.
Mulally joined Boeing as an engineer in 1969, after graduating with a master's degree in aeronautical and astronautical engineering from the University of Kansas. Throughout his tenure at Boeing, he held various engineering and project management positions, and made contributions to numerous projects, including the 757/767 project, for which he led the cockpit design team.
In the 1990s, Mulally was appointed to a number of executive positions in Boeing's engineering, airplane development and information, space, and defense systems departments.
In 1998, he was made president of Boeing Commercial Airplanes, and was given CEO duties in 2001. After leading the company to a dramatic turnaround in 2005, Mulally was offered the top spot at Ford Motors by William Clay Ford Jr.
Mulally is reportedly the highest paid executive in the American automotive industry. According to a statement filed with the FEC, Mulally's annual compensation is $29.5 million dollars. This figure includes $2 million in annual salary, stock awards worth 13.9 million, in addition to a performance bonus of $1.8 million.
He has also sat on the advisory boards of NASA, the University of Washington, the University of Kansas, the Massachusetts Institute of Technology, and the U.S. Air Force Scientific Advisory Board.
Mulally reportedly lives within several miles of his office at Ford's global headquarters in Dearborn, Mich., where he works 12-hour days.