Burger Lounge Aims to Stand Out From the Pack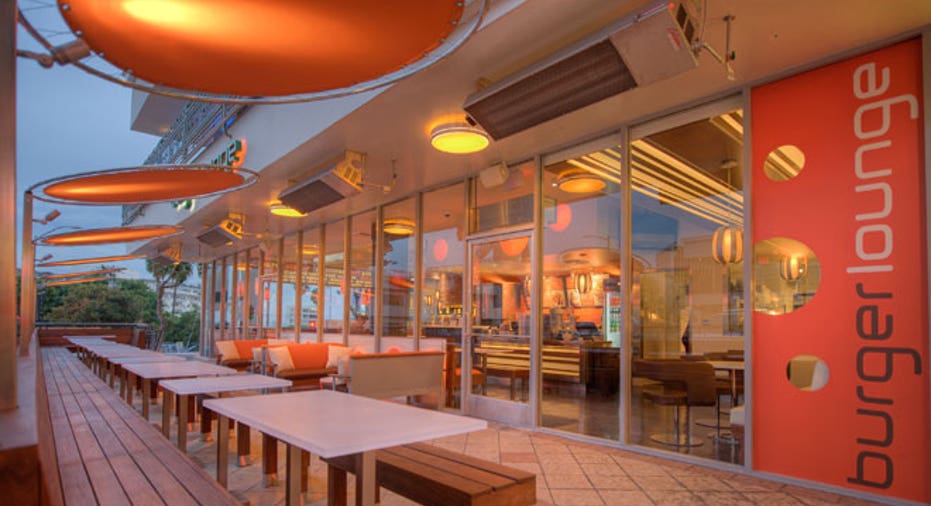 Small Business Spotlight: Burger Lounge
Who: Mike Gilligan, @Burger_Lounge
What: A small chain of California burger restaurants that serve "the original grass-fed burger"
When: 2007
How: Mike Gilligan and Dean Loring, the CFO and CEO of Burger Lounge, respectively, worked in very different fields, but became friends as adults when living in the same neighborhood. When Gilligan decided that he wanted to leave the banking industry, Loring, a restaurant veteran, talked to him about starting something new together, says Gilligan.
"When we first decided to do a burger concept restaurant, we recognized it was a crowded field with a lot of competitors. We felt we needed to do something special, so our slogan from the beginning was to do a common thing uncommonly well," says Gilligan. "We accomplish that by using high-quality ingredients and providing a level of service above that of other quick-service restaurants."
There are currently eight Burger Lounge locations, according to Gilligan, with six in San Diego and two in Los Angeles; three more are scheduled to open by May 2013.
Biggest challenge: Gilligan says that finding the right location for the restaurants has been the toughest challenge faced by the partners. "Ambiance is important to us, and that means finding the right neighborhood and the right type of building, with outdoor and patio seating."
One moment in time: Gilligan, a CPA by training, says he is most proud of the way that he has created the infrastructure for Burger Lounge's growth, both by fostering communication at all levels and enabling employees to use proper reporting practices.
Best advice given: "Don't grow faster than your capabilities," says Gilligan. "A lot of companies do well and then get excited, growing really fast. But they outgrow their own ability to manage the company," he warns. Gilligan points out that all eight Burger Lounge locations are company-owned, rather than franchises, which he says comes with its own challenges.
Quote from the founder: "While opening a restaurant wasn't a long-time dream for me, I wanted to do something different but also use my financial experience at the same time."
We're highlighting small businesses from around the country as nominated by you, our readers. If your favorite small business is using Twitter to communicate with customers, let us know about it @fbsmallbiz with the hashtag #mysbc, and it may be featured as an upcoming Small Business Spotlight.