Burger King's Twitter Account Hacked, Rebranded to McDonald's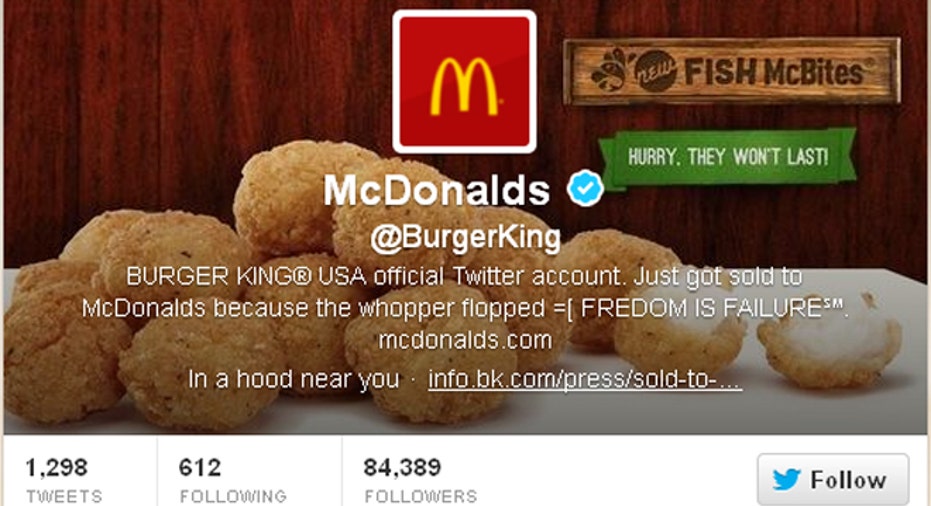 Burger King's (NYSE:BKW) official Twitter handle suffered a cyber attack on Monday. Hackers switched the branding to that of rival McDonald's (NYSE:MCD) and claimed the restaurant chain "just got sold ... because the whopper flopped."
The verified account had roughly 85,000 followers before the attack, but that number surged to more than 100,000 as it took the spotlight on an otherwise quiet day. The account was eventually suspended by Twitter.
The attack began around noon New York time with a tweet claiming the fast-food burger joint was sold to rival McDonald's. The hackers sent more than 25 tweets and re-tweets on the handle, several poking fun at Burger King, insinuating unethical behavior about its employees and using intentionally offensive language and racial slurs.
The tweets contained hashtags such as #failurewhopper, referred to hacking group #LulzSec and linked to well-known hacking accounts like @YourAnonNews.
Burger King in a statement Monday afternoon apologized to its Twitter followers for the erroneous tweets and to other members of its industry.
"It has come to our attention that the Twitter account of Burger King brand has been hacked," the company said. "We are working directly with administrators to shut down the account until we are able to re-establish our legitimate site and authentic postings."
McDonald's on its official Twitter account said: "We empathize with our @BurgerKing counterparts. Rest assured, we had nothing to do with the hacking."
A Twitter spokesperson told FOX Business the world's No. 2 social network doesn't "comment on individual accounts for privacy and security reasons."
The phrase "Burger King Twitter" was recently trending worldwide, meaning out of all the topics people tweeted about, Burger King's Twitter was one of the most widely discussed.