Building a Dream House? Be Sure You're Insured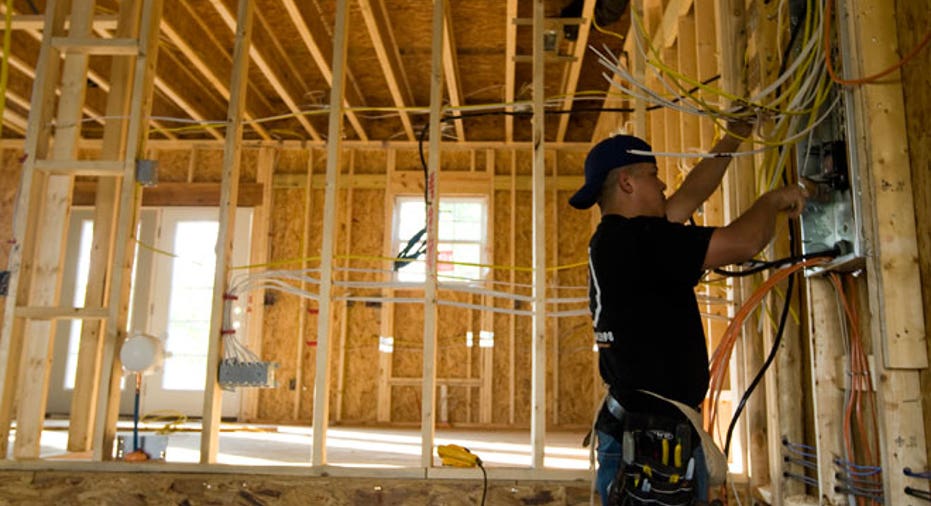 Building a new home requires attention to detail, but while you choose your cabinet knobs and countertops, don't forget to make sure your property is properly insured from foundation to rafters.
If you're having a home built for you, you may be assuming your builder has all the insurance coverage you need. Under some circumstances, you're correct, but before you check off that mental box and move on, you should confirm your contractor's insurance policy.
"If you're having a home built in a community by a major builder like Pulte, there's generally no need for you to have insurance coverage because you don't actually own the lot or the home until you go to settlement," says Benjamin Saine, product manager for homeowners insurance with USAA insurance in San Antonio, Texas. "If you pre-purchased a lot and are having a home built on it, then you do need insurance coverage."
Saine says that the majority of consumers don't own their lot until the home is complete unless they're having a custom home built. Even then, some buyers don't own the lot until settlement.
"We recommend that you get a copy of your builder's insurance to check for adequate coverage," says Saine.
Carol A. Brunetto, a State Farm insurance agent in Bethesda, Md., says new homebuyers should review their purchase contract to make sure they aren't obligated for insuring home construction.
"You should get a certificate of insurance from your builder that is comprehensive and includes liability coverage even on completed construction operations," she says. "For instance, if your floor collapses because of shoddy construction and someone is injured, you want to be able to turn to the builder's insurance for coverage."
Brunetto says builder's insurance policies usually cover three years after construction is complete.
Home insurance and custom homes
If you're having a custom home built, you may need your own insurance policy.
"Whether you need insurance depends on your contract," says Brunetto. "Sometimes the general contractor is responsible for insurance, while other contracts say the homeowner needs to purchase builders risk insurance."
Builders risk insurance, specifically designed to cover homes while they are under construction, typically covers theft and vandalism of the tools and equipment being used to build the house and the materials, including in some cases materials being held offsite for future use. This insurance doesn't provide liability coverage or any protection for the home's contents since there typically won't be any personal possessions at the construction site, says Saine.
Builders risk insurance policies are generally written for nine to 12 months. Most can be renewed if there are construction delays, says Saine, but the insurance company will usually assess the project to make sure progress is being made on the home.
Homebuyers should purchase a home insurance policy with liability coverage in addition to the builders risk insurance policy, says Brunetto. Homeowners insurance will also provide coverage in case of a fire or storm damage. (See: "New homeowner insurance basics.")
"Liability coverage is critical for a construction site because of the risk that someone working on the site or a child or a visitor to the site could be injured," she says. "You should take responsibility to inspect the site and make sure your builder is adequately protecting the site, but you also need to buy insurance to protect your assets in case you are sued."
Saine says most people purchase $300,000 of liability coverage, but other levels are available.
Brunetto says that you may want to buy an umbrella insurance policy in addition to a home insurance policy for extra liability protection, particularly if you have significant assets. (See: "Alphabet soup: 6 types of homeowner insurance and what they cover.")
New construction insurance premiums
Typically, the amount of home insurance you need to purchase depends on the estimated rebuilding cost of your completed home, based on the size, the finishes and the materials to be used, says Saine.
Saine says most insurance companies will steeply discount the premiums because the home hasn't been completed. Once your home is complete, with flooring and appliances in place, you need to contact your insurance company to convert your insurance to a standard home insurance policy. (See: "Homeowner insurance discounts: Beyond burglary and fire alarms.")
"Before the first shovel hits the ground on your home, you need to get your homeowners insurance in place so that you have liability coverage," says Saine. "The biggest risk of building a home is your liability in the case of a construction site accident."
The original article can be found at Insurance.com:Building a dream house? Be sure you're insured