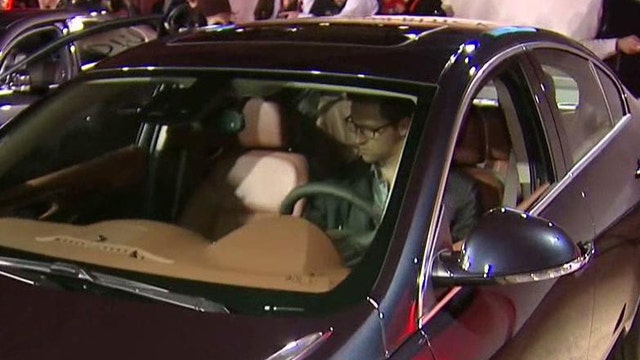 Automakers are unveiling a slew of new models this week at the New York International Auto Show, led by General Motors' (NYSE:GM) continued efforts to reboot its Buick brand.
Like Ford's (NYSE:F) Lincoln luxury brand, Buick has relied heavily on older customers and has undertaken an effort to redesign its fleet. The GM luxury brand has brought on pitchmen like former basketball player Shaquille O'Neal and introduced new models, while sales have ticked up slightly amid a rebound in the auto industry.
Now Buick is unveiling a revamp of its sedans. Its large LaCrosse and midsize Regal, two 2014 sedans set for debuts this week at the New York auto show, were given new exteriors and upgrades to technology inside the cabin.
Nick Richards, a spokesman for Buick, said the brand is focused on bringing more people to the brand as opposed to just getting younger buyers.
"We don't come to work thinking we need a younger audience," Richards said. "Our consumers want to treat themselves and their families, but they're less ostentatious than other luxury consumers."
Buick's LaCrosse and Regal brought in different demographics because of style and price, Richards said, as did the compact Verano that was introduced in 2011. Richards said 43% of Buick buyers in 2012 either had no trade-in vehicle or traded in a non-GM car, a record high for the brand.
And Buick is looking to catch the attention of more car buyers with this week's unveilings in New York.
"Auto shows are important in general since they help us get in front of consumers and get media coverage," Richards said, noting that the auto show at New York's Jacob K. Javits Convention Center is the last major show before 2014 models go on sale. "The first impression is going to be a lasting impression."
He added that the Verano will now be Buick's oldest offering, despite being a rather new addition. "We completely changed the Buick portfolio," Richards said.
Also at this week's show in New York, GM's Chevrolet will show off the SS rear-wheel-drive sedan it revealed at last month's Daytona 500.
Toyota (NYSE:TM) has the latest generation of its Highlander crossover set for an unveiling. The new version will feature three rows of seats and an extensive redesign.
Chrysler brand Jeep had planned to officially bring back the Cherokee, which replaces the discontinued Liberty, this week. After photos surfaced on the Internet, Jeep released the remaining details but will still have the SUV on display in New York.
Chrysler will also show off a limited-edition Viper TA, a 640-horsepower sports car.
This year's New York auto show carries more weight, as the industry continues to see rising demand. Earlier Tuesday, TrueCar forecasted a 4.5% year-over-year increase in March for new U.S. light auto sales.
"The Domestic 'Big Three' will all have their highest level of sales in over four years thanks to their much improved lineup of vehicles," said Jesse Toprak, a senior analyst for TrueCar.com.