Britain warns Boeing it might miss out on business over Bombardier row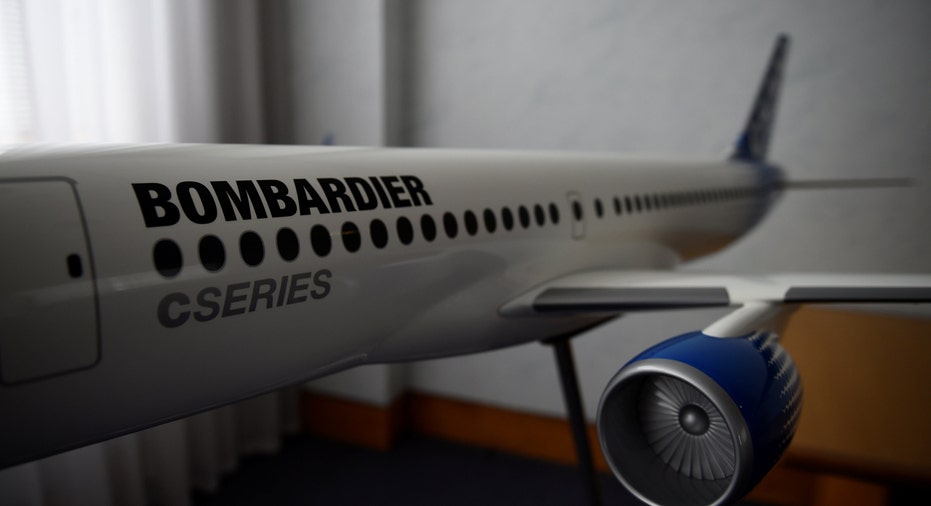 Britain told U.S. planemaker Boeing on Wednesday that it could lose out on future British defence contracts because of its dispute with Canadian rival Bombardier which has put 4,200 jobs at risk in Northern Ireland.
The U.S. Department of Commerce on Tuesday imposed a 220-percent duty on Bombardier's CSeries jets, whose wings are made at a plant in Belfast, following a complaint by Boeing which accuses Canada of unfairly subsidising Bombardier.
The ruling is a political headache for Britain's minority Conservative government, which relies on support from a Northern Irish party to stay in power.
It also undermines the government's assurances to Britons that free trade and London's close ties with Washington will be pillars of Britain's prosperity and global influence after it leaves the European Union in 2019.
"This is not the behaviour we expect from Boeing and it could indeed jeopardise our future relationship with them," British Defence Secretary Michael Fallon told reporters in Belfast.
"Boeing wants and we want a long-term partnership but that has to be two-way."
Fallon later ruled out cancelling existing orders with Boeing for nine P-8 spy planes and 50 Apache helicopters, but added the U.S. firm was seeking other UK contracts.
"We know they will be back at the door," he told Reuters.
Bombardier is the largest manufacturing employer in Northern Ireland, which is the poorest of the United Kingdom's four parts and is mired in political difficulties after emerging from decades of armed sectarian conflict.
"Bitterly disappointed by initial Bombardier ruling," said British Prime Minister Theresa May, who had personally asked U.S. President Donald Trump to help resolve the dispute.
"The government will continue to work with the company to protect vital jobs for Northern Ireland," she said on Twitter.
Boeing said in a statement it was committed to the UK, but gave no indication that it might change tack in the dispute.
"We have heard and understand the concerns from the Prime Minister and the Government about Bombardier workers in Northern Ireland," the statement said.
Boeing said that since 2011 it had tripled its spending in the United Kingdom to 2.1 billion pounds ($2.8 billion) in 2016, while the firm and its suppliers accounted for more than 18,700 UK jobs.
"DOES NOT BODE WELL" FOR BREXIT
The row has come at a bad time for May, who was severely weakened by her party's poor showing in an election in June and who has been struggling to contain infighting within her top team over Brexit.
Manufacturing Northern Ireland, an industry group, said the row was an ominous sign of the difficulties Britain could face after leaving the EU.
"What we could be witnessing is the fundamental difference between being a fully-fledged member of an internal market and a junior partner in a free trade agreement," it said.
"This does not bode well for the UK's plan to be a leader in global free trade nor indeed ambitions of a free trade agreement with the EU which cannot match the benefit we currently enjoy as part of the EU's Single Market."
At the Bombardier plant in Belfast, workers were nervous about what impact the dispute could have on their livelihoods.
"Nobody knows how it will end up," said aircraft fitter George Burnside, 56, who has worked for Bombardier for 27 years. "I am concerned. I was shocked at the size of the tariff."
The U.S. penalty will only take effect if the U.S. International Trade Commission (ITC) rules in Boeing's favour. A final decision is expected early in 2018.
British Business Secretary Greg Clark said he was confident the initial Department of Commerce ruling would be overturned.
But Boeing conceded no ground, accusing Bombardier of illegally dumping its products in the U.S. single-aisle airplane market out of desperation.
"Any claimed economic threat to Bombardier is due to the weakness of its product in the marketplace," said Boeing.
"SABRE-RATTLING"
Arlene Foster, leader of the DUP, the Northern Irish party that is propping up May's minority government, signalled she would put pressure on May to act.
"Everyone realises how important Bombardier is to Northern Ireland and we will use our influence with our government to make sure that continues," she told Sky News.
However, London's options in fighting Bombardier's corner may be limited because of the importance of Boeing to its defence industry.
Boeing says the United Kingdom is its third largest supply base after the United States and Japan. It has recently begun constructing its first European parts manufacturing site in Sheffield, northern England.
Britain's armed forces have deployed Chinook helicopters, the C-17 transport plane and the E-3 Sentry airborne early warning and command post.
A UK defence official told Reuters one of the potential future contracts Boeing would be bidding for was a relatively small data services deal.
British defence analyst Howard Wheeldon said it was unlikely that Britain would pursue any reprisals against Boeing.
"I think there is a lot of sabre-rattling, but in practical terms it is not on," he said when asked whether Britain could cancel or reduce Boeing defence orders.
"They can play politics, but can't actually walk away from what they need and have committed to buying from Boeing." ($1 = 0.7467 pounds)
(By Amanda Ferguson and Tim Hepher; Additional reporting by Conor Humphries in Belfast, Padraic Halpin in Dublin, Guy Faulconbridge, Kate Holton and Michael Holden in London; Writing by Estelle Shirbon; Editing by Angus MacSwan and Robin Pomeroy)