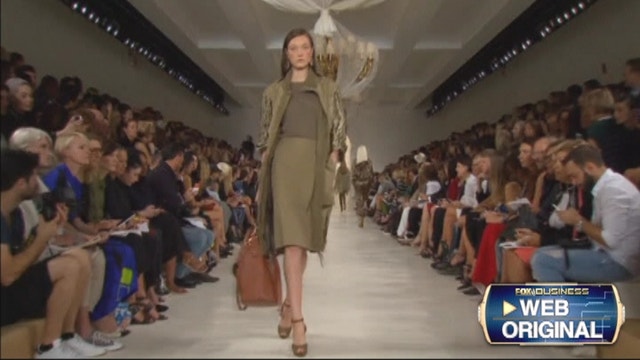 For fashion and lifestyle startups, connecting the dots between initial vision and thriving business doesn't always mean following a clear-cut pattern. And as the industry continues to evolve, newbies and veterans of the space alike are looking online for insights on giving their business an edge.
As fashion week hits Europe, Fashion Business Accelerator (FBA) 360 founder and lifelong entrepreneur Liza Deyrmenjian tells FOXBusiness.com that for startup designers, knowing your end-goal and having a strategy from the outset is crucial for connecting those dots.
"When I had my factories, my strategy was really quite basic; with Fashion Business Accelerator it again is quite simple: I enjoy educating," she says, explaining that the inspiration for her fashion-meets-tech accelerator was to give greater access to people who want to learn.
In her previous life, Deyrmenjian opened two factories, but always felt called to teach. Eight years ago she began holding workshops, helping students get on TV shows (including on Oprah), launch lines and land the cover of Women's Wear Daily.
One of her most recent students is rookie teen design star Isabella Rose Taylor, who debuted at New York Fashion Week this month. Deyrmenjian has worked with the teen for the past two-plus years, helping her with product development, fabric sourcing and putting together two collections per year. When Deyrmenjian met Taylor, she was nine years old and "doing an incredible job creative directing her entire style." What the longtime fashion consultant helped Taylor hone in on was her business strategy and brand vision.
"The way designers, the way startups or people are learning now is by being taught by experts and do-ers," the Canada native says. In the last year she's been working on building FBA 360 into an all-encompassing fashion, lifestyle, business and tech online education program.
The course offers four-week webinars (on average $325) and a flagship six-week online boot camp (a little over $1100). The fashion accelerator also offers individual video classes (starting at $29) on topics like brand strategy and social media. The courses are taught by industry experts, with weekly keynote speakers like designer Steven Alan, College Fashionista founder Amy Levin and Angela Matusik, who is the executive director of digital at InStyle.
The interactive courses combine written lectures (emailed to students), homework assignments, presentations and weekly office hours with instructors via Google Hangout sessions. Students can network and mingle with classmates throughout the classes, in line with Deyrmenjian's goal of FBA 360 becoming a social community.
Classes cover topics like launching your line, building your brand, conscious commerce, the art of negotiation and cash for creatives, among a bevy of other themes. FBA 360 doesn't typically link students up with capital as more traditional incubators do, but Deyrmenjian says they do offer MBA-type courses to help new business owners gauge whether they can realistically raise money at that stage. One such course offering, Get Funded, provides a roadmap to creating an executive summary and tips for courting venture capital.
From her experience in the fashion world, Deyrmenjian says her best advice to anyone trying to break into the industry is to gut-check whether this is something about which you're really passionate.
"Do it because you want to, and not because it seems really glamorous," she says.