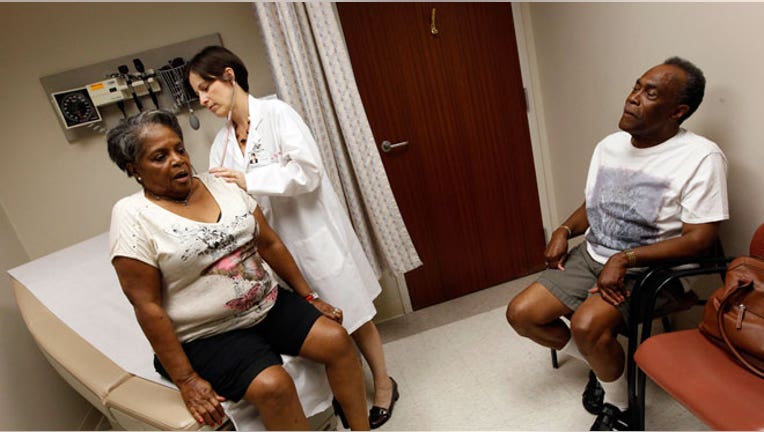 "The Boomer" is a column written for adults nearing retirement age and those already in their "golden years." It will also promote reader interaction by posting e-mail responses and answering reader questions. E-mail your questions or topic ideas to thefoxboomer@gmail.com.
The open enrollment period for Medicare comes early this year, Oct. 15-Dec. 7, and now's the time for beneficiaries to review their current plans and decide whether they need to make any plan changes and alter prescription coverage.
Close to 50 million Americans are enrolled in Medicare, and that number will continue to increase as more baby boomers turn 65. As boomers' health-care needs and financial situations change from year to year, now is the time to make sure our coverage is adequate.
Navigating the offerings and coverage rules to find the right plan can be hard, but there are many resources at the federal and local level to help make the right choice.
I reached out to Robert Quinlan, an independent insurance agent/broker since 1986 in New Windsor, N.Y. to  review any changes and detail what boomers need to know about the Medicare 2013open enrollment season. Here is what he had to say:
Boomer: What is the open enrollment period for Medicare and when does it begin?
Quinlan: Medicare's Open Enrollment Period is when people who are currently enrolled in Medicare can make certain changes to their plan benefits. The Open Enrollment Period starts on Oct. 15 and runs through Dec. 7.
Changes that are made during this period become effective Jan. 1, 2013. This period of time was once called the Annual Enrollment Period. Below is a list of changes that can be made during the Open Enrollment Period:
■Switch from Medicare Parts A and B to a Medicare Advantage Plan (Part C - see below for more information about Medicare Advantage plans).
■Switch from a Medicare Advantage plan back to Medicare Part A and B
■Switch from one Medicare Advantage Plan to another Medicare Advantage plan
■Make changes in your Medicare Prescription drug plan (i.e. start a drug plan, drop coverage or move from one drug plan to another).
Boomer: What are the new taxes applicable to Medicare beginning in 2013?
Quinlan: The Patient Protection and Affordable Care Act of 2010 (PPACA ) has mandated two new Medicare related taxes that will begin after Dec. 31. The first tax is an additional Medicare tax on payroll for high earners. For single tax filers whose wages and other compensation exceed $200,000 ($250,000 for married filing jointly), there will be an additional Medicare tax of 0.9 percent on wages. Right now, taxpayers are paying 1.45% of wages towards Medicare and an equal percent matched by the employer. The good news (if you can say that) is this new tax will not be matched by the employer.
The second tax is also hits high earners (same income levels as above for the new payroll tax). High-income earners will be taxed more on their unearned income (investment income). The new tax will basically add 3.8% to their capital gains taxes.
Wealthy Americans will be facing double taxes to pay for Medicare – once on their wages and again on their investments' capital gains. Here's my tip: Boomers may want to take more capital gains this year by Dec. 31 to avoid the 2013 additional tax. But be sure to check with your tax advisor on these matters.
Boomer: What are the new Medicare services in 2013?
Quinlan: There are new preventive services available next year to include:
■Alcohol misuse counseling
■Cardiovascular disease counseling
■Depression screening
■Obesity screening and counseling
■Sexually transmitted infections screening and counseling
Another important area for change in 2013 is if you reach the 'donut hole' in your Medicare Part D prescription drug plan, you only have to pay 47.5% for covered brand-name drugs and 79% of the costs for generic drugs until you reach the end of the coverage gap. Remember that out of pocket expenses like your annual deductible (if you have one) coinsurances, copayments and what you pay in the coverage gap will count toward getting you out of the coverage gap. Your drug plan premium, unfortunately will not help you get out of the coverage gap.
Boomer: What are the Medicare Advantage Plans and what cutbacks are expected in these plans for 2013 and beyond?
Quinlan: Medicare offers consumers a choice of two insurance plans. One plan is called Original Medicare Part A for hospital insurance and Medicare Part B for medical insurance (mainly for doctor services.) The word "original" is here to explain Parts A and B have been in place since Medicare was started in 1965. The later alternative plan is called Medicare Plan C plan (also know as Medicare Advantage or MA plans). These plans are issued and managed by private insurance companies. They offer largely the same coverage of services under Medicare Plans A and B. These plans must also follow Medicare rules. They remain popular plans with seniors. Over 25% of Medicare eligible people today are enrolled in the MA plans.
Boomer: Why be insured under a Medicare Advantage Plan?
Quinlan: These MA plans offer extra services like vision, hearing, dental and wellness programs not found in Medicare Part A and B. Many insurance companies today are offering these plans with low or no premiums. No misprint here on the words 'low' or 'no' premiums. Medicare/federal government pays the insurance companies a fixed amount each month for your care. If you have a MA plan, you will not need a Medicare supplement plan. However, there may be out of pocket expenses when you need higher amounts of medical coverage. Some of the type of MA plans available today include HMO's, PPO's and Special Needs Plans for those who reside in a nursing home today.
Boomer: What are some of the changes in these Medicare Advantage plans?
Quinlan: PPACA has already called for cutbacks in funding to insurance companies for these plans.
Every boomer needs to investigate these plans today in their local area and compare the Medicare Advantage plan features and premiums to the alternative Medicare Parts A and B and a Medicare supplement plan (also called a Medigap plan). Do your homework each year between September and early October and remember that one size does not fit all for all times.
It's also important for boomers to stay informed on the changes to their health care, follow the presidential and state elections to see how the candidates differ on Medicare today and into the future. We will all get there soon enough. We will want the best and affordable health insurance plans available.
If you are in your early 60s (or later) and you would like to know more about Medicare coverage, a good starting point is to get your copy of the 140-page Medicare publication, "Medicare & You- 2013." You can get your copy by going here or call Medicare at 1-800-633-4227. People currently receiving Medicare coverage should get a new copy every year. This publication is always close at hand in my office and when I teach my health insurance classes.