Boeing, Union Reach Tentative Agreement Over 737 MAX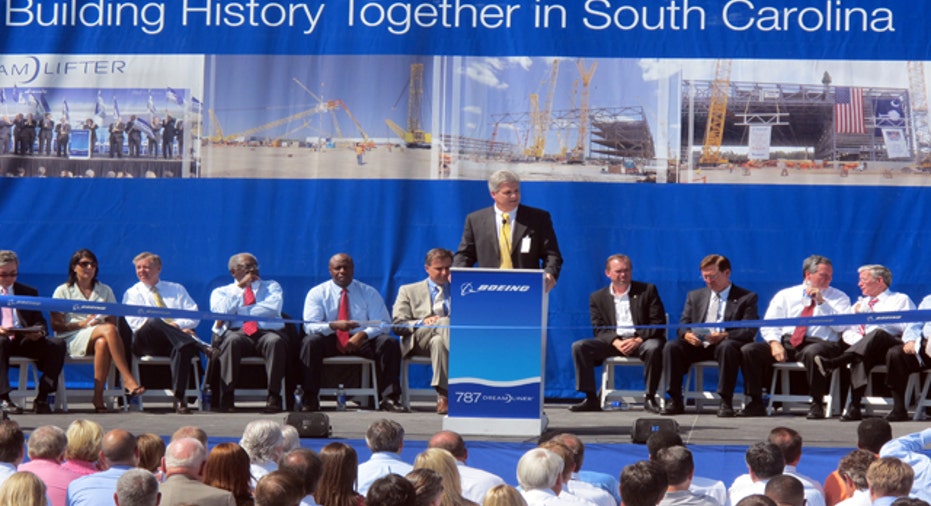 Boeing (NYSE:BA) and its largest workers' union have taken a step closer to solving their dispute over where to build the new 737 MAX passenger jet.
The parties have settled on a tentative four-year agreement, which comes nine months before the current contract's expiration, to continue building the jet in Washington state. Machinists Union members in Washington, Oregon and Kansas plan to vote on it next week.
If ratified, the union said it would drop its grievances against the jet maker over a new 787 production site in South Carolina, which has caused problems between Boeing and the National Labor Relations Board.
The contract's extension through 2016 ensures the new aircraft will be built in Puget Sound, which is located in northeast Washington. Union members said the deal also guarantees the continuation of wide-body aircraft.
In addition to the job security, the contract would guarantee Boeing employees annual wage increases of 2%, plus cost-of-living adjustments, a ratification bonus of $5,000 for each member and an incentive program intended to pay bonuses between 2% and 4%.
A district lodge president of the union, Tom Wroblewski, called it an "extraordinary proposal," noting the contract extension would "secure thousands of jobs."
"Hopefully it also signals the start of a new relationship that can both meet our members' expectations for good jobs, while giving Boeing the stability and productivity it needs to succeed," he said.
The agreement might offer Boeing some reprieve from labor strikes that have been known to disrupt operations, particularly ahead of plans to ramp up production.
Boeing has already received more than 700 commitments from customers for the 737 MAX, which is a single-aisle airplane. The jet is expected to enter service in 2017.