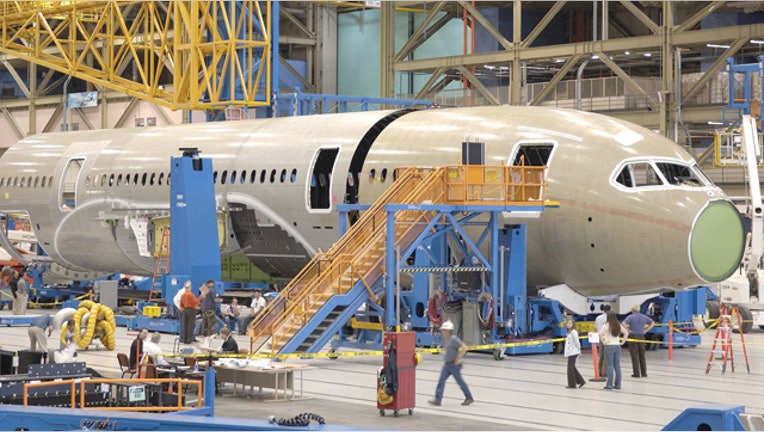 Jet maker Boeing (NYSE:BA) revealed a stronger-than-expected 20% increase in fourth-quarter profit and announced on Wednesday a mega deal with Norwegian Air that marks its biggest-ever European deal, though the shares slipped on a lukewarm outlook.
The nation's biggest jet maker, whose chief executive, Jim McNerney, said on Tuesday that the company is entering 2012 with "renewed momentum and proven business and product strategies," has been making billions of dollars from its newer, more fuel-efficient aircraft that have proven attractive to airlines facing high fuel costs.
In its latest deal announced on Wednesday, Norwegian Air Shuttle ordered 222 narrow-body jets worth a total of $21.5 billion at list prices. The order was split between Boeing and its largest rival, Airbus, taking 100 of Boeing's new 737 MAX8, 22 of its 787-800 and 100 of the Airbus A320neo.
The Nordic budget carrier, which is seeking to replace its entire aging fleet of 62 aircraft with deliveries starting in 2016, also signed options for another 100 Boeing MAX planes and 50 Airbus aircraft.
At year-end, Boeing had more than 1,000 orders and commitments for the new 737 MAX, including 150 orders from launch customer Southwest Airlines (NYSE:LUV).
Chicago-based Boeing said earnings climbed to $1.4 billion in the fourth quarter, or $1.84 a share, compared with $1.16 billion, or $1.56 a share, in the year-earlier period.
Even excluding a one-time favorable tax charge, the results were still ahead of average analyst estimates of $1.01 a share in a Thomson Reuters poll.
Revenue for the three-month period was $19.5 billion, up 18% from $16.5 billion a year ago, trumping the Street's view of $19.37 billion. Sales of commercial airplanes climbed 31% during the period to $10.7 billion, with 379 net orders booked during the quarter.
Revenue in Boeing's defense, space and security business grew by 4% to $8.5 billion last quarter. The unit faces a rough road ahead amid new U.S. defense budget cuts, which led to the jet maker's decision earlier this month to shut its Wichita plant. The Kansas facility, which will close by the end of 2013, employs more than 2,160 workers.
"With a record backlog and intense focus on productivity, we are well positioned to deliver growth and increased competitiveness, even as we face constrained U.S. defense spending and pension headwinds," McNerney said.
But shares of Boeing slipped 1.5% to $74.21 pre-market on just a lackluster forecast. The company said it expects to earn between $4.05 and $4.25 a share in 2012 on sales of $78 billion to $80 billion.
Analysts on average are forecasting a stronger profit of $4.96 on sales of $78.55 billion.