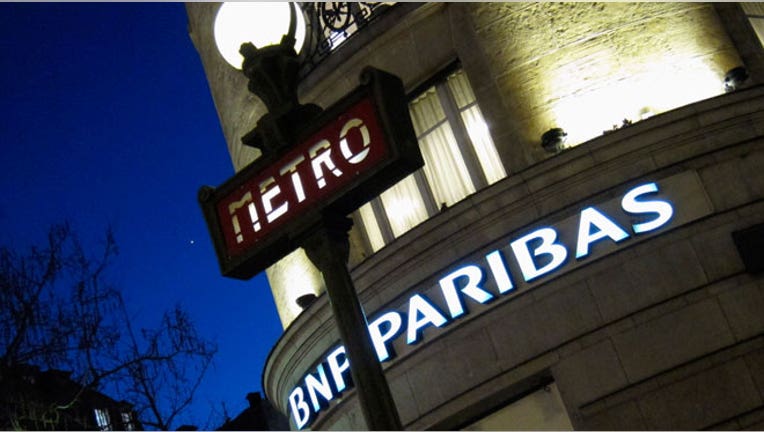 Shares of BNP Paribas fell Monday following reports that the largest French bank will pay between $8 billion and $9 billion to settle allegations the lender ignored U.S. sanctions by doing business with outlaw nations.
In addition, BNP will plead guilty to a criminal charge of conspiring to violate the International Emergency Economic Powers Act and accept a temporary ban on conducting transactions in U.S. dollars, according to a report in The Wall Street Journal.
The U.S. government is investigating BNP's business with Sudan between 2002 and 2007, seeking to determine whether the bank attempted to hide an estimated $30 billion worth of transactions with the country.
Sudan had been accused by the U.S. of committing genocide against its people in the Darfur region.
Sanctions investigators told the Journal that BNP went to extensive lengths to mask transactions from the U.S. Treasury Department's filtering system. The bank allegedly used a network of banks in East Africa, the Middle East and Europe to launder money going in and out Sudan in an effort to make it appear as if dollar-based transfers were unconnected to the outlaw nation.
The Journal reports that most of the transactions were related to oil deals.
Last month, BNP Paribas told investors it can raise billions of dollars by offering debt after reaching a settlement with the U.S., the Journal said.
Still, analysts have said a $10 billion fine would reduce BNP Paribas' capital ratio to below 10%, or below thresholds set under new international guidelines established in the wake of the 2008 financial crisis.
The stakes have grown significantly for BNP Paribas as the investigation by U.S. authorities has dragged on. According to reports, in February, the bank said it had put aside $1.1 billion to cover the expected settlement, considered a large amount at the time. Two months later, the bank warned of "the possibility that the amount of the fines could be far in excess" of what the bank previously had set aside.
The possible large U.S. fine has raised concerns by French authorities. Christian Noyer, the governor of the Bank of France, has said BNP's alleged actions didn't violate European or French laws.
A BNP spokesman didn't immediately respond to a request for comment.
Guilty pleas in addition to huge fines represent a significant shift in the U.S. government's strategy for cracking down on big banks accused of large-scale misconduct. Credit Suisse (NYSE:CS) pleaded guilty last month to helping Americans evade taxes by hiding money from the IRS, the first such plea by a major financial institution in more than a decade.