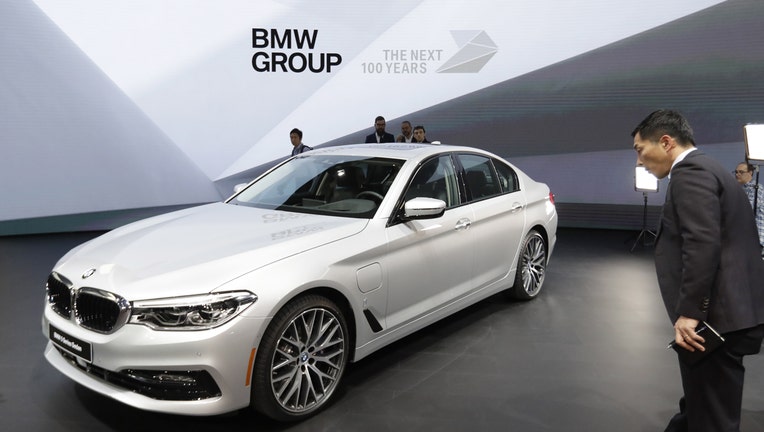 The self-proclaimed ultimate driving machine has hit a pothole in the world's most important luxury market.
BMW AG's U.S. operation helped fuel the German auto maker's rise, but it is now struggling to keep pace in the cutthroat American market. The company, whose BMW brand reported its first U.S. sales decline in seven years, needs a jump start so it can fund a spate of ambitious technology products.
The maker of luxury and high-performance vehicles said Thursday that earnings cooled slightly in 2016, with its closely watched pretax margins in automotive operations slipping to 8.9%, from 9.2% in 2015. The company blamed higher costs for new models, including electric vehicles, and technology for self-driving cars and other mobility services.
BMW had warned that its fourth-quarter results would be pressured by product introductions, write-downs on inventory and high research-and-development costs, but the decline in annual pretax earnings surprised analysts. It is a bitter pill for the brand, which lost the global luxury-sales crown to Daimler AG's Mercedes-Benz last year for the first time since 2004.
The company's U.S. division is struggling to carry its weight. While sales rose in Asia and Europe, and at all three BMW brands, including Mini and Rolls-Royce in 2016, U.S. sales fell 9.5% for the BMW brand and 11% for Mini. The BMW brand's first U.S. decline since 2009 during the financial crisis represented the biggest drop-off among auto makers selling more than 100,000 vehicles.
BMW hit the skids in the U.S. even as the broader luxury sector is growing and the U.S. market touched a record. Executives have said the 2017 5-series sedan, which was launched in February, is likely to help BMW regain strength in the U.S. market
"I think it will help us in brand perception just as much as in simple sales," BMW Americas head Ludwig Willisch said at the Detroit auto show earlier this year. The BMW brand's sales logged a modest increase during the first two months of U.S. sales compared with the prior year.
Mr. Willisch had been running the U.S. business until a management shift last month.
The 5-Series, however, is a sedan competing in a market where buyers are shunning passenger cars and snapping up increasing numbers of heavier vehicles amid low gasoline prices. Mr. Willisch said BMW is investing to add capacity at its South Carolina plant to increase supplies of sport-utility vehicles.
BMW will need all the firepower it can get, particularly on the family-hauler front.
New SUVs from smaller luxury competitors, including Jaguar and Land Rover, have added pressure on BMW at the same time some of its hallmark vehicles -- including the 5-Series -- need to be refreshed. Jaguar Land Rover, owned by Tata Motors Ltd. (NYSE:TTM) of India, recently launched the F-Pace SUV, its first sport-utility; Volvo Car Corp., owned by Zhejiang Geely Holding Group, has won critical acclaim and new buyers with a redesigned XC90. "We'll just have to be better," Mr. Willisch said. "We have to have a compelling offer."
Brian Allan, senior director of Galpin Motors, a Los Angeles dealership that sells brands such as Lincoln, Volvo and Jaguar, said it doubled its sales of Jaguar vehicles in 2016, with sales of the F-Pace SUV accounting for 30% of the increase. Sales of Volvo vehicles rose 50% at the dealership in 2016, driven almost exclusively by the XC90 SUV.
Mr. Allan suggested German luxury-vehicle makers need to rethink how they package their offerings. He said features that are optional on some of the German brands are standard on Mazda Motor Corp. and Honda Motor Co. (NYSE:HMC) vehicles.
"People are becoming very aware they're paying for a name over content," he said.
Jessica Caldwell, an analyst with Edmunds.com, said luxury SUV sales overtook sedans last year, but BMW didn't have the product lineup to match consumer demand.
"Some of the smaller luxury auto makers like Jaguar and Volvo have used new SUVs to become relevant players," Ms. Caldwell said. "Those two brands are lower volume, but they're getting more attention because they sell lower priced vehicles for people who still want prestige."
BMW said overall earnings before interest and taxes fell 2.2% to EUR9.4 billion ($9.9 billion) in 2016, declining 1.8% to EUR7.7 billion in the core automotive division. Net profit rose 8% to EUR6.9 billion and revenue climbed 2.2% to EUR94.16 billion.