Black Friday 101: Where to Go, What to Buy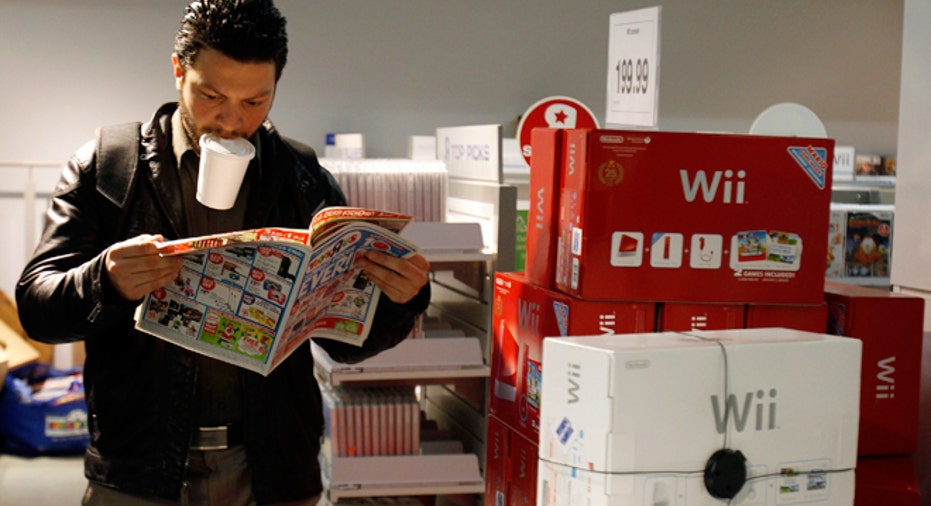 As Thanksgiving approaches, many consumers aren't talking turkey. They're talking deals, and already have visions of doorbusters dancing in their heads.
Despite the weak economy, this year's Black Friday is expected to be bigger than ever, according to the National Retail Federation (NRF).  The NRF reports that 33% of Americans say they're "definitely" braving the crowded retailers after Thanksgiving this year, up from 27% in 2010. Last year's Black Friday raked in $45 million for retailers nationwide with more than 212 million shoppers hitting stores.
According to an American Express Holiday survey of more than 2,000 Americans, shoppers plan to spend an average of $121 more this Black Friday than last; 34% of shoppers plan to have all their holiday gift buying done by the end of the day.
The expected record-breaking crowds means shoppers will need to be more savvy to snag bargains before they're gone. We checked in with experts to locate the best deals, what stores to spend the most time in, and just how early you'll have to rise if you want your stockings filled before December.
Best Bargains and Earliest Sales
"Make Macy's, Target and Toys "R" Us your go-to stores for most of your holiday shopping," says Gifts.com's Editor in Chief, Dana Holmes.
According to Mike Griffith of CheapSally.com, a bargain-hunting site, national retailers including The Limited, Ann Taylor, The Body Shop and Tommy Hilfiger have all offered Black Friday sales in the past that vary between 30-50% off any purchase, and he expects the same discounts this year.
"Macy's and JCPenney consistently have some of the biggest apparel sales on Black Friday."
"Macy's and JCPenney consistently have some of the biggest apparel sales on Black Friday," says Griffith. "Make sure that they have several items on sale though since the long wait most likely won't be worth it for just a sweater."
You can also anticipate department and outlet stores to offer deep markdowns on clothing. Outlets can really save a budget because they're offering discounts on all-ready discounted items.
When it comes to electronics, consumers have even more options to save, says Griffith, with Walmart and Best Buy in the lead for the best deals on HDTVs. Best Buy and Wirefly.com will be the best places to purchase cellular phones at a discount.
"Best Buy will be offering the HTC Thunderbolt for free with a new two-year contract with Verizon. You save $99. Just a few months ago this phone was $200 even with the new contract," he says.
For toys, Griffith says Walmart is a shopper's best option for in-store purchases. If you prefer shopping online, he suggests shopping on Mattel.com and Amazon.com.
"Toys are tricky because certain retailers have unique relations with different toy manufacturers. Unlike an HDTV where most brands are relatively equal, toys are completely different. Barbies are not the same as a BMX bike or a video game. Try buying directly from the manufacturer's website or using Amazon.com."
If you're a die-hard bargain hunter who plans to hit the stores before sleeping off the tryptophan, you're in luck. Although stores including Macy's, Target and Kohl's will be having midnight door-buster sales, Walmart stores nationwide open at 10 PM on Thanksgiving Day for special deals.
What's Going to be on Sale
When it comes to gift lists, most consumers will be shopping mostly for electronics, gadgets and clothing, according to a study conducted by management consulting firm Accenture (NYSE: ACN). The survey showed that 54% of holiday shoppers will be looking to purchase clothing, 36% will be after toys, and another 36% will be looking for electronics like smartphones, tablet computers or MP3 players.
And retailers are responding accordingly with their deal offerings.
Christine Frietchen, editor-in-chief of ConsumerSearch.com, a product review site, says that deep discounts on electronics will be available at multiple retailers. Individuals looking for small TVs should check at Best Buy, where 24-inch Dynex LCD TVs will run $80 on Black Friday. For large, 3D TVs, shoppers may want to check out Walmart's deals, she adds.
"Part of the problem with 3D televisions is that they don't usually include the necessary 3D glasses. The 42-inch Vizio M3D420SR at Walmart, which goes on sale at 8:00am on Black Friday, is a really good deal," says Frietchen. "Its $598 sale price is a good $300 lower than we've seen anywhere else. This 3D TV has a good-looking, thin design and it includes four pairs of 4D glasses, so this is a gift you can start using right out of the box."
Customers looking for something more practical like a vacuum, would be wise to check out Best Buy, where the Dyson DC25 Animal will be on sale for $380, $100 off of its usual price tag.  If you're in the market to add to your home entertainment suite, Best Buy will have its Toshiba Blu-Ray players marked down from $75 to $40. Customers can also save money on presents for the shutter bug in their life, says Frietchen.
"Circulars are full of $60 and $70 cheap point-and-shoot cameras, but so many people these days just use the camera in their phone that it might make sense to spend more on a more special camera. At Staples, the Canon PowerShot SX230 HS has a huge 14X zoom--great for long distance shots. It also shoots HD video and image quality is good in low light, unusual for any camera. It's advertised at $250, or about $50 off. A less expensive 16X option is the Panasonic ZS8 on sale for $180, about $70 off. It's not as sturdily built as the Canon camera though," says Frietchen.
Don't Waste Time on These 'Deals'
Although there are thousands of bargains offered on Black Friday, Griffith says it's entirely possible to get caught up in not-so-great deals. Some items he recommends postponing for purchase or purchasing in advance of the shopping frenzy include seasonal or holiday decor, winter apparel and perishable items.
"If you absolutely need some wrapping paper, lights or other holiday-related items then go ahead and get them. But only get the necessities. Wait until Dec. 26 when holiday decor and supplies will be 50-90% off to really stock up for next year. For winter apparel, although you may be able to get up to 40% off a new winter coat, apparel is almost always cheaper at the end of the season."
As for perishables, Griffith says things like chocolates or gourmet foods really lose freshness if they sit around waiting to be opened. If a box of chocolates is already discounted, there's a chance it's been on the shelves since early fall.
Above all else:
No matter where you're going or what items you're seeking, the most important thing is that you plan ahead, says Griffith.
"Don't head out into the storm without doing a little planning first. Otherwise you'll be stuck in long lines and will likely end up purchasing things that you don't really need or that aren't on sale. While there are some great deals to be found, many stores will discount a few highly desired items and leave the rest of the merchandise at full price expecting shoppers to make some sort of purchase to make their wait worth their while."
For the shopper who plans to start at Midnight or who may be stuck in long lines and bumper-to-bumper traffic, Griffin says it's also important to bring a few "necessities."
"This may sound silly, but if you are going to go on the all-day shopping adventure then its best to pack some food and beverages to keep you full. More people out at the malls means more people out at the food court," he says.