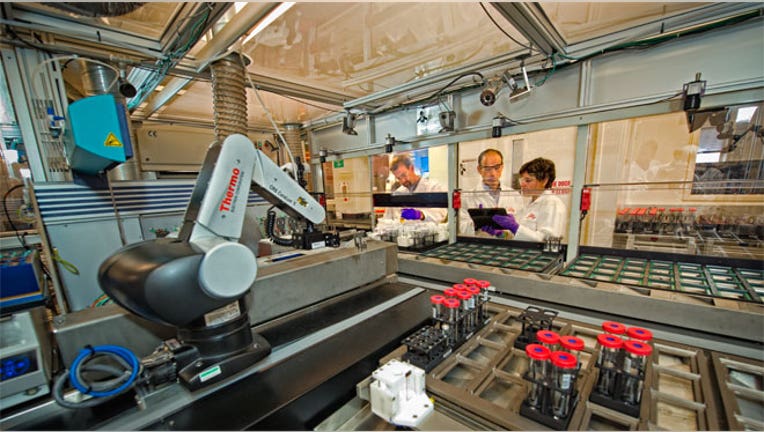 High-priced pharmacy deals are all the rage this year as big drug companies stung by patent expirations attempt to offset losses and reduce risk and costs by joining forces with competitors already marketing successful products.
Reports on Monday that Pfizer (NYSE:PFE), the world's largest drug maker, and London-based AstraZeneca had discussed a potential $100 billion blockbuster merger provided further evidence that the sector is bustling with deals.
Data provided by research firm Mergermarket shows that the five pharmacy deals valued at more than $2 billion already announced through the first four months of 2014 are nearly as many as the seven similarly valued deals announced in all of 2013.
If, as expected, the number of $2 billion pharma deals in 2014 exceeds the number a year ago it will be the most of that size since 2007, when 11 deals that size occurred, according to Mergermarket.
The total value of deals announced so far in 2014 -- $49.4 billion -- is already 43.2% greater than the value of all the deals -- $34.5 billion -- announced in 2013. And U.S. drug companies seeking deals are off to their fastest start since the first quarter of 2009.
Most of the companies being pursued by U.S. suitors are based in Europe, according to  Mergermarket.
Although talks have apparently ended regarding a possible Pfizer/AstraZeneca deal, the proposal fits a framework that's been applied many of the other deals announced in recent months.
Both Pfizer and AstraZeneca have seen their profits fall as patents have expired on blockbuster drugs marketed by the companies. A combination of the two would allow their respective marketing arms to double-down on efforts to promote drugs that have already reached the market.
The combined company would immediately expand its pipeline of drugs approaching market and could reduce costs by eliminating redundancies.
What's more, Pfizer could seek to save billions on taxes by potentially re-establishing itself with its headquarters in Britain where corporate taxes are lower than in the U.S.
That last element has apparently served as motivation for the spate of U.S. companies scooping up European drug makers.
Primarily, though, the big drug makers are making deals in an effort to create a relatively risk-free model for replacing profits lost to patent expirations.
"The thought process is that it may be faster and more prudent to buy products through mergers and acquisitions," said Olga Oksman with Mergermarket.
To wit, Novartis (NYSE:NVS) said Tuesday it would buy GlaxoSmithKline's (NYSE:GSK) oncology products unit for $14.5 billion, while at the same time selling GSK its vaccines units, excluding flu, for $7.1 billion. Meanwhile, Novartis also said it would sell its animal health division to Eli Lilly (NYSE:LLY) for about $5.4 billion.
Valeant Pharmaceutical's bid to acquire Botox maker Allergan for $47 billion is another good example of that model, as was Actavis' $25 billion bid earlier this year for Forest Labs.
Buying already-established products is far less risky and much cheaper than attempting to develop new products through expensive research and development departments, Oksman explained. "It takes out the uncertainty principle," she said.
The larger companies can then throw their considerable marketing prowess behind the drugs developed by the smaller company.
And because patent expirations are expected to continue cutting into the bottom lines of big pharma companies, the deals are expected to continue.
"We know there will be other big deals coming down the pipeline," said Oksman.