Big Bucks For Nathan's Hot Dog Eating Contest Winners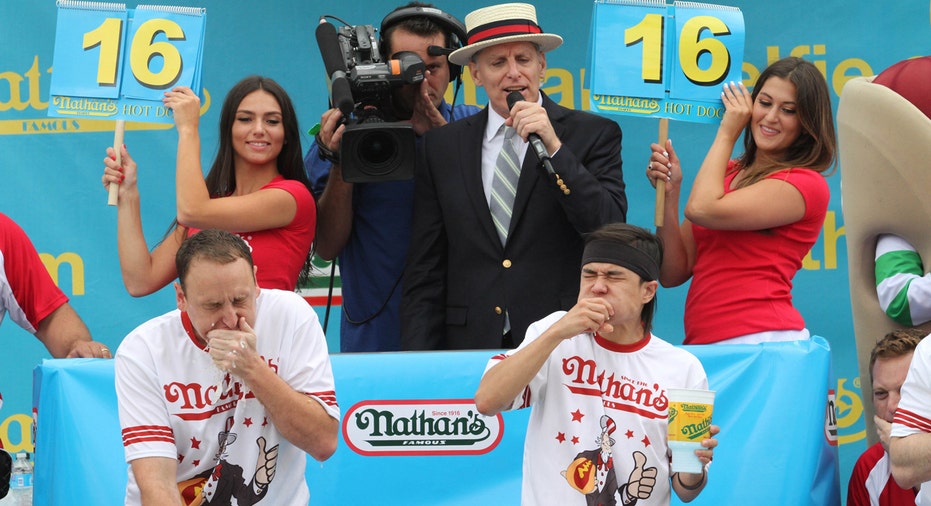 The world's top competitive eaters will converge at Coney Island in New York on Monday for the 2016 Nathan's (NASDAQ:NATH) Famous Fourth Of July International Hot Dog Eating Contest – and the competition's best performers will earn more than just bragging rights.
This year's contestants are set to compete in front of thousands of spectators for $40,000 in total prize money, according to Major League Eating, the sport's national organizing body. The first-place finishers in men's and women's contests will each receive $10,000. Competitors have 10 minutes to eat as many hot dogs and buns as they can.
Defending champion Matt Stonie, a 23-year-old California native, ate 62 hot dogs in 2015 to defeat Joey Chestnut, a legendary competitive eater who entered last year's event with eight consecutive hot dog eating contest victories. Miki Sudo, a Las Vegas native, won the women's contest last year by downing 38 hot dogs.
The Nathan's hot dog eating contest is competitive eating's flagship event. ESPN's live broadcast of the competition regularly draws millions of viewers. Last year, the broadcast posted higher ratings than any Major League Baseball game on July 4.
While competitive eating has grown in popularity in recent years, only its top competitors can earn a full-time living from the sport. Each year, contestants compete for approximately $400,000 to $500,000 in prize money across 80 annual events. Most are expected to fund their own training and travel expenses.
Chestnut, who is arguably the sport's most recognizable star, earns about $200,000 from prize money, sponsorships and public appearances, according to Forbes. Stonie, his chief rival, said he expected to earn more than $100,000.
Nathan's, the hot dog contest's chief sponsor, is celebrating its 100th year in operation in 2016. This year's event will air on ESPN at 3 p.m. ET and stream live on ESPN3 at 12 p.m. ET.