'Big 3' Tech Race: GM, Lyft to Test Self-Driving Taxis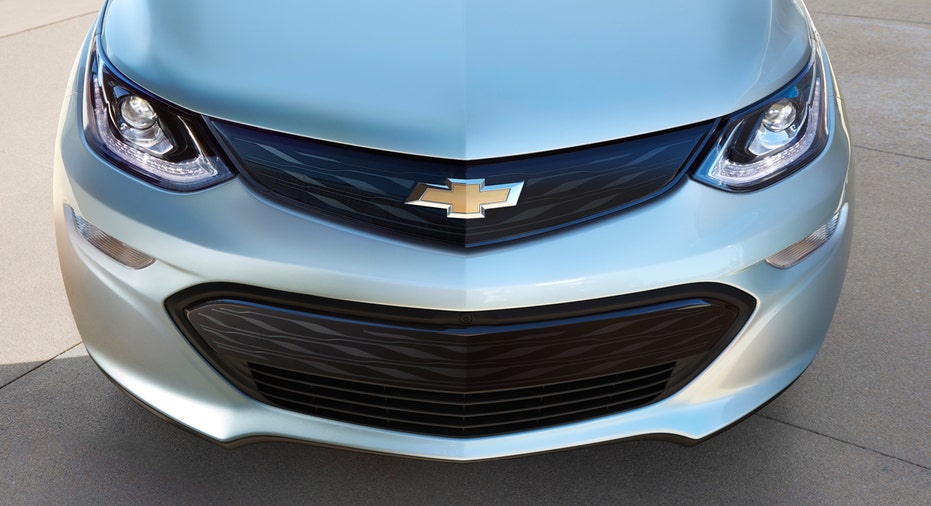 General Motors (NYSE:GM) and Lyft are moving forward with plans to create self-driving taxis. The companies expect to launch a test service within a year, raising the bar as Detroit's Big Three automakers increase their investments in autonomous cars.
In multiple news reports, Lyft Product Director Taggart Matthiesen revealed that the ride-hailing company is moving quickly to bring autonomous, on-demand taxis to public roads. The test program, which will launch in an unnamed U.S. city, will give consumers the choice of hailing a self-driving GM vehicle, possibly the all-electric Chevrolet Bolt. Previously, GM executives have indicated that initial programs with Lyft would keep someone in the driver' seat.
Lyft didn't immediately respond to a request for comment from FOXBusiness.com. GM said Friday it didn't have anything specific to announce regarding the rollout of vehicles and technologies.
"GM continues to make progress on our previously announced plans related to an integrated on-demand autonomous network with Lyft," GM said in a statement. "Similarly, we have said the Chevrolet Bolt EV is the ideal platform for ride sharing solutions. We believe electrification blends perfectly with autonomy when it comes to technology integration."
The plans were first reported by The Wall Street Journal, which said GM will likely utilize technology from Cruise Automation, a San Francisco-based firm that GM agreed to buy in March. The Detroit News said Cruise Automation has a license to test autonomous vehicles in California, so the Golden State is a logical choice for a test service.
Akshay Anand, an analyst at Kelley Blue Book, said companies like Lyft and Uber have long pursued autonomous vehicles, which could reduce costs by eliminating the need for drivers.
"I think [Lyft's test program] is also significant because most people think Uber is in the lead. But with this kind of partnership and testing, it's a good thing for Lyft as a company," Anand said. "In theory, they're the first ones testing autonomous cars. They have that chip on their side."
GM initially laid out plans for an "autonomous on-demand network" when it announced its $500 million investment in Lyft, which is second to Uber in the ride-hailing business. The idea is to eventually allow users of the Lyft mobile app to hail a self-driving car.
Ticker
Security
Last
Change
Change %
GM
GENERAL MOTORS CO.
32.58
-0.12
-0.37%
F
FORD MOTOR CO.
12.44
+0.24
+2.01%
FCAU
n.a.
n.a.
n.a.
n.a.
Also included in the partnership, GM is opening rental hubs for Lyft drivers. GM and Lyft recently opened one of those hubs in Chicago. The program, Express Drive, currently offers Chevrolet Equinox crossovers.
GM has touted the Chevrolet Bolt as a good fit for ride-hailing services, thanks to its 200-mile range and slimmed-down seats that provide extra leg room for back-seat passengers. The 2017 Bolt is scheduled to arrive in Chevrolet dealers later this year with a starting price of $37,500 before tax credits.
Beyond its Lyft partnership, GM plans on testing self-driving 2017 Chevrolet Volt plug-in hybrids at its GM Warren Tech Center campus. Similarly, Ford (NYSE:F) has about 30 autonomous Fusion hybrids undergoing tests in California, Arizona and Michigan. Ford was the first car company to bring autonomous cars to the University of Michigan's Mcity, a 32-acre urban environment built by the school.
With the GM-Lyft developments and Fiat Chrysler Automobiles' (NYSE:FCAU) new partnership with Alphabet (NASDAQ:GOOGL), it has become even more evident this week that Detroit automakers are in a race to lead the industry in self-driving technology.
"It's interesting. It almost feels like the domestics are leading the charge," Anand said. "But we also know that all these other companies probably have stuff up their sleeve. The battle is fascinating. What GM and Ford are doing speaks to how much they are looking into the future."
Fiat Chrysler officially announced an agreement this week with Alphabet's Google, whose self-driving car project will use 2017 Chrysler Pacifica minivans for testing purposes. According to the Associated Press on Friday, Fiat Chrysler CEO Sergio Marchionne said autonomous cars could arrive in five years.