Biden Bows Out; Is Clinton a Shoo-In for the Democratic Nomination?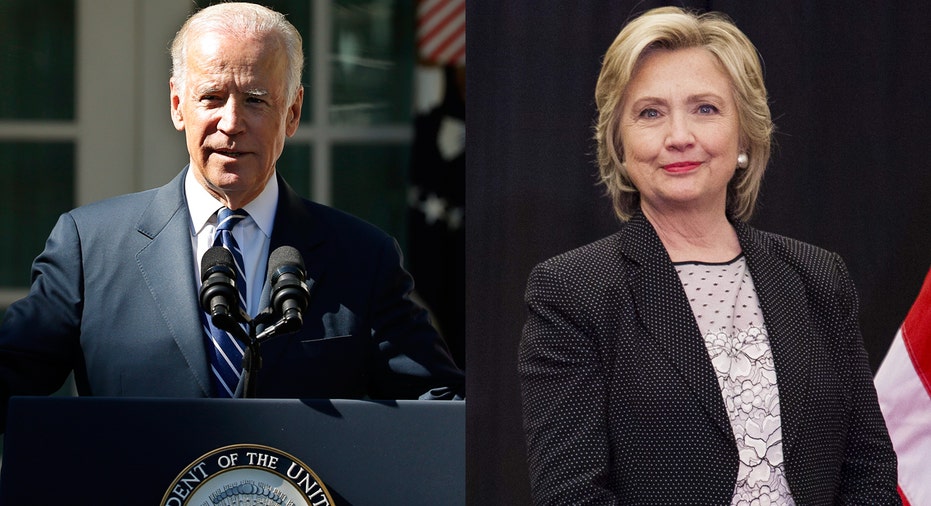 We finally have an answer to the "will he or won't he run?" question. After weeks of speculation, Vice President Joe Biden announced on Wednesday that he will not run for the Democratic nomination in 2016. During his speech in the White House Rose Garden, with President Obama at his side, Biden declared his window "has closed."
The vice president's decision comes on the heels of a recent Wall Street Journal/NBC News poll out Tuesday, with 38% of Democrats saying he should stay out of the race and 30% saying he should run. The survey reveals Clinton's numbers remain strong with 49% support, 29% for Bernie Sanders and Biden in third with only 15%.
Shortly after Biden's announcement, Democratic front-runner Hillary Clinton took to Twitter with her reaction:
She later released a full statement from the Clinton Campaign:
"Joe Biden is a good man and a great vice president. Serving alongside him in the Senate and then the administration, I saw first-hand his passion for our country and our people. Like millions of others, I admire his devotion to family, his grace in grief, his grit and determination on behalf of the middle class, and his unyielding faith in America's promise. As vice president, Joe has been by President Obama's side for every pivotal decision. He helped save the auto industry and pull our economy back from the brink of depression. He continues to fight for higher wages, safer communities, and a more peaceful world. It's a record to be proud of, defend, and build on. And I am confident that history isn't finished with Joe Biden. As he said today, there is more work to do. And if I know Joe, he will always be on the front-lines, always fighting for all of us."
Democratic presidential candidate Bernie Sanders also sounded off on Biden's decision not to run in 2016.
"Joe Biden, a good friend, has made the decision that he feels is best for himself, his family and the country. I thank the vice president for a lifetime of public service and for all that he has done for our nation. I look forward to continuing to work with him to address the major crises we face. He understands the need to rebuild the middle class; and to address income and wealth inequality, a corrupt campaign finance system, climate change, racial justice, immigration reform and the need for publicly-funded higher education."
Now that Joe is officially out of the picture does that seal the deal for Hillary Clinton's 2016 nomination?
"It would be unwise to say that path is clear, I don't think Biden has cleared the way for Hillary. I feel she has been the prohibited favorite for Democrats and Biden would've been a significant distraction," said Carter Eskew, a founder of The Glover Park Group and political media consultant for Al Gore's 2000 presidential campaign.
Eskew says while Hillary has been riding a wave of strong poll numbers since her debate performance, Biden bowing out of the race does not solidify the Democratic nomination.
"I don't think things are foreordained for Hillary. We shouldn't discount what Bernie Sanders will do in the next debate. He remains a viable candidate in Iowa and New Hampshire."
Hillary Clinton has managed to maintain her poll numbers despite the State Department email controversy. Eskew says she has a long way to go for the win and all candidates tend to encounter unforeseen obstacles.
"It is a very good day for Hillary Clinton but there is a tic-tock for all races, there are usually moments where candidates stumble. Biden could be on the sidelines waiting in case that happens, I could see him having another moment."
"Without Biden, Hillary's numbers will increase," said Simon Rosenberg, president of New Democratic Network and veteran of two presidential campaigns, including the 1992 Clinton War Room. He says Clinton has had a tremendous last two weeks and picked up a lot of momentum.
"I think Hillary's campaign is rejuvenated. She beat Bernie Sanders in the debate, the Benghazi committee is looking like a farce and she pushed Biden out of the race," said Rosenberg. "Hillary is the most dominant candidate in the race and very hard to beat now."
"Hillary is the most dominant candidate in the race and very hard to beat now."
Rosenberg says he expects Secretary Clinton to pick up votes left behind by Biden and some significant endorsements with her revived political strength.
The GOP took the news of Biden's departure from the presidential race as a win. In a statement, Republican National Committee (RNC) Chairman Reince Priebus said:
"The vice president's decision not to enter the 2016 race is a major blow for Democrats, who now will almost certainly be saddled with their unpopular and scandal plagued front-runner Hillary Clinton. Vice President Biden was the most formidable general election candidate the Democrat Party could have fielded, and his decision not to challenge Hillary Clinton greatly improves our chances of taking back the White House. With each revelation about her growing email scandal or conflicts of interest at her State Department, Hillary Clinton is getting more beatable by the day."
Hillary will face a full day of public testimony Thursday to explain her actions before, during and after the U.S. consulate in Libya was attacked, killing the U.S. ambassador and three other Americans.