Beyond .Com: The Startup Bringing You .XYZ and .College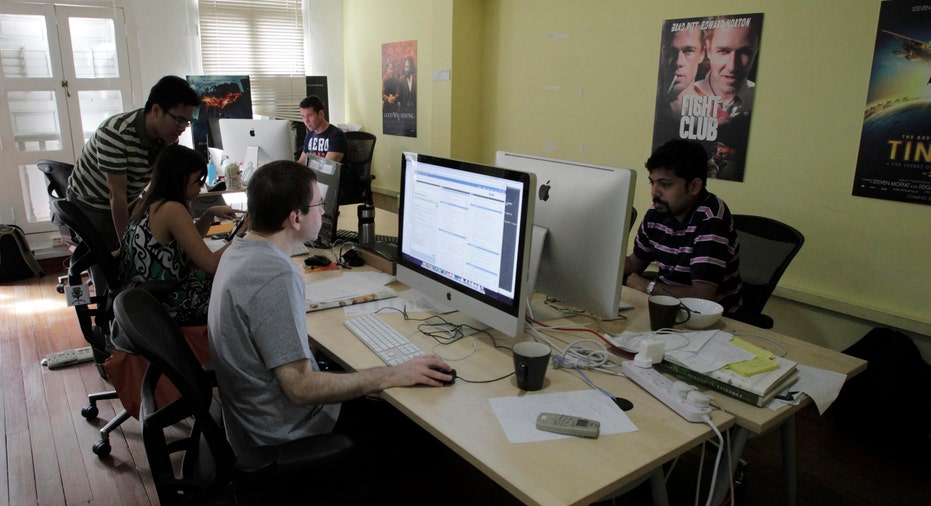 Businesses have a new home online. The Internet Corporation for Assigned Names and Numbers' (ICANN) generic top-level domains (gTLDs) program is opening a whole new world of domain extensions for businesses. Now, companies will have an even wider range of extensions they can use beyond ".com."
Although the ".com" extension is the most popular, ".org," ".biz," ".co," ".me," ".ly" and other extensions have recently risen in popularity. With the new gTLD program, new extensions like ".inc," ".menu" and ".app" are up for grabs.
One domain extension that's turning heads is ".xyz," touted as a new domain extension for a new generation. ".xyz" is powered by XYZ.com, a domain registry operator founded by 27-year-old Daniel Negari, XYZ.com also brings the ".college" extension — an alternative to .edu — and is battling for ownership of the ".now" extension on the gTLD program with heavy hitters such as Amazon.
The .xyz extension, coined after the phrase "Generation XYZ," represents the idea of combining the three major generations — Generations X, Y and Z — and is inspired by the Internet and its limitless potential, Negari said.
"We are introducing .xyz to the world so that people everywhere can share their passions, cultivate knowledge and express themselves," Negari said. "We think of .xyz as more than just a domain extension — it is a global community."
Negari talked to BusinessNewsDaily about ICANN's new gTLD program and how businesses can benefit from the .xyz and .college extensions.
[Building a Small Business Website: A Small Business Guide]
BusinessNewsDaily: Why should businesses get a .xyz or .now extension when there are so many other extensions out there?
Daniel Negari: Any small business owner who has tried to register a domain name in the past few years has noticed that it can be almost impossible to get the domain name they are looking for. Many have to settle for long and hard-to-remember names — often with ugly dashes or extra words. In fact, many entrepreneurs cannot name their company what they want because the .com [extension] is not available or is just too expensive because someone already registered it years ago. There are over 115 million .coms registered, so any halfway good name is already taken.
.xyz is instinctive, natural, memorable and still maintains the familiar three-letter form. We end the alphabet with .xyz and it makes sense to end a domain name the same way. Also, while it is very memorable, .xyz does not carry a heavy meaning or label with it. Talking to business people and by doing our own market research, we've learned that brands don't want a domain extension that will define them or overshadow their brand.  They want a domain name that will help them connect with their customers. And that is .xyz.
BND: How is .xyz, .now, etc. different from other new domain extensions, such as .ly, .me, etc.?
D.N.: .xyz makes sense as a globally adoptable domain extension since X, Y and Z are recognized as the last three letters of the Latin alphabet. There is no language barrier, unlike most other extensions, since XYZ serves more as a universal symbol than an English word with a dictionary meaning. It is also three letters like other popular extensions today, like .com, .net, and .org.
If you look at the problems that other domain extensions have, .xyz offers a solution to all of them. The problem with .ly is that it means nothing and is unmemorable. While .me is more memorable, it brings a connotation with it and really only makes sense for personal websites. [The extension] .co, although well-marketed, is only memorable or recognizable as being similar to .com and as a result generally causes a great deal of confusion. The O.co fiasco comes to mind [where Overstock.com's attempt at rebranding as "O.co" failed miserably — consumers confused O.co with O.com, a VeriSign-owned domain, resulting in a 10 percent loss in revenue for Overstock]. Looking at it in this light, the appeal of .xyz becomes obvious.
With .xyz, we are looking ahead. We know that the Internet is evolving, and we want to provide everyone — regardless of where they live or what they do — with a platform to communicate and share their knowledge and ideas. We're positioning .xyz as the domain extension for every website, everywhere, and our domain names will be priced accordingly to ensure anyone who wants to have a Web presence will be able to have one with .xyz.
BND: What are some creative ways businesses can use .xyz?
D.N.: The obvious use is to register a .xyz as your company's primary domain name. In addition, a .xyz name can be used for particular products and to reach a new demographic. For example, Tesla currently uses TeslaMotors.com. But instead, they could register Tesla.xyz as their primary consumer page and use ModelS.xyz and ModelX.xyz as easy-to-remember microsites, while keeping TeslaMotors.com as their corporate page.
Also, a company can register a name that is descriptive of what the offer, such as a bicycle store registering bikes.xyz.
We have also received great feedback from the architectural and engineering fields, since they draw models in 3D using the X, Y and Z coordinates. Because of this natural relationship, we think .xyz will be popular amongst these professionals, as well as the software companies that support them.
BND: Is there a risk of consumers getting confused? For example, marketers say .com is where the money is because that's what people automatically think of — instead of going to mysmallbusiness.xyz, they're programmed to type in mysmallbusiness.com; some even go as far to say that if you can't get a .com, you should play around with your domain or get a new business name altogether so that you can get a .com.
D.N.: This is the old way of thinking. The value of .com comes from a lack of competition in the very short time period the Internet has existed of just over 20 years. The Internet is evolving, which means things will change. The .com namespace is already overcrowded, and it is time for a new domain extension to come in and offer users new choices.
While those are very valid points, in the end, it makes more sense to avoid a lengthy .com and go with a memorable .xyz. The reality is that far more people will entirely forget a name that is different and longer than the business name.
As time goes on and people get used to .com no longer being the default, the problem will slowly drift away and we are left with the ease of remembrance as the important factor. We end the alphabet with .xyz and it's intuitive for people to end their domain name the same way.
BND: You also own .college. Is .college intended to replace or supplement .edu? How can small businesses take advantage of the .college extension?
D.N.: It's most accurate to say that .college will supplement .edu rather than replace it. .edu is a very specialized and exclusive domain extension, with only about 7,000 domain names registered. Only U.S. accredited universities are able to register .edu domain names, and even they are limited to one .edu domain name per institution. That means universities can't get individual .edu domain names for their colleges, departments, campus programs and staff. .college addresses this need, in addition to many others.
There are also over 30,000 recognized colleges and universities in the world, which means about 23,000 are not able to register their institutions name under the .edu extension. .college is a global education-related domain extension meant to create greater consistency in institutional presence online all over the world.
Nevertheless, .college isn't just for schools. It is a 100 percent unrestricted domain extension, meaning anyone can register a .college domain name for any purpose. It can be used by an unlimited number of organizations and individuals, including nontraditional education systems, tutoring services, online education, corporate training, recruitment, test preparation companies, events, special interest groups, university research parks, startups and students.
On starting a business
BND: Tell us about your history as an Internet entrepreneur. What were the toughest obstacles and how did you get through them?
D.N.: I had a pretty entrepreneurial childhood filled with a number of smaller ventures. At the age of 12, I started a business building custom computers. From there, my first Internet-related venture was buying electronics at Best Buy's Black Friday sale and selling it on eBay for a hefty profit. I did something similar with a friend's Foot Locker discount. Eventually, in high school, I started working with a real estate broker who agreed to teach me the mortgage business if I helped him use computers more efficiently. I started working in the mortgage industry and was earning more than $20,000 a month before I graduated high school. In college, I created my own real estate brokerage firm, Beverly Hills Mint.
With my money from my mortgage business, I began heavily investing in domain names. Domain name investing lead to Internet advertising and Web development, and I created a new company for this purpose — Cyber2Media, which has a team of around 30 and is growing.
I originally acquired xyz.com with the intention of starting an ICANN-accredited registrar. Shortly after we became ICANN-accredited, the new gTLD program was announced. I then pivoted and turned the company into an Internet registry operator. I compiled a spreadsheet with literally thousands of possible domain extensions. Of all of these, .xyz by far stood out the most memorable, marketable and intuitive.
While I have a very high tolerance for risk, the toughest part is always going to be making the decision to take a big risk and make a big move. I've done this many times in my career, and it's always paid off.
BND: At 27, you are one of the youngest new gTLD applicants. What has it been like being chosen as ICANN's poster child for the new gTLD program?
D.N.: Overall, it feels good knowing that I have been moving on the right track with my domain extensions. My vision for .xyz and .college and ICANN's vision for the new gTLD program are well-aligned. ICANN has stated that its goal with the new gTLD program is to bring choice, competition, openness and innovation to the Internet.  That is exactly what I am trying to do with .xyz and .college. .com has been trapping people in for a few decades now and .edu is very restrictive. .xyz and .college are open to everyone and are entirely unrestricted. They encourage people and businesses to think outside of the normal patterns they have become accustomed to. I feel very blessed to be a part of this massive change to the Internet landscape.
BND: Were you worried at all about the competition, such as the slew of extensions already available? For instance, did you ever doubt .xyz's potential given the competition and whether consumers would actually use it?
D.N.: The short answer is no — I was never worried about competition and never doubted .xyz's potential. We are planning for millions of registrations, which will be driven by our marketing and promotional efforts. We have a veteran industry team with backgrounds in marketing, startup support, domain investment, registry operation and legal expertise. We're very aware that success does not just happen and we are willing to put in the legwork it will take to ensure .xyz is a success.
BND: If someone were to tell you that a .xyz or launching any more extensions isn't necessary, what would you tell them?
D.N.: I would tell him or her to go and talk to an entrepreneur who could not name his company any of his top 10 choices because the domain names were either not available or would have cost too much. Or to talk to the business owner whose customer cannot remember his domain name that barely resembles his business name. This is something I see all the time and is something I've personally experienced. I would also point to the world outside of the U.S. where all of the existing domain extensions have no meaning because most of the world does not speak English. The Internet landscape is in dire need of innovation, competition, openness and choice. .xyz is right there, ready to meet these needs.
BND: What advice do you have for other entrepreneurs about starting a business?
D.N.: The most important advice I can give to other entrepreneurs, whether in tech or otherwise, is to not be afraid to take calculated risks and to believe in yourself. The two really go hand in hand. In my life as an entrepreneur, I've taken a number of huge, but smart, risks that have all paid off very generously. Sometimes you can't be afraid to go all in if you want to receive the payoff down the road.
Originally published on BusinessNewsDaily.