Beyoncé Will Score With World Tour Sales Despite Super Bowl Critics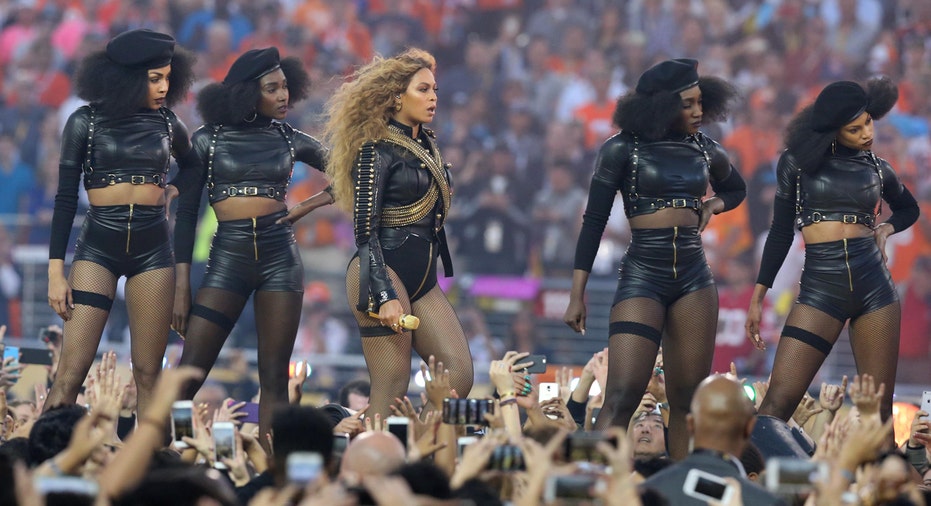 Beyoncé performed in front of the ultimate audience on February 7 as millions of viewers tuned in to Super Bowl 50 and watched her and Bruno Mars alongside halftime show headliner Coldplay. A commercial ran following the Grammy-winning singer's set announcing her Formation World Tour, which will kick off in April.
That moment arguably became the highlight of the night and left fans and industry insiders alike praising her marketing strategy.
"The way the tour was announced helped to build the hype for it," Chris Leyden, a content analyst at SeatGeek, told FOXBusiness.com.
"Performing at the Super Bowl is one of the best things an artist can do in terms of getting fans to turn out for their concerts," he added.
SeatGeek, a secondary marketplace, points to the increase in resale ticket prices for previous Super Bowl halftime show performers as a gauge of what can be expected for Beyoncé. The average resale price of a Bruno Mars ticket for the 2014 part of his tour, which came after his Super Bowl performance, was 27% higher than the average resale price during the 2013 part of his tour.
The median listing price for tickets to see Coldplay at their July 16 show at MetLife Stadium, which is home to both New York NFL teams, went up about 25% from the day before their Super Bowl performance to the day after.
Following Beyoncé's headlining performance at the 2013 Super Bowl, Seat Geek says the average resale price of a ticket to her Mrs. Carter Show World Tour was $213.
Tickets will be sold initially on Monday and Tuesday through Ticketmaster, which is owned by entertainment company Live Nation (NYSE:LYV). Several ticket presales have already taken place, including one for American Express (NYSE:AXP) cardholders and another for subscribers to Beyoncé's fan site.
"What Live Nation is doing with artists today is they look at the trends, they look at the heat map and they bring the artists into the markets where they are the most readily accepted," Richard Tullo, director of research at financial services organization Albert Fried & Company, told FOXBusiness.com.
Secondary marketplaces, too, are gearing up for a busy few months as tickets will sell out quickly in the primary market.
"A lot of people who get turned away will immediately move over to the secondary market, but we see most activity in the week leading up to a show," Leyden said.
Jessica Erskine, head of entertainment communications at StubHub, which is owned by eBay (NASDAQ:EBAY), says views to Beyoncé's artist page on their site were nine times higher following her Super Bowl performance than in the days leading up to it.
Erskine adds that there is increased demand for this tour since it will be Beyoncé's first solo tour since 2013. She co-headlined a tour with husband Jay-Z in 2014.
There are fewer dates this time around, but the venues are bigger. Nevertheless, Beyoncé has already added a second New York performance at Citi Field in June, and the possibility of the same occurring in other major cities is likely.
The 34-year-old's latest endeavor is not without controversy, however. Her Super Bowl performance of "Formation," the new single after which the tour is named, has been criticized for allegedly attacking American law enforcement and glorifying the Black Panther Party.
During an interview on the FOX Business Network, Milwaukee County Sheriff David A. Clarke Jr. said, "The Black Panthers are a subversive hate group in America. I think she could have done a better job."
Former New York City Mayor Rudy Guiliani was also critical of the singer's performance while appearing on the Fox News Channel's "Fox & Friends."
"I thought that she used it as a platform to attack police officers, who are the people who protect her and protect us and keep us alive," said Giuliani.
Industry insiders are not convinced that this controversy will affect the success of Beyoncé's tour.
"Anytime there's a significant amount of buzz around a performance, we see a lot more interest and demand," Erskine said.
Tullo adds Beyoncé's fanbase expects and appreciates her political messaging.
"Beyoncé is overt with her messaging, therefore she was on brand by being overt at the Super Bowl, and her audience responded," he said. "She's got the relationship with her fans that can kind of activate a call to action, which is very important for a live artist."
Overall Tullo anticipates "Formation" will be one of the top tours of the year in the U.S., barring a major downturn in the economy or geopolitical crisis.
He adds that it will do well internationally too as emerging markets like the Middle East are eager to bring in top U.S. talent to validate their new stadiums and arenas.