Best Smartphone for Your Business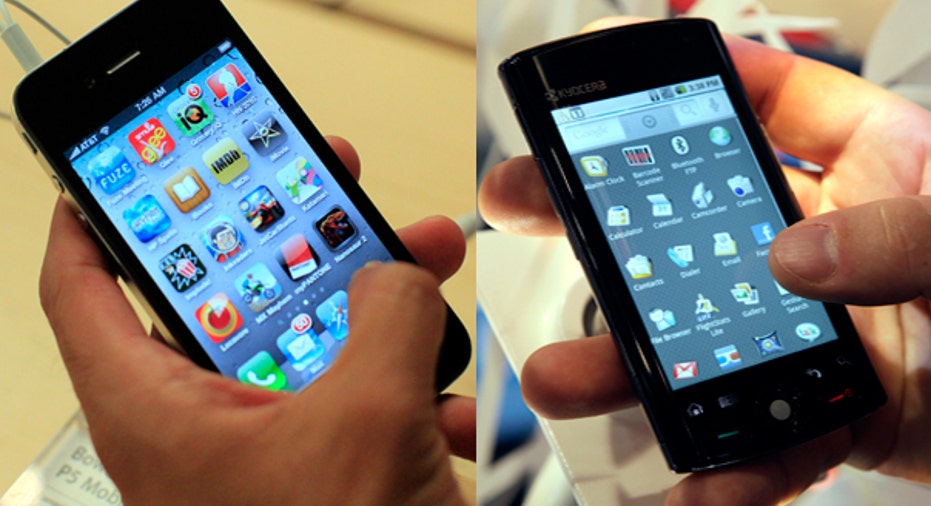 Is now the time for small business owners to trade in their BlackBerry for an iphone or Android-based smartphone? Apple (AAPL) and Google (GOOG) think so. But before small business owners make a move, it pays to consider what they are actually using the phone for.
"If the phone is truly about business and not about running apps, playing games of watching videos then the BlackBerry is still the most secure and has a better battery life than the other products," said Rob Enderle of Enderle Group.
But if the small business user wants to access apps and easily search the Web, the iPhone or an Android-based phone may be the way to go.
For years, the BlackBerry was consider the defacto phone for business owners largely because it was secure, easily integrated into the IT department and its built in keyboard made it easy to send texts and e-mails.
Apple's iPhone on the other hand, was initially geared toward consumers, with its large screen, sleek design and touch screen interface. But now, Apple is hawking the iPhone as a corporate device as well.  The newer iPhone can be integrated into IT departments and analysts say it is as secure as the BlackBerry.
Android-based phones, which are relatively new to the market, have their own appeal among business users, partially because of the apps  available to be downloaded on the phone. Indeed Verizon Wireless, which sells the HTC's Droid Incredible phone, said in a recent press release Droid Incredible is secure enough for business users and offers business-type applications for financial data and productivity to name a few.
iPhone Pros & Cons
According to Roger Kay, founder of technology consulting firm Endpoint Technologies Associates, Apple has given IT departments the security they want by instituting things like a remote ability to clear the data on a phone if it's lost and the ability to encrypt data. Still, Kay said Apple's voice functions can be spotty in certain regions of the country, which could put a small business owner at a disadvantage. Apple directed requests for comment to AT&T.
"The combination of AT&T and the iPhone can leave you out of commission with voice service in certain geographies. The question is it of industrial strength for business users," said Kay.
For small business users that do a lot of business on the go the slew of apps for the iPhone is appealing. "The iPhone gets more smiles. There are so many free apps that business owners may discover that could make business easier, said Richard Doherty, research director at Envisoneering Group. There is an "amazing ecosystem" of apps that help small business owners waste less time and connect with customers, he said.
And because the iPhone is easy to use and has fewer steps than other phones to get online and access apps, analysts said it could increase productivity.
Android Pros & Cons
Just like the iPhone, the appeal for many Android-based phones users is the apps. According to Kay, Android's app offering is as robust as Apple and has a good voice connection with Verizon--making it a reliable phone for small businesses.
Still, some analysts said there are security concerns that may prevent small business owners from embracing the phone in droves.  "The Android is too hackable, it's too easy to manipulate," said Doherty. "It has a long way to catch up with Apple from a business sense."
Google wasn't immediately available for comment
According to Enderle of Enderele Group, Android-based phones have yet to come out with a clear strategy to address business users. "Vendors selling Android phones are mostly focused on consumers. There hasn't been the emergence of the quintessential business phone," said Enderle.
Price Relatively Equal
Since the price difference on all the phones are negligible at the end of the day, small business owners will have to decide which is best for them based on how they will use it. If sending e-mail and answering calls are the primary actions sticking with the Blackberry may be the best option. If searching the Web, using mobile apps  and having a large screen tops the list than an iPhone or Android could be the winner.