Best Credit Cards to Recover from Holiday Debt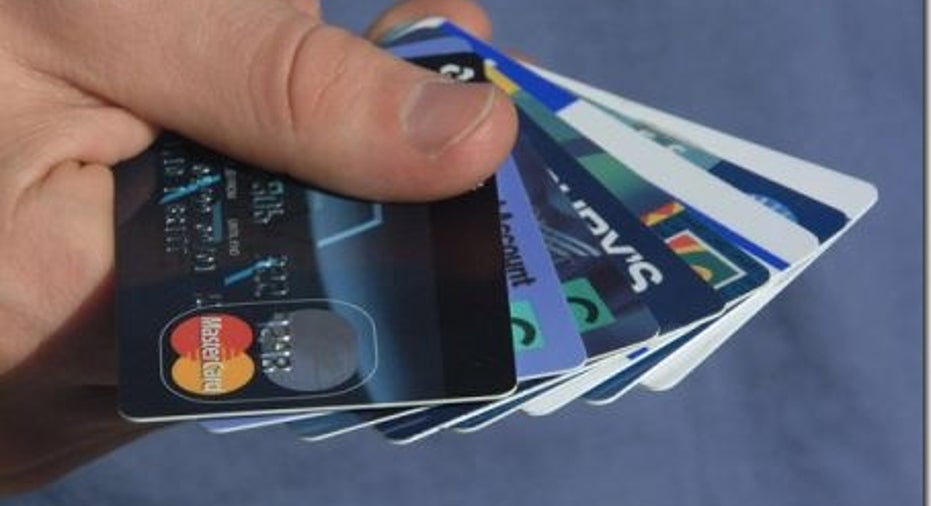 You're probably wondering how hard you'll have to work out over the next few weeks to make up for the extra treats you enjoyed during the holidays. And if you're feeling tight at the waist, chances are you're feeling a pinch in the wallet, too.
Surveys from the American Research Group and the American Retail Federation estimated that on average you likely spent between $650 and $750 on gifts and holiday entertainment this year. If you put it all on a credit card with an interest rate of 19.9%, you could end up spending as much as $150 on finance charges trying to clear a bill that size. Fortunately, these four balance transfer credit cards can help you knock down that balance at no interest over the next year:
Slate from Chase
If you're serious about getting out of debt, check out a rare offer that can clear your balance before the next time they drop the ball in Times Square. Slate from Chase dropped their balance transfer fees for a limited time, meaning you can enjoy one of their best credit card deals without the usual service charge of 3 to 5 percent. Qualify for this no annual fee credit card, and you'll enjoy no interest for a year, along with some of Chase's lower "go-to" rates.
However, instead of waiting until the last minute to clear your balance, take advantage of another free gift: access to Blueprint. Chase's online credit card calculator works best if you intend to use your Slate card for other purchases throughout the year. That's because Blueprint will show you how much you'll need to budget each month to clear your balance before the end of your introductory offer.
Citi Platinum Select MasterCard
If you think you'll need a little longer than a year to cover the cost of 2011's holiday indulgences, consider the Citi Platinum Select MasterCard. This no-frills card carries a 3-percent balance transfer fee, but will stretch your payments across 21 months with no finance charges. Citi's go-to rates mirror those we're seeing on most of this year's balance transfer credit card offers.
Though this isn't one of Citi's rewards credit cards, the bank's trying a new incentive with its Platinum Select series. Called "Extra Cash from Citi," this set of special offers adds value by giving you an extra bank of bonus dollars you can use toward deals from select merchants. If you're a fan of daily deal websites like Groupon or Living Social, Citi's Extra Cash program may find you a few extra ways to save money beyond your initial balance transfer.
Discover More Card
Chase and Citi offer strong online tools to transfer your balances, but Discover continues to win awards for its all-American customer service team. If you want some extra help on the phone as you plan your escape from holiday debt, consider the Discover More Card. Right now, Discover's offering this balance transfer credit card with 18 months at no interest and a balance transfer fee of just 3 percent -- or 12 months at no interest and no balance transfer fee.
If you've never tried a Discover Card before, this could be a great opportunity to diversify your credit profile while treating yourself to some of this upstart lender's perks and privileges. You won't pay finance charges on purchases during your first six months with your new Discover More Card, but you will qualify for Cashback Bonus rewards of up to 5 percent on qualifying transactions.
Citi ThankYou Preferred Card
You can even turn your holiday spending into an opportunity to get yourself a treat. Make $500 in purchases during your first three months as a Citi ThankYou Preferred Card holder and you'll earn enough rewards points for $250 in gift cards. That could very well be more than enough to offset the 3-percent balance transfer fee, while you enjoy a 12-month promotional period at 0 percent APR.
This rewards credit card earns you a point for every purchase you make, plus five times the usual points on transactions at gas stations, supermarkets and drugstores during your first year. After that, Citi rewards you with an anniversary bonus that grows for each year you keep your card. With no annual fee and a friendly rewards team that answers the phone when you need help picking out a great prize, Citi's making a strong play for members of other issuers' loyalty programs.
Balance transfer credit cards
Remember that balance transfer credit cards, like all lines of credit, can influence your credit report and impact how much you'll pay for insurance policies, mortgages, and auto loans. However, if you're not planning any big purchases over the next year, you may want to compare credit cards that can help you erase your holiday bills in time for next year's shopping spree.
The original article can be found at CardRatings.com:Best credit cards to recover from holiday debt