Best Credit Cards for a New College Grad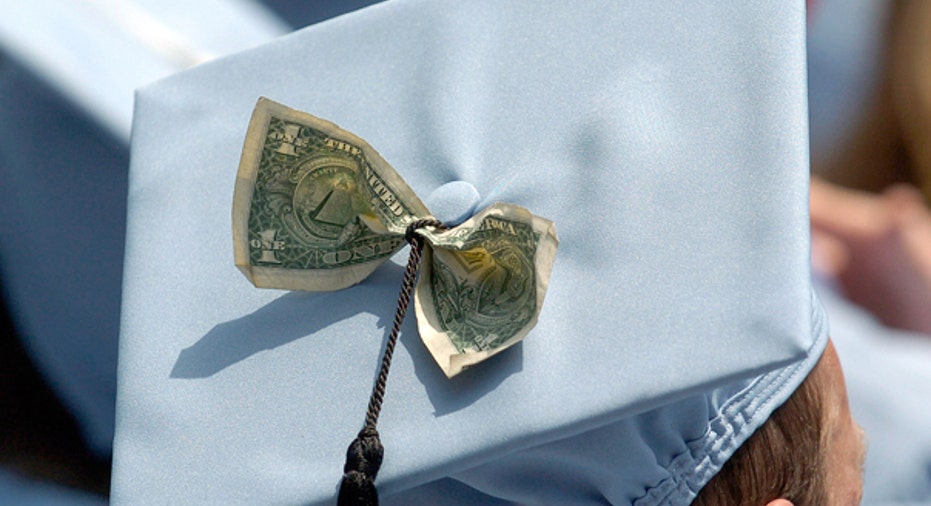 Getting a credit card the day you arrive on campus used to be the start of college life. Recent changes to banking regulations, however, have made it more challenging for college students to get credit cards before they turn 21.
Consequently, many college students now start shopping for credit cards as they're preparing to pick up their diplomas. If you're comparing credit cards while sizing your cap and gown, you need to consider what's next in your life. Which credit card will take you into your real life?
Are you a College Grad on the Move?
The best credit card rewards match the right perks and benefits with the ways you spend money right now. The Discover Open Road Card offers easy-to-use savings that can help kick-start sound spending habits.
*0% APR teaser rate can help buy you some time between graduation and your first steady paycheck.
*1% cash back on all purchases lets you squeeze an extra penny from every dollar you spend. If you can pay rent or utilities with a credit card (without any added convenience fees), and pay off the balance every month, you can rack up a significant rebate at the end of your first year.
*Gas and restaurant bonuses let you earn extra cash back on the necessities wherever your road trip takes you. Plus for a limited time, you get a free $75 Restaurant.com Gift Certificate with your first purchase.
Not everyone will qualify for this special edition Capital One credit card. If you're organized and responsible with your money, you might want to team up with a parent or an adult relative with a great credit score who's willing to sign up as your co-applicant.
Ready to Furnish Your First Apartment?
If you're the kind of college grad who's happy with a hand-me-down couch but can't tolerate a tube TV, Sony Card from Capital One features:
*Electronics and entertainment rewards, especially attractive if you want to trick out your pad with a new computer or a home entertainment system.
*Bonus points on Sony purchases let you add even more gadgets to your collection.
*Up to 10 months with 0% APR let you pay down that new flat-screen TV quickly.
While the Sony Card's another Capital One credit card in disguise, its retail tie-in makes it easier to qualify for than the "No Hassle" Cash Rewards card.
Do you Love Movies and Dining Out?
Citi already offers some of the best student credit cards on the market, in conjunction with branding partners like MTV. The Citi Forward Card can help build a stronger credit profile while supporting you during your first few months out of school:
*Bonus reward points in Citi's ThankYou program when you use the card at restaurants, movie theaters and bookstores.
*Up to a 2% APR reduction when you pay your bill on time and avoid exceeding your credit limit.
*Extra bonus points when you sign up for paperless statements.
Critics chided banks for years about the temptations credit cards pose to new borrowers. It's great to see a youth-oriented card that actually teaches new customers how to use credit responsibly, while still offering perks for the occasional splurge.
Are you Ready to see the World?
Of course, not everyone plans to leap right from college into the job market. Writers like Chris Guillebeau and Tim Ferriss have chronicled a new generation of Americans who balance business and leisure travel. If you want to see the world without disconnecting your future career, Capital One Venture Rewards Credit Card can help you achieve a frequent flier lifestyle.
*No foreign transaction fees make this card an immediate money-saver.
*Miles don't expire, and you earn them on every purchase.
*Use miles on any airline, with no blackout dates.
As with other premium Capital One credit cards, this account requires excellent credit. You may need to piggyback on a parent or sibling's account, at least at first, to qualify for your own card.
College Grad with no Credit?
So far, every one of these recommended credit cards requires at least a good credit score and a solid credit history. If you haven't had the opportunity to build a sound credit profile during your college years, Orchard Bank Classic MasterCard offers some of the top-rated credit cards for applicants with limited credit.
*Email and text message alerts remind you to pay your bill and to stay within your credit limit.
*Regular credit bureau updates allow you to build a credit profile quickly.
*Customer service by phone and web enable you to track your purchases and maintain your budget.
Though you won't get one of the best interest rates on the market from Orchard Bank, you will get a credit card that's accepted worldwide and a credit limit that matches your current income.
Regardless of which credit card you apply for, to get your best chance of acceptance, be sure to accurately present your income and residency status along with your educational background. Credit card issuers still look for college grads with strong lifetime earning potential, hoping to lock in your loyalty for the next few decades.