Best Buy's Earnings Fall, But Top Estimates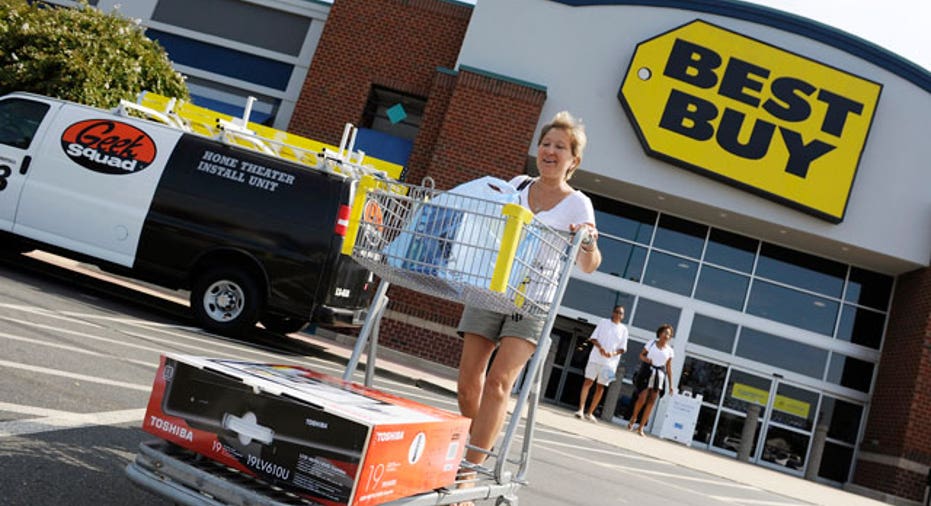 Best Buy (NYSE:BBY) suffered a 25% dive in first-quarter earnings amid slumping international sales, but the electronic retailer's results bested Wall Street's expectations and management maintained its guidance.
The report comes during a tumultuous stretch for Best Buy, which recently ousted former CEO Brian Dunn in a scandal and is struggling to stem a slide in sales caused in part by online competitors like Amazon.com (NASDAQ:AMZN).
The world's largest electronics retailer said it earned $158 million, or 46 cents a share, last quarter, compared with a profit of $212 million, or 53 cents a share, a year earlier. Excluding one-time items like restructuring charges, it earned 72 cents a share, topping the Street's view of 59 cents.
Revenue inched up 2.1% to $11.61 billion, compared with consensus calls from analysts for $11.52 billion. U.S. sales jumped 5.1% to $8.8 billion, while overseas revenue fell 6.3% to $2.8 billion due to struggles in Europe and China.
Overall same-store sales dropped 5.3%.Gross margins slipped to 25% from 25.7%.
"Best Buy is in a turnaround, and the strategic priorities we laid out at the beginning of the year are just the first phase of the changes to come," interim CEO Mike Mikan said in a statement. "We know we have to better adapt to the new realities of the marketplace."
Despite the tough international environment, Best Buy reaffirmed its call for full-year non-GAAP EPS of $3.50 to $3.80. The midpoint of that range, $3.65 a share, would surpass the Street's view of $3.58.
After plummeting 18% in May, shares of Best Buy initially spiked 7% in the premarkets on Tuesday but have since flatlined. In recent action, the shares were up 0.72% to $18.30.
Best Buy said it has closed 41 of the 50 U.S. big-box stores it recently unveiled plans to shutter this fiscal year.
Meanwhile, Best Buy continues to shuffle its executive ranks. Ryan Robinson, the retailer's No. 2 finance official who serves as chief financial officer of the U.S. segment, is leaving Best Buy on Friday, according to the Minneapolis Star Tribune.
Best Buy tapped executive-search firm Spencer Stuart on Monday to head its search for a replacement for Dunn, who stepped down in April.