Best Buy's 1Q Tops Views, Shares Rally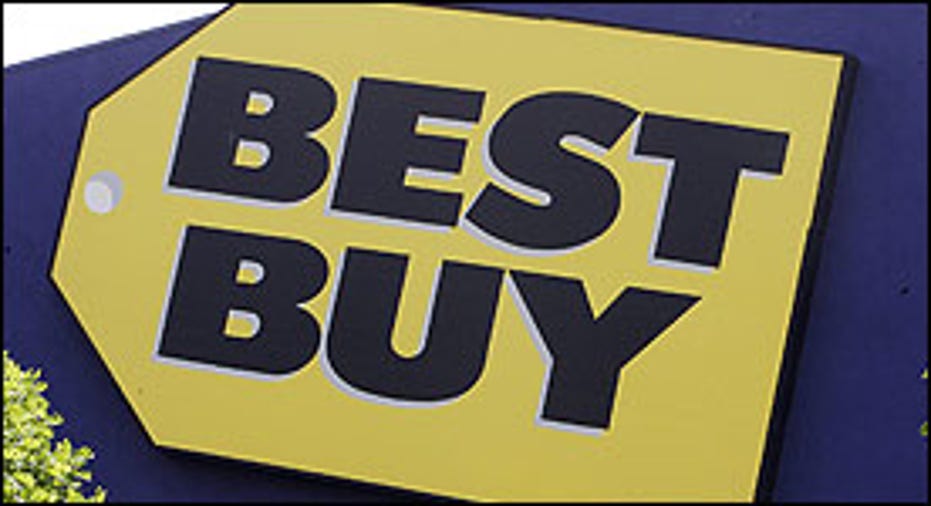 Fueled by impressive mobile sales growth, Best Buy (NYSE:BBY) revealed on Tuesday stronger-than-expected fiscal first-quarter results and stood by its full-year guidance, sending the electronics retailers stock up more than 7%.
Richfield, Minn.-based Best Buy said it earned $136 million, or 35 cents a share, last quarter, marking a 12% decline from $155 million, or 36 cents a share a year earlier. Wall Street had been anticipating EPS of just 33 cents.
Revenue increased 1.4% to $10.94 billion, surpassing consensus calls from analysts for $10.71 billion. While same-store sales shrank 1.7% overall, Best Buy said domestic mobile phone same-store sales soared 28%. International comparable sales gained 0.4%.
Gross margins shrank to 25.3% from 25.9% the year before.
Were pleased that our actions improved sales trends within the quarter, with continued double-digit growth online and strong growth of mobile phones and connections, CEO Brian Dunn said in a statement.
Despite recent signs the U.S. economic recovery may be stalling, Best Buy relieved shareholders by reaffirming its forecast for non-GAAP EPS of $3.30 to $3.55 in fiscal 2012. Revenue is seen at the higher end of its $51 billion to $52.5 billion range. Analysts had been projecting EPS of $3.46 on sales of $51.77 billion.
The steady tone from Best Buy came as the Commerce Department said retail sales declined 0.2% in May, marking the first drop in 11 months. However, economists had forecasted a steeper drop of 0.4% and sales were up by an in-line 0.3% when auto sales were excluded.
Shareholders applauded the results and guidance, bidding Best Buys stock higher. The bar had been set low as the companys shares have still slumped 16% year-to-date and nearly 30% from a year ago.