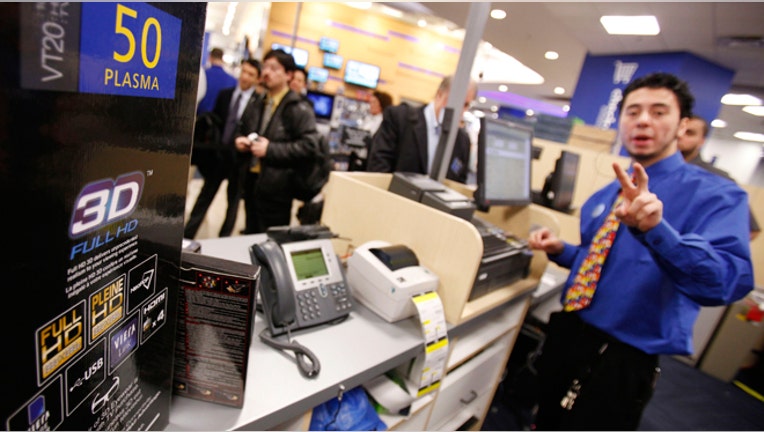 Coming off disappointing holiday sales, Best Buy (NYSE:BBY) announced on Tuesday a management shakeup that separates its two co-presidents of the Americas.
Shari Ballard, 45, has been appointed president of Best Buy International, effective immediately, while Michael Vitelli, 56, will become president of Best Buy U.S.
Both have jointly held the role as head of the Americas, overseeing the U.S., Canada and Mexico, since March 2010.
Best Buy CEO Brian Dunn said the move is intended to "make the most of the profitability opportunities" seen both domestically and internationally.
"We are establishing dedicated responsibility with two of our senior executive leaders," he said. "The focus, energy and drive of these two leaders will serve us well as we accelerate the pace of our company's transformation."
In her new international role, Ballard, who joined Best Buy in 1993, will oversee businesses in China, Canada and Mexico, as well as the company's interests in the Best Buy Europe venture.
In Canada, she will help drive greater synergies between the Best Buy and Future Shop brands, while improving cross-border commerce relations in Mexico, and expanding the company's presence in China.
Vitelli, who joined Best Buy in 2004, will focus more fully on operations in the U.S., charged with creating a seamless customer experience across all channels, accelerating operational enhancements that will grow higher margin sales and unlocking opportunities to drive improved returns to shareholders.
The management shake-up comes a week after the nation's leading consumer electronics retailer reported disappointing December sales after holiday traffic slowed and didn't pick up until days before Christmas.
Comparable sales, or those at stores and web sites open at least 14 months, were down 1.2% from the year-earlier period, including a slight slide in the U.S. and a 4.3% drop internationally.