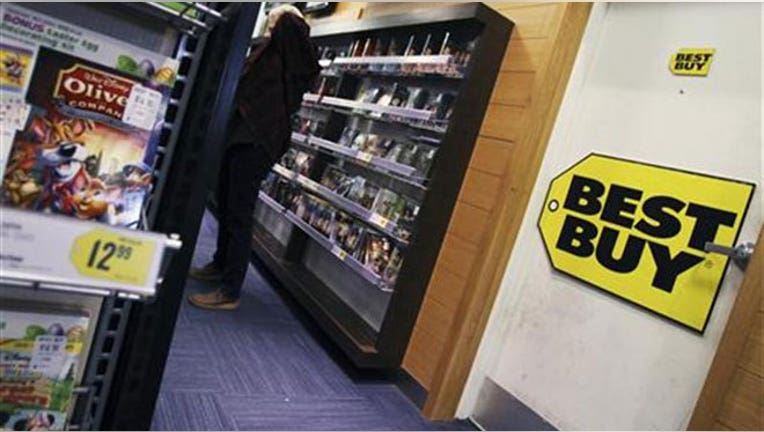 In an effort to fight back against online retailers that have undercut its in-store prices, Best Buy (NYSE:BBY) said Friday that it will offer the same prices for gadgets like cameras and tablets this holiday season as rivals such as Amazon (NASDAQ:AMZN).
The Richfield, Minn.-based consumer electronics giant has seen in recent years potential customers visiting its brick-and-mortar stores merely to try out devices before buying them on the Internet for less.
"We're giving front-line employees the opportunity to match online retailers when it makes sense," a Best Buy spokeswoman told FOX Business. It's "a way for us to empower our employees to close the deal."
Through this initiative, Best Buy said it is targeting the consumer web sites of retailers like Amazon, Apple (NASDAQ:AAPL), Dell (NASDAQ:DELL), Target (NYSE:TGT), Staples (NASDAQ:SPLS), Sears (NASDAQ:SHLD), Office Depot (NYSE:ODP), OfficeMax (NYSE:OMX), Hewlett-Packard (NYSE:HPQ), Home Depot (NYSE:HD), and others.
The electronics chain is also preparing to offer free home delivery on merchandise that is sold out at the time of purchase, which is an effort to stop those customers from browsing online for the same item.
The holiday strategy marks Best Buy's boldest move yet to compete with the intensifying competitive online shopping landscape and minimize "showrooming," the term Best Buy uses to refer to consumers who visit its brick-and-mortar stores with no intention of buying.
Currently, just 40% of Best Buy's 600 million annual in-store visitors leave with a purchase, a rate that has been pretty steady over the last few years. At the same time, the number of people showrooming has increased marginally over the last few years, reaching 15%.
"We're working to turn the tables on showrooming," the spokeswoman said. "This is a huge opportunity to increase that close rate."
The loss in customers has weighed heavily on its bottom line and the company last quarter posted a whopping 91% decline in profit and suspended its earnings projections.
The spokeswoman said the deal differentiates Best Buy from some of its online competitors because it allows customers to buy products at Internet prices but gives them the ability to pick up purchases the day-of at its brick-and-mortar store.
"We see our stores as a compliment to our Best Buy website or mobile [platform]," she said.
The offer is restricted to small and major appliances as well as electronics hardware such as cameras, camcorders, desktop computers, laptops, e-readers, tablets, TVs, MP3 players, handheld gaming devices and consoles. Smartphones are not included.
Best Buy's offer is effective immediately through Nov. 17 and again from Nov. 27 through Dec. 24. The retailer said it is currently planning to match online prices just through those dates but will "evaluate going forward" whether it chooses to extend it.
The holiday shopping season is a key period for retailers and often makes up a large majority of their annual sales. Retailers from Wal-Mart (NYSE:WMT) and Macy's (NYSE:M) to Toys "R" Us have been ramping up their sales force in an effort to meet growing demand. Earlier this week, Macy's said it would offer designated Toys "R" Us departments in an effort to keep shoppers under its roof for as long as possible while they checked off their shopping list.
Holiday shopping has been forecast to rise more than 4.1% to $586.1 billion this season by the National Retail Federation. On a bright note for Best Buy, ShopperTrak has predicted that foot traffic in stores will grow by 2.8% in the last two months of this year.