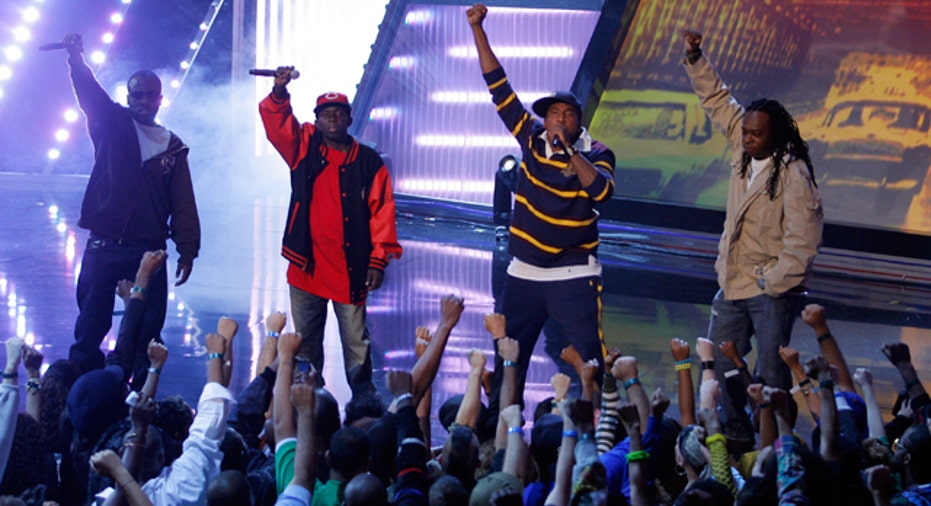 As I walked out of the Sony building on to Madison Avenue recently, I was deep in thought about the arc of relationships.
I had just attended a screening of a documentary directed by Michael Rapaport called "Beats, Rhymes & Life: The Travels of A Tribe Called Quest" and was struck by how the film captured the nuance, exhilaration and thorniness of our most meaningful connections.
By no means a hip-hop aficionado, my attraction to the film came from a place that is drawn to story and the genesis of creativity. An official selection for the 2011 Sundance and Tribeca film festivals and set to be released on July 8 in New York and Los Angeles, the film's rhythm took me along for the ride as hip-hop group "A Tribe Called Quest" went from heady courtship to symbiotic cruise control to troubling breakup to civil reunion.
Rapaport, best known for his acting, made his directorial debut with this project because of his love for the music and his real desire to know what caused this band that released five gold and platinum selling albums within eight years to come together and then splinter.
"One of the biggest challenges in making this film was portraying all four members of ATCQ in a clear and concise manner," Rapaport said in a director's statement. "Communicating their 30-year relationship in 90 minutes wasn't easy. Articulating so many moments personally and professionally caused me many sleepless nights in and out of the editing room."
What all his creative turmoil resulted in was a thumping, gritty, compelling story of four kids in high school in Queens – Q-Tip, Phife Dawg, Jarobi and Ali – who connected and formed "A Tribe Called Quest" in 1985. Their ideas and styles and ambitions (or lack thereof) melded into one of the most influential and respected hip-hop groups of all time.
I had an aha moment – maybe more of a 'duh' moment – when Q-Tip explained how, starting out, they made due with what they had. That meant records, typically at their disposal – or easily purchased for $5 – were an easy starting point for creativity and play.
"Turntables were our instruments," he says in the film.
Well, of course, it all makes sense now, but I grew up in white suburbia and so this "making due" aspect of hip hop was illuminating for me. When I was in clubs growing up, it was dancing to Grandmaster Flash and The Sugarhill Gang, but never really wondering where it came from or why. It just sounded great. You moved to "Rapper's Delight." You didn't think about it.
But there is something about these films and the context they bring that intrigue me now. I love 8 Mile with Eminem because each time I watch it, it draws me into that world of rap competition in Detroit and what it says about talent that emerges from it.
Watching "Beats, Rhymes & Life: The Travels of A Tribe Called Quest" reinforced for me that when a person has art that needs to be expressed or creative juices that need to flow somewhere, it is always possible to find an outlet and a means. An extreme example of this is shown in the movie "Quills" about the Marquis de Sade. When he is locked up in a mental hospital and they want to punish him and prevent him from writing, they take away his quills and paper. He keeps finding ways to express and they keep subtracting things from his room. One day they find he has written on the walls in his own blood.
Freaky, but what a profound moment it is to realize how strong the artistic desire can be for some. As I watched "A Tribe Called Quest" build rhymes and lay down beats and entertain vast audiences along the way, it was easy to see how they found each other. And the "marriage" was a strong one for a while, resulting in musical and financial success.
But then, as they grew up together, along came issues of control, perfectionism and ego. Phife Dawg had diabetes and eventually needed a kidney transplant and what a moving moment in the film when he winds up getting that kidney from his wife. The stuff of real life comes in and what was once a collaboration becomes about individuals. It is no surprise when "divorce" ensues.
Yet it is a 2008 reunion tour that Rapaport chronicles heavily in the film -- this was a coming together again nearly 10 years after the release of "A Tribe Called Quest's" last album -- and they played to sold-out concerts across the country. In the film's synopsis, it notes there are rarely heard stories from DJ Red Alert and Native Tongues members like Monie Love, the Jungle Brothers, Busta Rhymes and De La Soul which "bring an intimacy to the days when young artists discovered the freedom of artistic expression while rejecting the confines of gangster rap and negative stereotypes."
There is legacy in all of that, a story that continues to ripple throughout the hip hop community and beyond.
Taking it a step further, the film is about the idea of relationship as experience, one that sometimes runs its course but always teaches. And when there is reunion, there is a chance for checking in with ourselves – Have I forgiven? Have I moved on? What have I done with and since this mostly energizing slice of my life?
My takeaway? The arc shifts and bends. Relationships are not triumphs or failures based on longevity, but experiences that make us richer on a continuum.
And the beat goes on and on and on.
Nancy Colasurdo is a practicing life coach and freelance writer. Her Web site is www.nancola.com and you can follow her on Twitter @nancola. Please direct all questions/comments to FOXGamePlan@gmail.com.