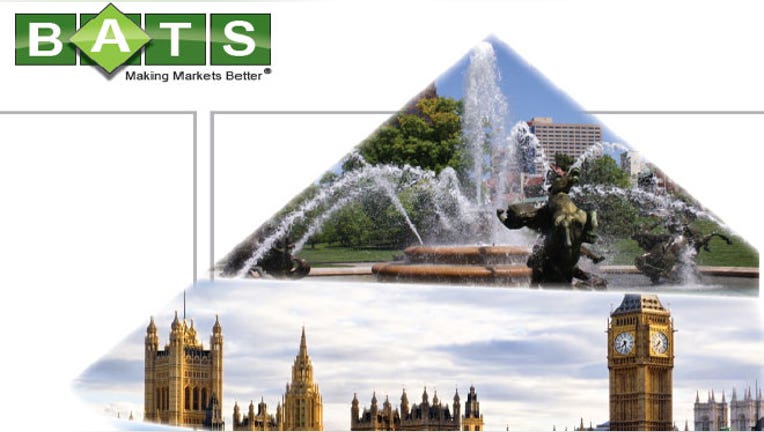 Slammed by a nasty confluence of embarrassing setbacks, exchange operator BATS Global Markets was forced to pull the plug on its initial public offering on Friday.
First, executives of the company woke up to a story in The Wall Street Journal saying that BATS is under investigation as part of a Securities and Exchange Commission probe into high-frequency trading firms.
If that wasn't enough to spook potential investors in the IPO, BATS' own electronic system provided another scare, suffering a glitch that halted trading on not just any stock, but Apple's (NASDAQ:AAPL), the world's most valuable company.
The technical snafu is a problem because it calls into BATS's claim to fame as a superior exchange operator, not to mention that it erroneously quoted the company's very own IPO, which is listing on itself.
"Your own offering just eroded in front of your very eyes -- on your own exchange," said David Menlow, CEO at IPOFinancial.com. "They basically flash crashed their own stock."
With those disasters in mind, BATS disclosed plans late Friday to withdraw its IPO.
"Although our affected market has reopened, in the wake of today's technical issues, which affected the trading of certain stocks, including that of BATS, we believe withdrawing the IPO is the appropriate action to take for our company and our shareholders," BATS CEO Joe Ratterman said in a statement.
A spokesman from BATS declined to comment further on the matter.
Even before that announcement, Menlow said he believed the IPO would ultimately be rescinded or that investors may "DK" it, or walk away from their obligation.
"I'm thinking if they go through with this offering at this point, the litigation cloud is going to be like Fukushima in Japan. It's just going to hover over the company and deplete whatever assets the company has," Menlow said before the IPO was scrapped. comment further.
The decision to pull the plug on the IPO would seemingly leave the company's underwriters who ran the offering on the hook. In this case, that would create a headache for Morgan Stanley (NYSE:MS), Citigroup (NYSE:C) and Credit Suisse (NYSE:CS), which led the IPO, according to SEC documents.
Lenexa, Kan.-based BATS accounts for about 11% of average daily volume, trailing only exchanges operated by NYSE Euronext (NYSE:NYX) and Nasdaq OMX Group (NASDAQ:NDAQ).
The company's IPO got off to a bad start late Thursday as its IPO priced at the low end of its expected range. The IPO prospectus filed by BATS spells out some of the troubles it is now facing. The documents warn that its business could suffer if damage is done to its reputation.
"Damage to our reputation could have a material adverse effect on our business," the document says, pointing to potential problems related to the "reliability of our transaction-based business."
Trading glitches like the one hitting BATS right now could do just that kind of damage.
"There is always going to be that question now that if an investor has to do any sizable transactions on this exchange, can it be done?" said Menlow.
The IPO prospectus also alludes to the potential legal troubles it may now be facing with the SEC probe.
"Failures in our compliance systems could subject us to significant legal and regulatory costs," the company wrote. "Furthermore, if our risk management methods are not effective, our business, reputation and financial results may be adversely affected."