Barnes & Noble Logs 2Q Net Profit on Nook Strength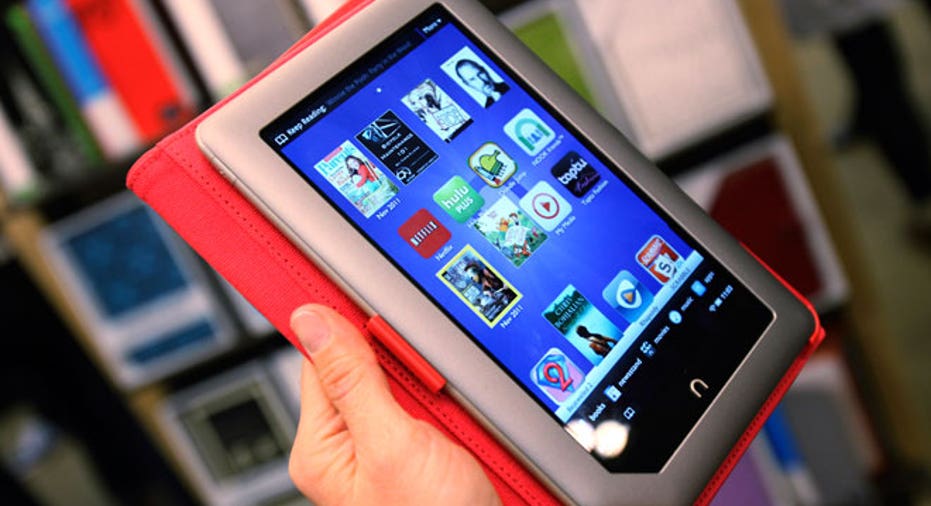 Carried by sales of its Nook e-reader, Barnes & Noble (NYSE:BKS) topped Wall Street's expectations on Thursday by swinging back into the black in its fiscal second quarter.
Shares of the bookseller gained almost 1% in response to the net profit, but the gains were limited as sales trailed forecasts from analysts.
New York-based Barnes & Noble said it earned $2.2 million last quarter, compared with a loss of $6.6 million the year before.
Including preferred dividend impacts, the company actually lost 4 cents a share, compared with a deeper loss of 17 cents a share in the year-earlier period. Analysts had been calling for a loss of 6 cents a share.
Revenue slipped 0.4% to $1.88 billion, narrowly missing the Street's view of $1.91 billion. Gross margins expanded to 25.5% from 24.9%.
Nook's results were boosted by a 5.6% jump in Nook sales to $160.3 million. Digital content sales soared 38% year-over-year. Yet the division's EBITDA losses inched up 1% to $51.4 million.
Barnes & Noble also said its Nook unit sales doubled over the four-day Black Friday weekend across all channels thanks to deep discounts, especially at Wal-Mart (NYSE:WMT) and Target (NYSE:TGT).
"We expect our two highly acclaimed new NOOK products, and our Microsoft partnership on Windows 8 to further fuel the growth of our digital business, and are encouraged by the promising start to the holidays in our retail and digital businesses," Barnes & Noble CEO William Lynch said in a statement.
College revenue gained 0.4% last quarter at Barnes & Noble to $773 million, while retail sales dropped 2.9% to $996 million.
Shares of Barnes & Noble picked up 0.62% to $16.15 ahead of the opening bell on Thursday. The stock has gained almost 11% so far this year.