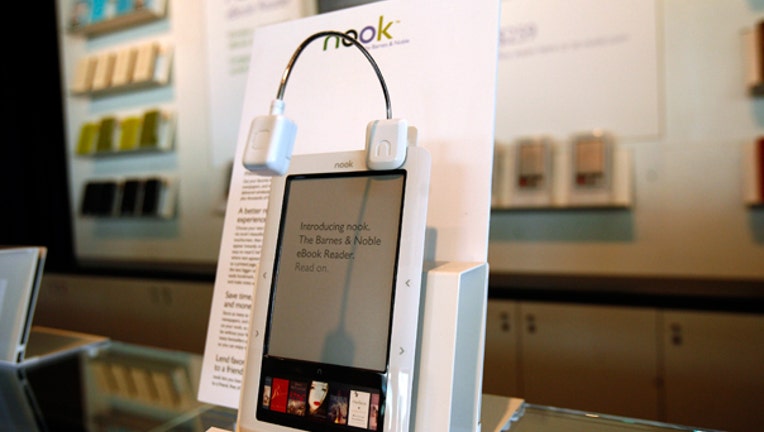 Barnes & Noble (NYSE:BKS) reported a narrowed fourth-quarter loss on Tuesday, but still fell short of Wall Street expectations, as its Nook e-reader continued to flag under the prowess of Amazon's (NASDAQ:AMZN) Kindle.
The New York-based bookseller reported a loss of $57.7 million, or $1.08 a share, compared with a year-earlier $97.9 million, or $1.04. Analysts in a Thomson Reuters poll were expecting a loss of 93 cents.
Revenue for the three months ended April 28 climbed slightly to $1.38 billion from $1.37 billion a year ago, missing the Street's view of $1.47 billion.
Sales were led by a 12% increase in college books and a 4% revenue gain in retail-store sales, which includes BN.com, offset by a sharp 19% drop in its Nook business, which has been scrambling to steal market share from the Kindle.
For the full-year, the Nook boasted 119% year-over-year growth, helping the company to increase fiscal 2012 revenue by 2% to $7.1 billion and narrow its loss by 7% to $68.9 million, or $1.41 a share.
However, the loss missed average analyst estimates of a $1.19 loss. Shares of Barnes & Noble fell more than 6% to $14.30 Tuesday morning on the news.
Still, the company's chief executive, William Lynch, was optimistic looking forward. He said the recently unveiled Nook Simple Touch with GlowLight, which began shipping in the current quarter, has quickly become the "highest rated e-reader in the market."
As the company looks out to the remainder of the year, he said the company believes it is "strategically well positioned," though Barnes & Noble did not provide a fiscal 2013 guidance.