Bank Tellers: Are They an Endangered Species?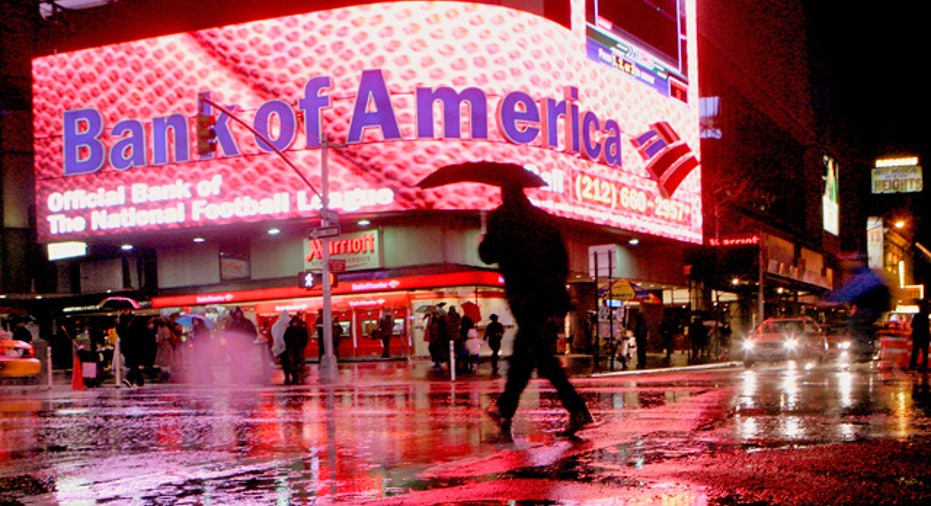 Despite the ubiquity of dot-coms and mobile apps, the traditional bank branch isn't ready to disappear just yet. Lots of people still physically go to the bank, a new Bankrate survey has found. Half of all bank or credit union customers had visited their local branch within the past 30 days for reasons other than the ATM.
Bankrate's survey, which was part of its March Financial Security Index, found that people of all ages still go to the bank. Nearly one-fifth of respondents between the ages of 18 and 29 visited a bank or credit union branch within a week of the survey. Around 30% of people over age 30 visited a branch in that time frame.
Those numbers, however, are little comfort for a banking industry that's scrambling to keep up with a sea change in the way people manage money. Michael Goodson, head of management consulting with Accenture's North America banking practice, says banks have reported a "substantial drop" in foot traffic as new technologies wedge themselves between the consumer and the corner branch.
It's happened "faster than they expected," he says.
People have fewer reasons to visit branches
The Internet and mobile technology have largely replaced the bank branch when it comes to day-to-day financial business. "There is a seminal decline in the routine transactions," says Ajay Nagarkatte, managing director of research at BAI, a financial services organization. For instance, "everyone can deposit a check through their smartphone," he says.
As banks offer more services on smartphones and computers, customers are finding they have little need to speak with a teller anymore. Bankrate's survey found that 30% of respondents said they hadn't been in a bank or credit union branch in six months or more.
"I can't remember the last time I physically went to my bank branch," says Maranda Gibson of Fort Worth, Texas. "It's not because I don't have a wonderful bank; I do. But it's because the company has made it so easy for me to not have to visit a branch.
"I do all of my customer service via their social media account. They respond, call you, answer your question, and done. All in your own time frame. I've had two issues resolved with a simple tweet, and it took about an hour," she says.
Why go to the bank when you can get that kind of service from anywhere on the planet?
A bank you want, not just the closest
The seismic shift in banking may give bankers a headache, but it's actually a great thing for consumers.
Part of the benefit to consumers is that banks are funneling more resources into their digital channels, according to Goodson. Look for Web features such as video chat with a customer service rep soon.
Plus, banks are no longer the only game in town. With competitors such as Google Wallet and the reloadable debit card from Wal-Mart vying for consumer dollars, banks have more incentive than ever to give customers what they want -- and less of what they don't want in the form of tricky fees. Even banking behemoth Bank of America is changing with the times by offering a check-free, overdraft-free account.
"It is clear that banks are finally getting the message from regulators and potential competitors like Wal-Mart and Google that it is time to offer the unbanked, underbanked and unhappily banked more and better choices," says Ed Mierzwinski, federal consumer program director for the U.S. Public Interest Research Group, a consumer advocacy group.
"If banks start to think about their accounts more strategically, they'll also develop better choices for consumers who have more money but have no need to visit a branch or write a check," Mierzwinski says. "The current challenges may disrupt slow-thinking banks, but should result in better deals for consumers."
'Can I interest you in one of our financial products?'
One reason to physically show up at your financial institution is to buy something complicated like a mortgage.
According to Goodson, nearly two-thirds of all banking products are sold in branches, even if it was advertised somewhere else. For example, someone might request information about mortgages on the Internet or over the phone and then come into the branch to work out the finer details.
That's how Shoots Veis did it when he began the homebuying process last month in Billings, Mont.
"I called and made contact with the mortgage person," Veis said. "Of course, to get the process started, she needed a lot of financial and tax information from us. I didn't feel very comfortable scanning all my finance and tax information, including our Social Security numbers, and emailing it to her."
It makes sense to be extra cautious with personal information, especially as database breaches and identity thefts continue to make headlines. But consumers may be getting more comfortable doing business over the Internet if the growth of the largest online lender, Quicken Loans, is any indication.
"Quicken Loans is an interesting case study. Four years ago, it was ranked eighth in the country; it's now third in the country in terms of mortgage origination," Goodson says.
"From a customer service standpoint, they are the highest-rated mortgage provider by a long shot," he says.
Please tell me how this thing works
The sands of banking are shifting, but even with the growth of online financial service providers, many people still like having someone to physically walk them through the byzantine world of loans and investments.
"There are certain types of interactions that are suited for branches ... a mortgage or investments or something that is a little more complex," Nagarkatte says.
Even in the digital age, there's no substitute for human contact in some circumstances. That is, of course, until technology solves that problem and no one ever has to leave their house for an annoying chore ever again.
Copyright 2014, Bankrate Inc.