Banana Republic on the Brink: Can Gap's Struggling Brand be Saved?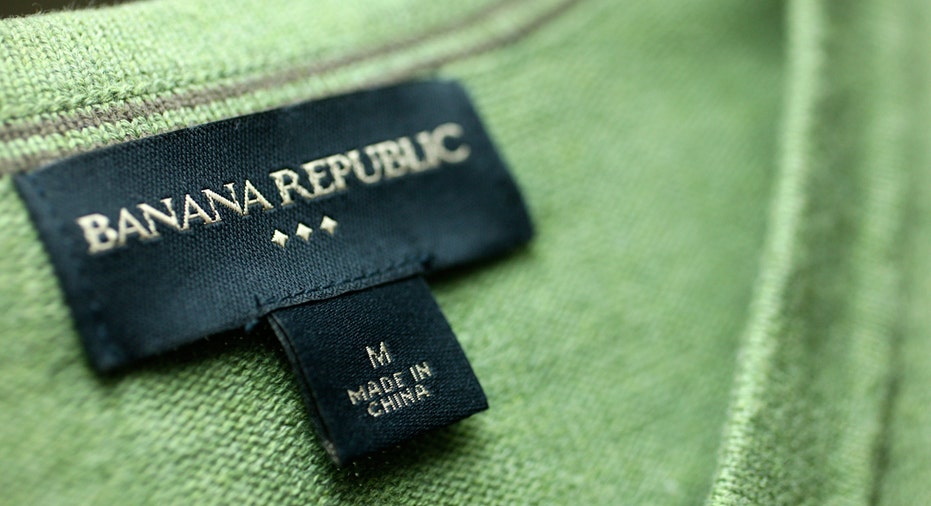 Banana Republic this week announced its president will depart the company next month, but analysts question whether a leadership shakeup at the Gap's (NYSE:GPS) up-market brand, which has struggled with falling same-store sales for the past year and a half, can weather the storm battering much of the retail sector.
As consumer shopping habits have moved increasingly online, Banana Republic has struggled to carve out its niche to drive customers through the door. The biggest problem for the brand is its lack of clear, unique identity -- coupled with the rise of fast-fashion competitors like H&M, Zara, and Forever 21, said New York-based retail consultant, Bob Phibbs, CEO of Retail Doctor.
"The reality is no one has figured out who they are," he said. "Gap is [a] forgettable brand, and that spills over to Banana Republic...they need to cut the number of SKUs, cut the number of employees, and justify why I should pay $90 for a shirt with something compelling and interesting."
Despite a bump in sales during November in the lead-up to the end-of-the-year rush,  in the all-important holiday season, Banana Republic's sales at stores open at least 12 months plunged 7% from the previous year, while like-for-like sales at the Gap's namesake store and lower-end Old Navy rebounded significantly from the weak November - December 2015 period.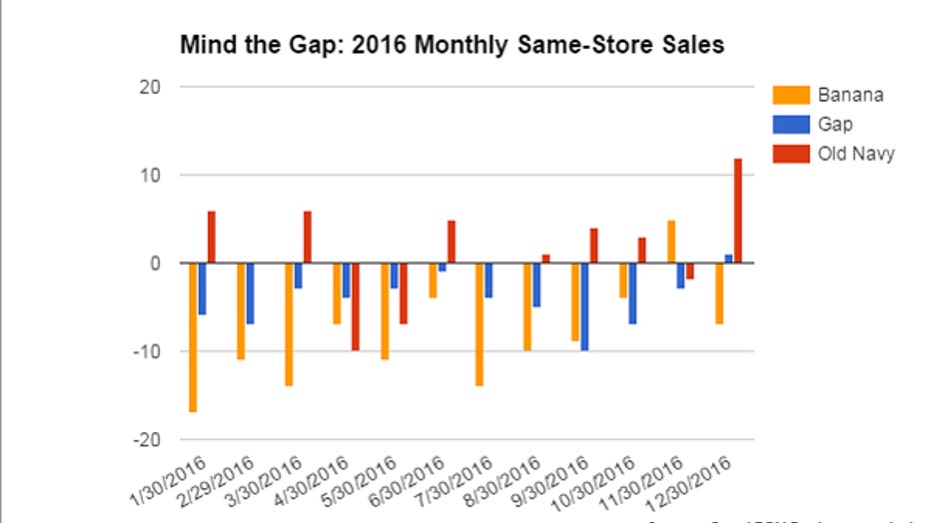 Because of the struggles, some retail analysts have suggested Gap stem its losses with Banana Republic by instead focusing on growth at lower price point, family friendly Old Navy.
Jefferies, a boutique investment bank, has gone as far as to say the company should "massively reduce" store footprint or completely jettison the brand altogether. The team, led by equity analyst Randal Konik, said the brand contributes 17% of the company's sales and is struggling because consumers no longer appreciate its style or price points.
"The concept has struggled regardless of its leadership, and we anticipate ongoing problems if time and resources are dedicated to turnaround efforts as we view Banana Republic as unfixable especially in today's challenging environment," the team said.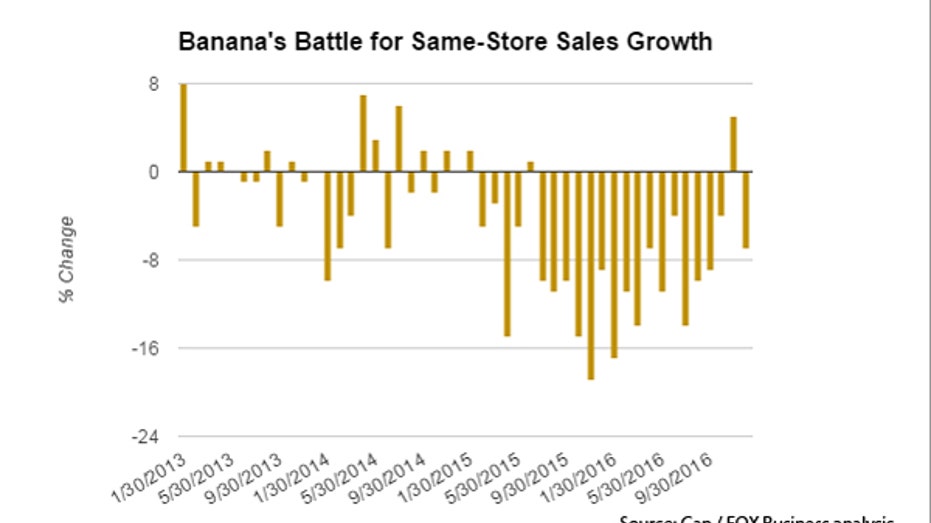 A spokesperson for Gap said while the company doesn't comment on individual executive searches, a hunt is underway for a new leader who can take the helm at Banana Republic with a focus on helping the brand find solid footing.
"Overhauling the fit and quality of Banana Republic's product, and moving the brand to a full omni-channel assortment were critical steps made over the past two years. That said, there is work ahead in order to bring Banana Republic back to health," the spokesperson said.
When Gap acquired Banana Republic Travel and Safari Clothing Company in 1983, it dropped the last part of the brand's name, breathing new life into its look and feel, marketing it to an upscale, luxury demographic. Since that time, though, the brand has lost its originality and appeal as it has struggled to set itself apart in a crowded market, competing with the likes of Ann Taylor (NYSE:ANN), J. Crew, and White House Black Market.
To some retail watchers like Mark Cohen, director of retail studies at Columbia University's Graduate School of business, Banana Republic's woes epitomize a broader struggle for the retail industry as a whole. The same month the brand announced its leadership shakeup,   Lane Bryant's CEO also reportedly departed her company, Abercrombie and Fitch (NYSE:ANF) revealed plans to  lay off 150 corporate workers, mall-based retailer Wet Seal said it will shutter all of its locations after failing to find necessary financing, and The Limited filed for Chapter 11 bankruptcy.
For Gap, a sooner-than-later approach to dealing with the realities of its brand's decline would help ensure the parent company's longer-term viability, Cohen said.
"Broken businesses rarely are ever able to be fixed," Cohen added. "Big retail brands take time to establish and create themselves as equity of consequence. It takes decades to form in customers views as important, but once they get screwed up, they're brittle, they break easily, and maybe they can't be glued back together."
Still, there are dangers to selling or spinning off Banana Republic -- both for the individual brand and its parent company. Examples aren't hard to find for Richard Baum, managing partner at Consumer Growth Partners who pointed to Limited Brands' 2007 spinoff of Express. The standalone company has struggled on its own and over the last 52 weeks has seen a 35% decline in its share price. Limited Brands also sold off The Limited, which shut its doors this week, and also let go of New York & Co., which saw a 1.7% decline in holiday sales.
Baum said the question Gap has to ask itself is: Can someone else run Banana Republic better?
"You never really know the answer until you put it on the market and shop it around. Some of these brands have been around for 20-30 years. If you give it to a different set of owners, are the results any better," he said.
If Gap chooses to keep it on its brand roster, Baum said a better strategy for Banana Republic might be higher price points, fewer promotions, and more clarity around in-store merchandise display and selections.
"You need someone to come into the job with a fresh set of eyes, ideas, and experiences in the retail space so that what they will be doing is restoring the integrity of the brand and going back to what the brand stood for: That modern, refined clothing," he said.
Gap shares have fallen 0.5% over the last 52 weeks and currently trade around $22.70.