Bain, Golden Gate Bring BMC Software Private in $6.9B Deal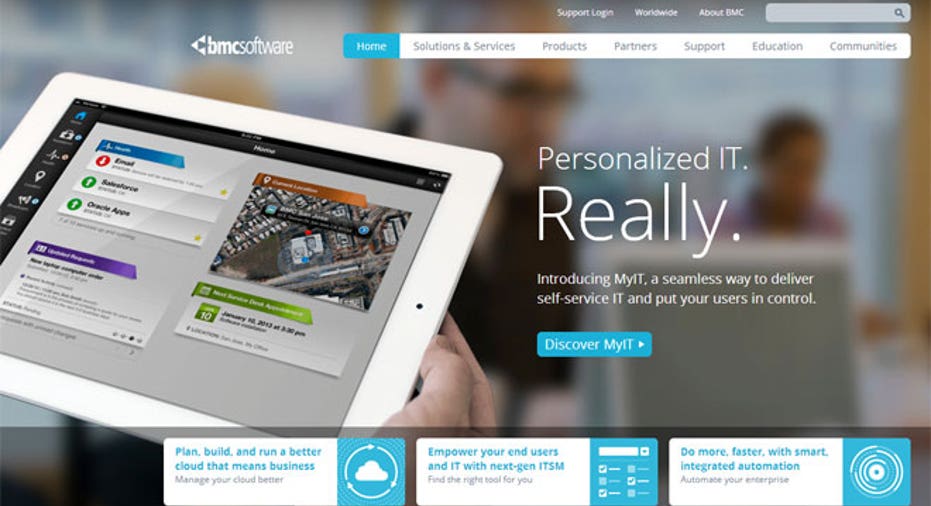 In one of the largest leveraged buyouts of the year, a group of private-equity firms unveiled on Monday a $6.9 billion takeover of IT management solutions company BMC Software (NYSE:BMC).
The transaction, which is led by Bain Capital and Golden Gate Capital, values BMC Software at $46.25 a share.
"BMC believes the opportunity to become a private company will provide additional flexibility and position us to invest more strategically to drive powerful innovation and deliver cutting edge customer solutions," BMC CEO Bob Beauchamp said in a statement.
While BMC's board signed off on the transaction, the deal includes a 30-day go-shop period that allows BMC to solicit alternative proposals from third parties.
BMC, which has been pressured by activist investor Elliott Associates to pursue a deal, listed 6,900 employees and $2.2 billion in annual revenue as of the end of 2012.
"BMC is the only enterprise software vendor that can go from mainframe to mobile, with solutions that help IT drive real business innovation and optimize operations management and employee productivity," said Ian Loring, managing director at Bain.
Previous reports revealed buyout interest in BMC, which competes with the likes of Oracle (NASDAQ:ORCL) and SAP (NYSE:SAP), from private-equity firms KKR (NYSE:KKR) and TPG Capital.
At nearly $7 billion, the BMC deal represents one of the largest buyouts of 2013 after the $24.4 billion proposed takeover of struggling PC maker Dell (NASDAQ:DELL).
"We are excited to work with the management team and employees to accelerate BMC's growth and strengthen its position as the best-in-class provider of IT management software for heterogeneous environments," said Prescott Ashe, a managing director at Golden Gate Capital.
The transaction is expected to close later this year, subject to shareholder and other regulatory approvals.
Debt financing for the BMC deal is being provided by Credit Suisse (NYSE:CS), RBC Capital Markets (NYSE:RY) and Barclays (NYSE:BCS). The companies said the transaction doesn't include a financing condition.
Morgan Stanley (NYSE:MS) and Bank of America Merrill Lynch (NYSE:BAC) served as financial advisors on the deal, while the buyer group was advised by Qatalyst Partners, Credit Suisse, RBC and Barclays.