AutoNation: U.S. Car Sales to Top 17M, a 14-Year High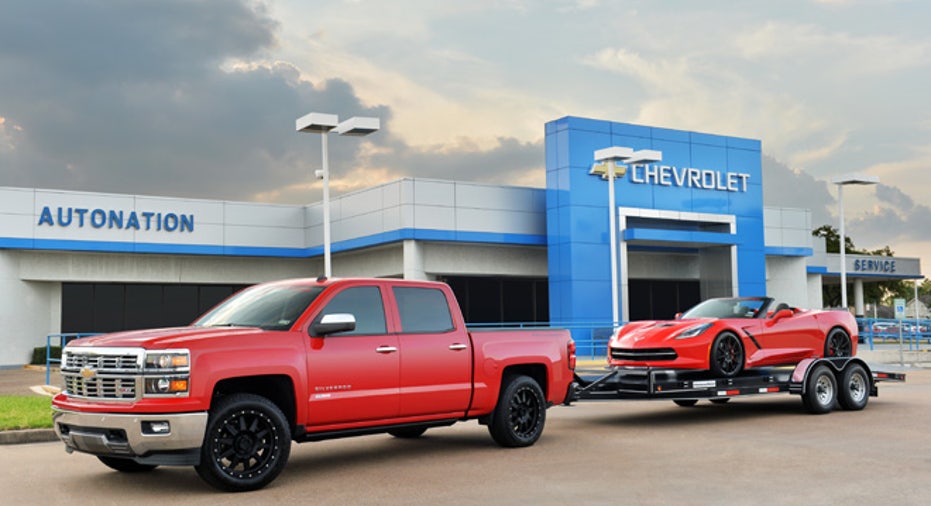 AutoNation (NYSE:AN) sees U.S. new-vehicle sales reaching a 14-year high in 2015, a positive sign for automakers and dealers alike.
AutoNation, the nation's largest chain of car dealerships, said Wednesday its second-quarter profit rose 14% versus last year to $115.1 million, or $1 a share. Revenue jumped 9% to $5.2 billion.
However, earnings missed Wall Street's consensus estimate of $1.02 a share. AutoNation shares dropped 4.2% to $61.99.
Ft. Lauderdale, Fla.-based AutoNation has reported 19 consecutive quarters of double-digit growth in earnings per-share amid surging auto demand, particularly among sport-utility vehicles, pickup trucks and luxury brands.
Industry-wide sales of new vehicles are projected to surpass 17 million units this year, which would be the strongest mark since 2001.
Dealer Sales on the Rise
AutoNation's premium luxury segment, which encompasses Mercedes-Benz, BMW and others, sold 16% more vehicles during the latest quarter. Sales of domestic-brand vehicles climbed 6.5% year-over-year, while import brands were up 1.5%.
Overall, new vehicle unit sales expanded 6%.
The company also posted its best-ever quarterly revenue from used vehicles. At $1.2 billion, used-vehicle revenue grew 12%.
AutoNation websites generated over 20% of all sales, thanks in large part to the rollout of AutoNation Express. The first phase of the launch, which allows consumers to reserve a vehicle and place a deposit, was completed six months ahead of schedule.
AutoNation accelerated the project in an effort to limit its reliance on third-party websites. Earlier this month, AutoNation severed its relationship with TrueCar (NASDAQ:TRUE) amid a disagreement over customer information.
Industry Outlook
AutoNation CEO Mike Jackson noted that gas prices "are significantly different than what people thought they would be" just a couple years ago. According to GasBuddy, the national average for a gallon of regular gasoline is about $3.56, 81 cents less than 2014.
Jackson believes the momentum driven by cheaper gas and low interest rates will continue. During a conference call with analysts, he said auto sales could remain around 17 million units or in the high-16 million range for "several years."
Some analysts have warned that the industry's current sales pace will be unsustainable once the Federal Reserve moves to raise interest rates.
AutoNation vowed to be ready for any future slowdown in auto sales.
After the Fed hikes rates, "there will be a downturn in housing, and there will be a downturn in auto sales," Jackson said. "We remain in a cyclical business, and that is not going to change. We'll be prepared for it. We'll outperform in it."