AutoNation, Hennessey Join Forces to Boost Horsepower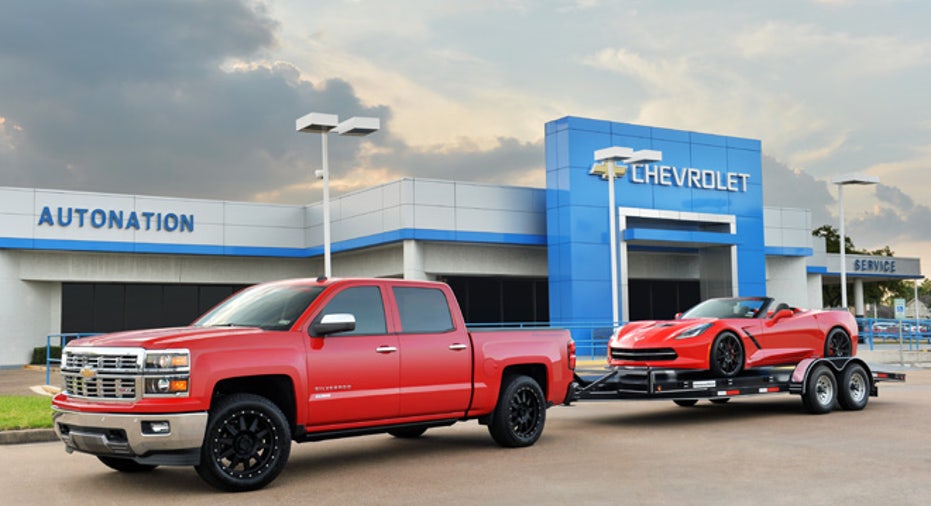 AutoNation (NYSE:AN) and Hennessey Performance Engineering are bringing more horsepower to a dealer near you.
Hennessey Performance, a Texas-based aftermarket tuner, launched a partnership this month that will offer vehicle upgrades at AutoNation dealerships. The program will be rolled out at 27 of AutoNation's Chevrolet stores.  Next year, Hennessey Performance upgrades will be added to 37 Ford Motor Co. (NYSE:F) dealerships.
The exclusive deal paves a new road for automotive retailers and performance shops, giving car enthusiasts easier access to aftermarket upgrades like superchargers. AutoNation service technicians will install the performance packages, which are available for Chevrolet's Corvette, Camaro, SS, Tahoe, Silverado and Suburban.
At AutoNation's Ford stores, upgrades will be offered for the automaker's all-new 2015 Mustang and aluminum-bodied F-150 pickup trucks, among other models.
"There's a real movement and desire for customers who want higher performance vehicles. For us to be able to offer our customers additional options and solutions, it raises the convenience factor," said Ron Frey, chief strategy officer at AutoNation.
AutoNation and Hennessey Performance recently kicked off their partnership at AutoNation Chevrolet in Fort Lauderdale, Fla., marking the start of a nationwide tour. John Hennessey, the president and founder of Hennessey Performance, said one Camaro owner was waiting with a check in hand.
"We're already seeing the fruits of this relationship," Hennessey added. "The partnership gives us the ability to send our client to a dealer group that can help them source vehicles. I don't think it's ever been done before."
Hennessey also noted how the scale of the program is unique. Most performance shops, like Ford tuner Shelby, work exclusively with one manufacturer.
Hennessey Performance, which has shops in Texas and California, also upgrades vehicles from Jeep, Dodge, Toyota (NYSE:TM), Mercedes-Benz and other brands. Hennessey said his company will explore a future expansion to the AutoNation deal.
Showroom Attraction
What Hennessey called a "groundbreaking relationship" has the potential to change the way new cars are bought and sold.
Rather than simply offer what was shipped from the factory, retailers like AutoNation, the largest dealer network in the U.S., can customize vehicles with more horsepower.
And rather than work with a separate garage, performance enthusiasts can visit their local AutoNation dealer to buy, upgrade and service their vehicles. Likewise, the availability of Hennessey Performance upgrades has the potential to bring more people into the world of aftermarket upgrades.
Frey believes the presence of Hennessey Performance will drive more traffic to AutoNation showrooms.
"I think it gives more access to more models to consumers who want more horsepower," he said. "The Hennessey name is a great brand and enthusiasts really enjoy that brand. Our partnership with Hennessey can potentially go across many of our brands. It's a differentiator for AutoNation."
Like other auto retailers, AutoNation has benefited from strong demand for new vehicles, particularly pickup trucks and sport-utility vehicles. AutoNation reported August retail sales of 32,660 vehicles, up 7% compared to the year-ago month.
In the first half of fiscal 2014, AutoNation booked a 7.4% increase in revenue to $9.15 billion. Sales of both new and used vehicles were higher than the same period in 2013.
Aftermarket tuning is a new endeavor for AutoNation. The Fort Lauderdale-based auto giant is seeing more interest in performance vehicles, Frey noted, and working with Hennessey Performance sets AutoNation apart from other dealer chains.
"We thought it would be a nice benefit to offer a performance solution to our customers. With many of our products, we want to offer as many options as we can," Frey explained.
Transforming the Aftermarket
Hennessey Performance's custom cars have caught the attention of the auto industry and some well-known car enthusiasts.
The Hennessey Venom GT, a modified Lotus Exige with 1,244 horsepower, broke the speed record previously held by the Bugatti Veyron. Earlier this year, the Venom GT hit a top speed of 270.49 miles per hour on the Kennedy Space Center's 3.2-mile runway.
Three special edition Venom GTs were built to commemorate the new record. They sold for $1.25 million each.
The Venom GT is partly responsible for the deal between Hennessey Performance and AutoNation. It was at the Formula 1 race in Austin, Texas, that Hennessey first met AutoNation chief executive Mike Jackson. Hennessey was there to display a Venom GT owned by Aerosmith's Steven Tyler.
Former "Tonight Show" host Jay Leno has a Hennessey-modified Dodge Viper in his collection. Hennessey Performance also lists NBA star Tim Duncan and skateboarder Tony Hawk as owners.
Hennessey Performance built a total of about 500 vehicles at its Texas and California facilities last year. With its Chevrolet upgrades readily available to more consumers, Hennessey Performance is taking a big step toward bringing its cars to the masses.
"My ultimate dream was to have a deal where a major manufacturer offers my vehicles through their dealership chains," said Hennessey, who founded HPE in 1991. "This is even better."
Performance enthusiasts like to personalize their vehicles and add more horsepower in a way that is seamless, Hennessey added.
Hennessey Performance has plans to open a new service center in Florida, where many of AutoNation's dealers are located, in an effort to cut down on lead times. The company will also dispatch technicians for service issues that require one.
"The partnership definitely helps expand our reach to potential enthusiast clients. Out of AutoNation's 270 stores, 64 stores give us incredible reach," Hennessey said.
By working with AutoNation, Hennessey Performance could find opportunities to get ahead of the manufacturers themselves. For instance, Chevrolet's 650-horsepower Corvette Z06 is still on its way, and dealers will have limited supply when the sports cars arrive.
According to Hennessey, AutoNation's Chevrolet stores will initially receive about one Z06 each. The Fort Lauderdale dealership already has 60 deposits. Meanwhile, the Hennessey Corvette is available with up to 708 horsepower.
"We can exceed or match what the factory can deliver," Hennessey said.