AutoNation Builds Up its Own Virtual Showroom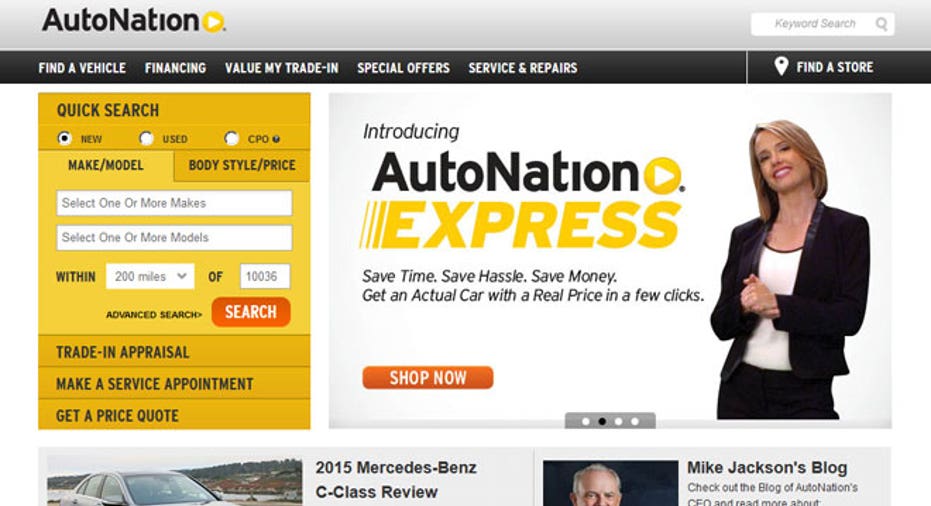 AutoNation (NYSE:AN) is taking a different approach to digital car shopping.
The retail side of the auto industry has long sought ways to cut the amount of time needed to complete a purchase, particularly through websites that connect dealers with consumers and begin the car-buying process online.
Unlike smaller dealership groups, AutoNation has shunned third-party websites in favor of its own. The nation's No. 1 chain of dealerships accelerated the rollout of its new Web initiative, AutoNation Express, which helped the company double the number of sales that originated on its websites.
AutoNation websites generated more than 20% of all sales during the second quarter. The Ft. Lauderdale, Fla.-based car retailer said its total revenue climbed 9% to $5.2 billion, while earnings were up 14%.
Earlier in July, AutoNation and TrueCar (NASDAQ:TRUE) severed their relationship in a move that AutoNation billed as a disagreement over customer information.
During a conference call on Wednesday, AutoNation CEO Mike Jackson said TrueCar wanted the company to agree on sharing all customer information as part of a new contract. Their previous contract called for AutoNation to provide anonymous data.
Jackson, who called the request an "unprecedented demand," said AutoNation would have needed permission from each customer if it had agreed to share the information, suggesting that privacy concerns were a factor.
"I don't know what company gives away all of their customer information," Jackson added.
TrueCar had a different take on the divorce.
The Santa Monica, Calif.-based website said it "formally demanded" that AutoNation comply with three "core principles," including one that asks dealers to "provide prompt and accurate inventory and sales data."
According to Jackson, TrueCar had told AutoNation that other dealers in the TrueCar network share information about users who complete car purchases.
"We're grateful for the years of cooperation we've enjoyed with AutoNation, but could not make an exception for them," TrueCar CEO Scott Painter said in a statement.
TrueCar estimated that its platform accounted for 7% of AutoNation's new-vehicle sales in the first quarter. After reporting its second-quarter results, AutoNation said TrueCar represented 3% of its business during the period.
AutoNation is pressing forward with plans to focus on its own e-commerce platform, saying it wants to reduce its dependency on third parties.
The first phase of the AutoNation Express rollout, which was completed six months early, introduced the ability to pick and reserve a vehicle in the dealership's lot. In the next phase, consumers can sell their car to AutoNation. Later this year, AutoNation Express will enter a pilot program for online financing.
Eventually, AutoNation will make its website "fully transactional for every phase of the business," Jackson said, adding that no other dealer groups are taking the same path. "We think it will be a significant competitive advantage for us in the long-term."
Keeping the entire buying process in-house gives AutoNation more control over its sales.
In most states, dealers that partner with TrueCar owe the website a $299 fee for each new vehicle they sell through TrueCar.com. The fee for used cars is $399.
According to the company, TrueCar has more than 10,000 dealers in its network.
AutoNation was trading 3% lower at $62.77 on Wednesday. TrueCar shares were down 3.4% at $10.84, extending the stock's year-to-date losses to 52%.