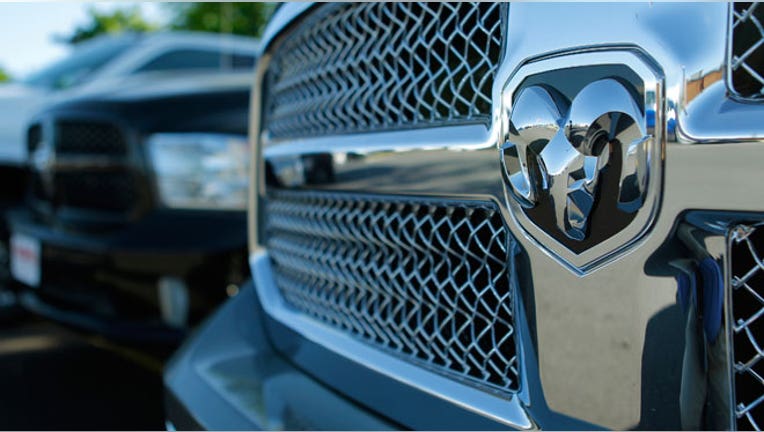 Automakers reported mixed sales results for the first month of the year, with Ford (NYSE:F) and General Motors (NYSE:GM) suggesting that winter weather had a significant impact. Chrysler, meanwhile, bucked the downward trend.
Sales of new vehicles were on a tear for much of 2013, thanks in part to a rebound in housing activity and pent-up consumer demand. According to Autodata, total sales for the year hit 15.6 million vehicles, up 7.6% over 2012. It was the best annual performance for the car industry since 2007.
Analysts have said auto sales will see continued but slower growth in 2014. For January, Kelley Blue Book recently projected that sales would rise 1.6% compared to January 2013. Edmunds.com was looking for a modest decline of 0.6% across the industry.
Ford said Monday its sales fell 7.1% last month, citing a significant impact from winter weather.
The No. 2 U.S. automaker posted total sales of 154,644 vehicles in January, down from 166,501 in the same month last year. Ford brand vehicles were down 8.4%, partially offset by a 42.5% jump in Lincoln sales.
Ford's decline was worse than expected. Kelley Blue Book expected the Dearborn, Mich., company to skid 3.9%, and Edmunds was anticipating a 6.1% drop.
John Felice, Ford's vice president of U.S. marketing, sales and service, said sales were up in areas that saw nice weather during the latest month.
"Given the difficult weather in our largest sales regions, we are fortunate to have held in at retail as well as we did," he said. "The poor weather also had an impact on the timing of some of our fleet deliveries."
Fleet sales were off 14%. Total car sales fell 13.4%, while truck sales slipped 2.2%.
Felice also called Lincoln, which had its strongest sales month in four years, a "bright spot" for the company. Lincoln sales nearly hit 6,000 vehicles for the month, driven by a 368% increase for the MKZ.
Sales of the new Mustang checked in at 3,881 units, up 8% year-over-year and reflecting the pony car's best start to a year since 2010.
January had 25 selling days, level with the year-ago month.
Ford shares went into reverse, slipping 2.1% to $14.64 in late morning trading.
GM posted an 11.9% decline in January sales amid struggles for Chevrolet and Cadillac.
GM, the largest of the Big Three car companies, said "extreme winter weather" depressed sales during a typically slow month for the industry.
The Detroit company sold 171,486 vehicles, down from 194,699 last year. GM's Chevrolet brand was down 13.3%, as sales of the Silverado pickup truck slipped 18.4%. Cadillac sales were down 13.2%, and GMC fell 10%. Buick was also down, logging a sales decline of 1.4%.
GM widely missed expectations from Kelley Blue Book, which projected a slight sales improvement 0.2%. Edmunds estimated a decline of 9.3%.
Also on Monday, the company said it anticipates industry-wide sales of 16 million to 16.5 million units. GM also sees a modestly higher market share for the company in 2014.
GM added that its commercial fleet business will likely grow as well, helped by the launch of the Chevrolet Colorado and GMC Canyon mid-size pickup trucks. Deliveries to rental companies are expected to remain flat.
Shares of GM traded 1.5% lower to $35.55 after the news.
Chrysler Group bucked the downward trend last month, as its sales rallied 8% amid double-digit gains for the Ram and Jeep brands.
The automaker, now fully owned by Italy's Fiat, reported 127,183 vehicles sold last month, compared to 117,731 a year earlier.
Chrysler topped expectations from Kelley Blue Book, which called for a 6.2% increase in monthly sales. Edmunds estimated a sharper increase of 9%.
Fiat completed its purchase of the remaining 41.5% stake in Chrysler during the month. The Italian car manufacturer said it plans to complete a merger of the two companies by the end of the year, and an IPO for the combined Fiat Chrysler Automobiles is expected to happen by October.
Truck sales were up 25% over last year, while car sales fell 21% amid a 19% drop overall at the Dodge brand. The namesake Chrysler brand rose 2%.
Jeep sales surged 38%, and Ram was up 24%. Chrysler sold 10,505 of its new Jeep Cherokee sport-utility vehicles. The Cherokee, whose critical launch was delayed last year, beat the Jeep Wrangler for the second consecutive month.
Unlike its peers, Chrysler said cold and snowy weather didn't pressure sales during the month.
"The bad weather only seemed to affect our competitors' stores as we had a great January," said Reid Bigland, head of U.S. sales.
Kelley Blue Book senior analyst Alec Gutierrez said the industry researcher saw a weather impact in its data, explaining that sales were slower in northern states compared to the west coast. Many consumers likely delayed purchases given the severe winter weather, while fleet deliveries were also pushed back.
"I fell like weather played some role," he said of the January results. "Chrysler had a solid month. It definitely benefited from sales of the Cherokee, which Chrysler didn't have last year."
Toyota (NYSE:TM), which in 2013 remained the top-selling global automaker, provided a preliminary report on Monday morning that revealed a 7.2% cut to January sales.
The decline to 146,365 vehicles in January was steeper than expected, sending U.S. shares of Toyota down 1% to $113.63.