Auto Sales Race Higher to Cap 2014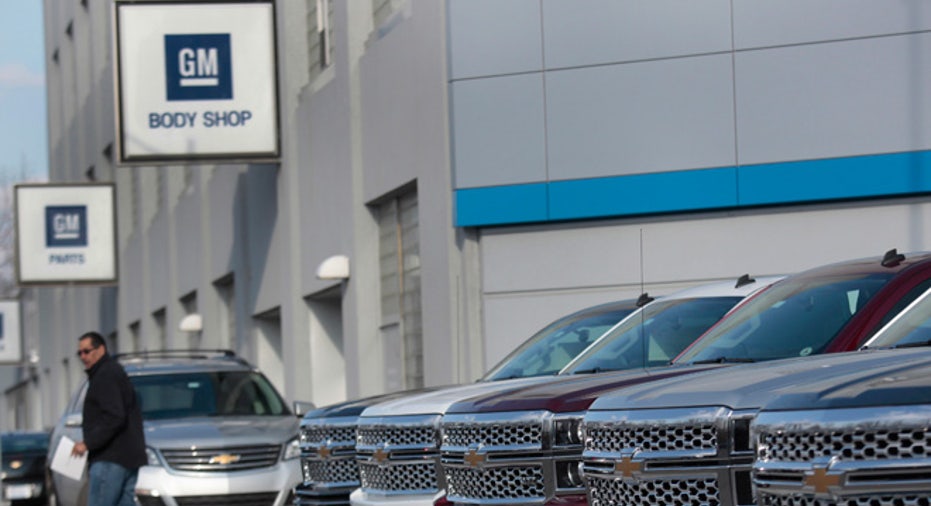 The auto industry capped 2014 with stronger-than-expected December sales amid declining gasoline prices and holiday promotions, bringing annual sales to their highest level since 2006.
Demand for new vehicles in the U.S. got a boost in the second half of last year as plummeting oil prices sent gas below $2 a gallon in many states. Sales of trucks and sport-utility vehicles, two segments that accounted for much of the industry's gains the last two years, have particularly benefited from cheaper prices at the pump.
Low interest rates and growth in construction activity also contributed to a brighter landscape for automakers in 2014. Overall, U.S. auto sales surpassed early estimates for the full year, thanks in part to a quicker sales pace in December.
Sales reached a seasonally adjusted annual rate of 16.92 million vehicles last month, according to Autodata. The result widely outpaced the year-ago month, when the industry's SAAR was 15.52 million.
A strong December across the industry helped push 2014 light vehicle sales to approximately 16.52 million units, an upswing of 5.9% compared to the 2013 total of 15.6 million.
The auto industry is expected to keep racing higher this year. Kelley Blue Book is calling for sales of 16.9 million units in 2015, and senior analyst Alec Gutierrez said it wouldn't be a surprise if that number inches above 17 million.
The ceiling will be a bit lower than 2014, he added, considering that annual sales likely jumped nearly one million units last year.
As for interest rates, Gutierrez expects the lending environment to remain very favorable for buyers with the Federal Reserve pondering when to raise interest rates from near zero. Some manufacturers stretched financing offers to 72 months and even 80 months in 2014. Leasing accounted for around 26% of sales.
"My guess is either the Fed moves slowly or not at all this year, so I don't see a ton of risk," Gutierrez said.
Fiat Chrysler Automobiles (NYSE:FCAU), which reported its best sales year since 2006, said its December sales rose 20% to 193,261 vehicles, led by Jeep and Ram.
The result missed some estimates for slightly better growth, sending shares 4.5% lower to $11.16 in recent trading. Edmunds.com was looking for Fiat Chrysler's December sales to increase 24.6%.
Fiat Chrysler, which officially combined Detroit's No. 3 automaker with its Italian parent last year, has gained U.S. market share amid quickly growing sales for its Jeep and Ram brands.
Jeep sales were up 19% in December versus the year-ago month, while 2014 saw a 41% jump for the SUV maker. Ram added 35% to its December sales. The truck brand's annual sales grew 28% amid strong demand for both pickups and vans.
Meanwhile, the namesake Chrysler brand closed 2014 with December sales that increased 53%, with the new 200 mid-size sedan accounting for more than half of the brand's monthly volume. Chrysler's full-year sales edged 2% higher.
Dodge booked 2% and 4% declines in December and 2014 sales, respectively. Demand for the Charger and Challenger slowed last year leading up to the launch of redesigned models.
Fiat sales were up 1% last month, and 2014 sales gained 7%. Alfa Romeo, which marked its return to the U.S. in 2014, sold 91 4C coupes.
"Last year marked our fifth-consecutive year of annual sales growth in the U.S., and once again, we were the fastest-growing automaker in the country," Reid Bigland, Fiat Chrysler's head of U.S. sales, said in a statement.
Fiat Chrysler's U.S. sales for the full year surged to 2.09 million units, a 16% increase compared to 2013.
Gutierrez noted how sales of larger, less fuel efficient vehicles have accelerated since gas prices began to slip nationwide, adding that trucks and SUVs "were doing quite well before prices dropped."
"Cars lost market share [in 2014], while we saw an increase in market share for nearly all utility segments as well as trucks," Gutierrez said. "In all likelihood, it seems gas prices will remain low in 2015. I think we'll continue to see consumers gravitate toward sport utilities, especially of the smaller variety, and trucks will continue to do well."
General Motors (NYSE:GM) widely beat expectations with December sales that accelerated 19% higher, citing demand for new pickup trucks and SUVs.
The nation's biggest seller of cars and trucks delivered 274,483 vehicles last month. That marked GM's best December in seven years. Five vehicles, including the GMC Sierra truck and Chevrolet Corvette, set new December records.
Kelley Blue Book and Edmunds forecasted sales growth of 6.9% and 14%, respectively. GM shares still dropped 2.1% to $34.11 during a broader market selloff Monday.
"Chevrolet was strong in every segment of the market, from pickups and SUVs to cars and crossovers. Buick and GMC also had strong sales across the board, and our growth far outpaced the industry average," said Kurt McNeil, U.S. vice president of sales operations at GM.
McNeil added that low interest rates, cheaper fuel prices and improved consumer sentiment helped the auto industry in December.
Cadillac was the lone GM brand to log fewer sales last month. Chevrolet sales rose 21%, GMC was up 23% and Buick led the way with sales growth of 32%. Cadillac, which lost momentum to its luxury competitors in 2014, saw its sales fall 11% in December.
The Sierra and Chevrolet Silverado full-size pickup trucks each posted sales growth of more than 30%. GMC and Chevrolet also benefited from the arrival of more mid-size trucks. The GMC Canyon and Chevrolet Colorado launched in the fall.
GM's redesigned SUVs also drove results. For one, sales of the Chevrolet Tahoe were up 30%.
Domestic sales in 2014 totaled approximately 2.94 million for GM, a 5.3% improvement over the prior year. Retail sales, which climbed 23% in December, were up 4.8% for the year.
Ford Motor Co. (NYSE:F) booked its highest December sales since 2005. The company reported a 1.2% improvement as Lincoln offset weak growth for the namesake Ford brand, which is transitioning to a new F-150 pickup truck.
F-series sales were down slightly last month, given limited availability of Ford's redesigned F-150. Ford has warned that its sales numbers would be under pressure until the 2015 F-150, which features a unique aluminum body, makes its way to dealers. The first F-150s were sold at the start of December.
Ford expects the truck to be in a "good stock position about mid-year," U.S. Sales Analyst Erich Merkle said during a conference call with Wall Street analysts.
Citing the F-150 buildup, Ford said sales were up just 0.4% for its flagship brand amid overall declines for cars and utilities. Lincoln continued to pick up momentum going into 2015. The luxury brand posted sales growth of 21%, mostly due to a bigger month for the Navigator SUV.
Ford's December sales fell short of expectations. Kelley Blue Book and Edmunds each anticipated that sales would grow nearly 4%. Total 2014 sales fell 0.5% to 2.48 million vehicles.
Shares dropped 3.9% to $14.76. Also on Monday, Citigroup analysts downgraded Ford to a "neutral" rating from "buy."
Honda (NYSE:HMC) said its December volume grew 1.5% to complete the automaker's second-best year in America. Annual sales increased 1% to 1,540,872 units.
Honda and Acura sold a combined 137,281 vehicles, below estimates, on demand for luxury cars and SUVs. The namesake brand saw flat sales compared to December 2013, although its trucks and SUVs had a stronger month.
The company's U.S. shares were down 2% at $29.
Fellow Japanese automaker Nissan booked record December and 2014 sales volume. Nissan sold 117,318 vehicles last month, up 6.9%, while full-year sales jumped 11% to nearly 1.39 million. The December results beat projections from Kelley Blue Book and Edmunds.
Nissan got a boost from the Rogue crossover, whose sales rose 1.4% in the final month.  The brand's December sales were up 9%. The company's luxury brand, Infiniti, registered a 9% drop in sales. Infiniti added 1% to its 2014 sales versus 2013.
Toyota (NYSE:TM) sales advanced 12.7% in December to 215,057 vehicles, beating Kelley Blue Book's call for 11% growth.
Shares of the company were trading 1.9% lower at $123.23.
For the year, the automaker sold 2.37 million vehicles in the U.S., a gain of 6.2%. Bill Fay, group vice president and general manager of the Toyota division, said the industry closed out the year on a high note due to a strong economic tailwind.
"That momentum should continue in 2015 and combined with continued strong replacement demand, boost sales further," Fay added.
Volkswagen and its Audi luxury division notched a 4.4% increase in December sales, reporting combined deliveries of 53,296 vehicles.
The flagship Volkswagen brand struggle in the early part of 2014, and it closed the year with flat sales for December. Audi sales rallied 13% to finish the brand's fifth consecutive year of record sales in the U.S.
Audi's 15% gain in annual sales wasn't enough to overcome a 10% drop in Volkswagen's 2014 total. Overall, deliveries fell 3% to 548,981 vehicles.
Hyundai and Kia each said December sales set new records for the Korean brands. Sales at Hyundai were up 2% at 64,507 vehicles. Kia reported a 36% increase in sales, delivering 45,587 units.
Combined, Hyundai and Kia sold 110,094 vehicles last month, up 13.9%. The results beat the most bullish estimate of 10% from Edmunds. The company ended 2014 with 1.3 million vehicles sold, reflecting 4% growth year-over-year.
Subaru said its yearly sales topped 500,000 units for the first time, with December sales climbing 24% to a new record.