Auto Sales Kick Off 2015 With Strong January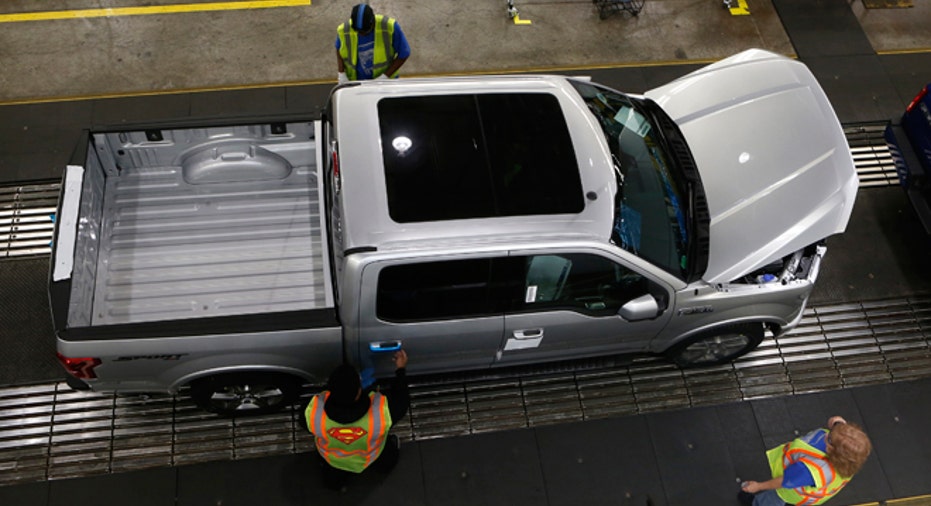 The auto industry kept up the pace in January as demand for trucks and sport-utility vehicles continued to lift sales.
Automakers seemed to carry momentum into a traditionally slow month for the industry. Sales in December were much stronger than anticipated, thanks in part to waning gasoline prices and holiday promotions, and annual sales reached their highest level since 2006.
Research firm Autodata said industry-wide sales hit a seasonally adjusted annual rate of 16.66 million vehicles in January, well above the sales pace of 15.29 million from a year earlier.
Sales are expected to post another year of growth, but at a slower rate, in 2015. Kelley Blue Book projects total U.S. sales of 16.9 million light vehicles, compared to 16.52 million last year.
January sales comparisons got some help from an especially tough month last year. Karl Brauer, senior director of insights at Kelley Blue Book, noted that sales in January 2014 were negatively impacted by snowstorms and the Polar Vortex.  But the latest numbers are still strong, he said. Several automakers reported all-time highs for January.
Fiat Chrysler Automobiles (NYSE:FCAU) kicked off the year with a 14% gain in January sales. The company's U.S. division said Tuesday it sold 145,007 vehicles, which marks the best January for FCA since 2007.
The results roughly matched estimates from Kelley Blue Book and Edmunds.com.
Chrysler, Jeep, Dodge, Ram Truck and Fiat each booked higher sales, while Jeep continued to lead the way with a 23% increase. Ram's sales were up 21% year-over-year. Its namesake pickup truck posted a 14% improvement, giving the truck its best January in 16 years.
The Chrysler 200 fueled an 11% increase in the brand's monthly volume. Dodge and Fiat deliveries edged 1% higher.
Total car sales outpaced trucks for FCA. Car volume expanded 17%, while truck sales rose 13%.
January had one extra selling day versus the year-ago month.
Also on Tuesday, FCA US—formerly known as Chrysler Group—revealed a fourth-quarter profit that was more than halved. The group's earnings fell to $669 million from $1.62 billion, although revenue increased 8.3% to $22.95 billion. FCA reported company-wide financial results last week.
FCA shares rallied 3% to $13.90 in recent trading.
General Motors (NYSE:GM), the top seller of cars and trucks in America, got a big boost from SUVs and pickup trucks. The Detroit-based manufacturer said dealers delivered 202,786 vehicles, up 18.3% over January 2014.
With gasoline prices close to $2 a gallon nationwide, demand for trucks and SUVs are getting an extra boost. Brauer said the industry was seeing underlying strength in those segments well before gas took a dive. A flurry of new models is stoking interest in pickup trucks, as well as fuel-efficient SUVs.
"There's a lot of activity on the product side for trucks," he added.
GM's pickup truck sales climbed 42%, including large pickups and GM's new mid-size trucks. Demand for SUVs and crossovers was also strong. Sales grew 36%.
GMC, the SUV and truck brand, was the best-performing brand for the month with sales that jumped 28.6%. Chevrolet's sales rose 20% amid big increases for the Silverado, Tahoe and Suburban.
Cadillac snapped a seven-month losing streak, logging sales growth of 2.6% thanks mostly to the Escalade SUV. Fellow luxury brand Buick saw its sales fall 5.5%.
GM noted that its average transaction prices in January increased $2,400 to $34,800 per vehicle, based on J.D. Power estimates.
Shares of GM, which is scheduled to release fourth-quarter earnings on Wednesday, were trading 2.9% higher at $34.06. January sales fell short of Kelley Blue Book's estimate but beat a 16.7% prediction from Edmunds.
Ford Motor Co. (NYSE:F) completed a solid month for Detroit's Big Three, booking a 15.3% gain on strong truck sales.
Kelley Blue Book was looking for a smaller increase of 12.1%. Ford shares were up 2.7% at $15.68.
The company delivered 178,351 vehicles for its best January since 2004. Truck sales were up 23%, while cars and utilities recorded sales growth of 6% and 10%, respectively.
Ford's yearly sales lagged behind the entire industry last year. The company had warned that results would be pressured until it completes the rollout of the redesigned 2015 F-150, which first arrived at dealers in December.
During a conference call with analysts on Tuesday, U.S. sales analyst Erich Merkle reiterated that F-series sales will be "tempered a bit" until Ford's Kansas City plant completes a transition to the new aluminum-bodied trucks.
Last month, total F-series sales rose 17%. Ford didn't break out sales of the new trucks versus outgoing 2014 models. The company said F-series trucks were the quickest-selling vehicles on dealer lots during the month.
"We know sales dropped [last year] because they were transitioning to the new F-series trucks," Brauer said. "Clearly, market conditions are very supportive for truck sales. It should be a very upbeat year for Ford. That vehicle is so critical for them."
Ford also introduced a new version of the Mustang last year, and the muscle car's sales more than doubled in January.
The namesake brand saw its sales expand 15.5% compared to a year earlier. Lincoln's sales were up 10.8% with the addition of the new MKC crossover.
Toyota (NYSE:TM) reported 169,194 units sold in January, good for a better-than-expected 15.6% increase.
The Japanese automaker said its trucks and SUVs set a new January sales record amid better results for the Highlander, 4Runner and RAV4. January also marked the best month ever for luxury brand Lexus.
Shares were trading 16 cents lower, or 0.1%, at $130.93.
Rival Honda (NYSE:HMC) also revealed a new company record with total January sales of 102,184 vehicles, an 11.5% improvement.
The flagship brand capitalized on the hot utilities segment, as truck sales surged about 28%. Honda's results were also buoyed by Acura, whose sales rose 10.7%.
Honda's overall performance missed some estimates, sending shares down 1.4% to $31.15.
Nissan beat Honda with sales that raced 15.1% higher to 104,107 vehicles, a January record for the automaker.
The Infiniti luxury brand was up 7%, while Nissan's Sentra and Rogue had strong showings. The company said it plans to continue expanding its U.S. footprint, citing a redesign of the Titan pickup truck and a new Maxima sedan that appeared in a Super Bowl ad.
Kelley Blue Book expected Nissan to report weaker sales growth of 8.3%. Edmunds was looking for 11% growth.
Volkswagen, including premium brand Audi, delivered 35,045 vehicles in the U.S. Volkswagen's sales were flat, while Audi booked its 49th consecutive monthly record as sales rose 14%.
The group's 4.3% increase in January sales missed Edmunds' estimate of 12%.
Hyundai and Kia combined to sell 82,804 vehicles, a 2.2% increase year-over-year. Kelley Blue Book and Edmunds forecasted higher sales of 8.6% and 10.7%, respectively.
Both brands said they generated record January sales. Hyundai benefited from more demand for the Sonata and Genesis sedans. Kia's sales, which outpaced Hyundai with 3.5% growth, were driven by the Sorento SUV and Forte compact car.
According to Brauer, auto sales are getting support from growing consumer confidence, easier access to credit and aging cars on the road. January results likely got some help from fleet sales as well, since many businesses purchase vehicles at the start of the year.
"There's probably a certain amount of fleet turnover going on because we're in a new year with new budgets," Brauer explained. "There's a lot of pent-up demand. Businesses still have old vehicles."