Auto Industry Shrugs Off Late Labor Day, Tops August Sales Views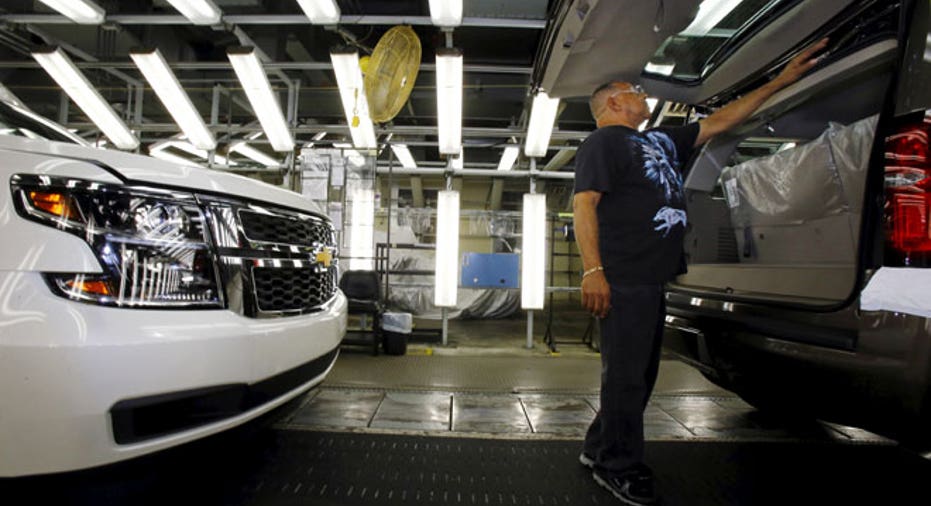 U.S. auto sales bucked expectations for a downbeat August, overcoming a late Labor Day with the help of unrelenting demand for sport-utility vehicles.
Labor Day promotions contributed to big August gains last year, when the holiday landed on Sept. 1. This year, automakers did not have the benefit of Labor Day in August since it falls on Sept. 7, and the month included one less selling day overall. The calendar quirk led analysts to project weaker sales volume across the industry.
But automakers achieved a faster sales pace than previously anticipated. According to research firm Autodata, August sales hit a seasonally adjusted annual rate of 17.81 million vehicles, well ahead of most estimates and the strongest result since July 2005.
"It was business as usual for the most part," Kelley Blue Book analyst Akshay Anand said. "We expected some slowdown because of Labor Day and the stock market. But it seems like consumers brushed the stock market woes aside."
Anand added that underlying economic factors, such as cheaper gas prices and low interest rates, were unchanged.
SUVs Moving Fast
Fiat Chrysler Automobiles (NYSE:FCAU), whose sales streak was thought to be in jeopardy because of the tough year-over-year comparison, still reported its 65th consecutive month of growth. The company's August sales ticked 1.7% higher versus Kelley Blue Book's call for a 3.2% decline.
Jeep continued to lift FCA as the SUV brand sold 18% more vehicles compared to August 2014. Sales were buoyed by the Renegade small SUV, a new addition to Jeep's lineup. Meanwhile, Ram trucks and vans were up 6%.
Other FCA brands did not fare as well. Chrysler and Dodge recorded fewer sales, while Fiat rose 1%.
FCA said the month was its best August since 2002. The Italian-American automaker delivered a total of 201,672 vehicles.
Ford Motor Co. (NYSE:F) rode a 12-year high for its SUVs to book a 5.4% increase in August sales, topping estimates with 234,237 vehicles sold.
The most important development for the Blue Oval was a 4.7% improvement in F-Series deliveries. After redesigning the 2015 F-150, Ford has been stuck in a period of limited supply. Ford cautioned that it would not reach what it considers a full level of inventory until late in the third quarter.
New F-150 Gaining Traction
"Improved availability helped make August the strongest sales month this year for F-Series," Mark LaNeve, vice president of U.S. marketing, sales and service at Ford, said in a statement.
According to Ford, F-Series pickup trucks reached their highest August sales since 2006. Ford does not break out sales results for the F-150.
Demand for the new Ford Edge led all Ford-branded SUVs, with sales up 36%. Ford and Lincoln utilities combined for a 12.3% increase in volume, and truck sales jumped 11.3%. That offset a 7% decline for cars.
The Ford brand was up 5.4%. Lincoln lifted sales by 6%. The company's overall gain beat Kelley Blue Book's estimate of 0.3% growth.
General Motors' (NYSE:GM) August sales were mostly flat, dropping 0.7% to 270,480 units, even though fleet sales pulled back 24%.
Kelley Blue Book was looking for a steeper monthly sales loss of 5.3%.
GM noted that retail deliveries, or sales made by dealers to consumers, climbed 6% year-over-year, which is the largest retail sales increase among all automakers in August according to J.D. Power. GM's retail market share added one percentage point compared to the year-ago month.
Truck demand continued to accelerate for GM, while Chevrolet crossovers set their best August ever.
GM Winning Truck Battle?
Chevrolet Silverado pickups jumped 11.7% last month. Their luxury sibling, the GMC Sierra, generated 7% of sales growth. As a result, GM trucks remain ahead of Ford's best-selling F-Series. The Silverado and Sierra have combined to sell 529,078 trucks through the first eight months of 2015. Ford has sold 494,800 F-Series trucks.
"In the near term, Ford's loss was everyone else's gain," Anand said. "I think GM has done some really creative marketing recently, and we know there are consumers out there that prefer steel to aluminum."
GM's midsize trucks, the Chevrolet Colorado and GMC Canyon, are also hot sellers. Combined with the smaller pickups, Chevrolet's truck growth came in at 26%. Deliveries of GMC's trucks surged 21%.
The company recently unveiled a refreshed look for the 2016 Silverado, due out in the fall, in hopes of maintaining its sales momentum.
It was a mixed month for GM brands overall. GMC was up 3.5%, and Buick sales advanced a modest 0.6%. On the negative side, Cadillac sales fell 5.5%, and Chevrolet—by far GM's largest brand—slipped 1.5%.
Hyundai, Kia Set Records
Import brands also stayed ahead of analysts' projections.
Toyota (NYSE:TM) said its August sales volume narrowed 8.8%, while Kelley Blue Book estimated a 10.2% fall. Rival Honda (NYSE:HMC) reported a sales decline of 6.9%, also better than expected, although truck and SUV sales were on the rise.
Sales at Nissan dropped 0.8%. A 16% surge for Infiniti partially offset declines for the namesake brand.
Audi logged its 56th consecutive monthly sales record in the U.S., rising 9.9% in August. But Volkswagen shipped 8.1% fewer units.
Hyundai had a very strong month. With 2.9% growth, the Korean brand said August was its best sales month ever. Meanwhile, Kia set an August record thanks to 7.7% sales growth.