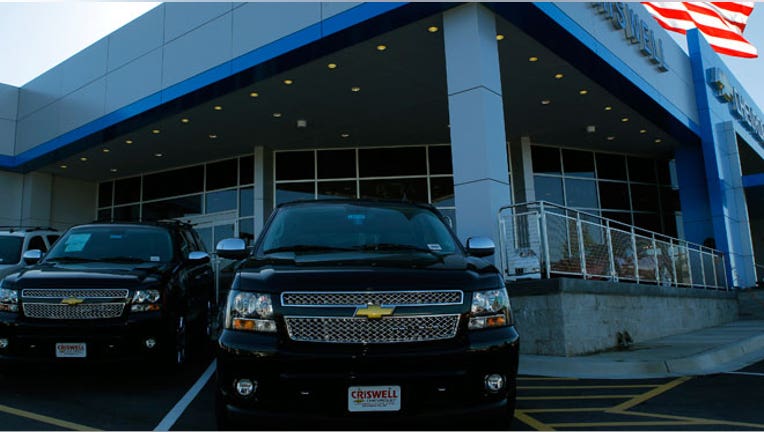 General Motors (NYSE:GM) logged a 6% decline in its third-quarter profit, as one-time costs overshadowed revenue growth.
The automaker beat Wall Street's earnings expectations, and GM shares raced 3.4% higher to $37.28 in pre-market trading Wednesday.
GM's profit was $1.72 billion compared to $1.83 billion in the same period a year earlier. After the payout of preferred dividends, net income attributable to common shareholders fell to $757 million, or 45 cents a share, from $1.48 billion, or 89 cents a share.
GM recorded an $800 million charge from repurchasing 120 million preferred shares owned by a United Auto Workers retiree healthcare trust. Excluding that charge and other costs, the company earned 96 cents a share to beat estimates of 94 cents.
Revenue rose 3.7% to $39 billion, below estimates of $39.49 billion.
Domestic auto sales across the industry have been on a tear, lifting GM and other car makers. Ford (NYSE:F) and Chrysler, which reported on Wednesday a 22% increase in its quarterly profit, bucked an industry-wide trend in September with higher sales. Most automakers saw declines since Labor Day Sales were included in August results.
GM's operating profit in North America rose to $2.19 billion, coinciding with the introduction of new models like the 2014 Chevrolet Silverado and GMC Sierra pickup trucks. Pickup trucks are typically the most profitable vehicles for GM, the largest U.S. car company, and its rivals in the segment.
CEO Dan Akerson noted how GM made gains in the third quarter as North American margins improved. The company's market share did decline in the U.S., from 17.6% to 17.3% a year ago. Total market share worldwide ticked up to 11.7% from 11.6%.
Ford remained ahead of GM with North American pretax profits of $2.3 billion, level with the year-ago period. The No. 2 U.S. automaker has benefited from sales of F-series pickups.
Like Ford, GM continued to narrow its losses in Europe. The company posted a loss of $214 million, well below the $487 million loss reported last year. GM saw revenue growth in the region for the first time in two years, as revenue rose to $4.85 billion $4.7 billion.
Operating profit at GM's international operations fell to $299 million from $761 million.