August Auto Sales Race Past Views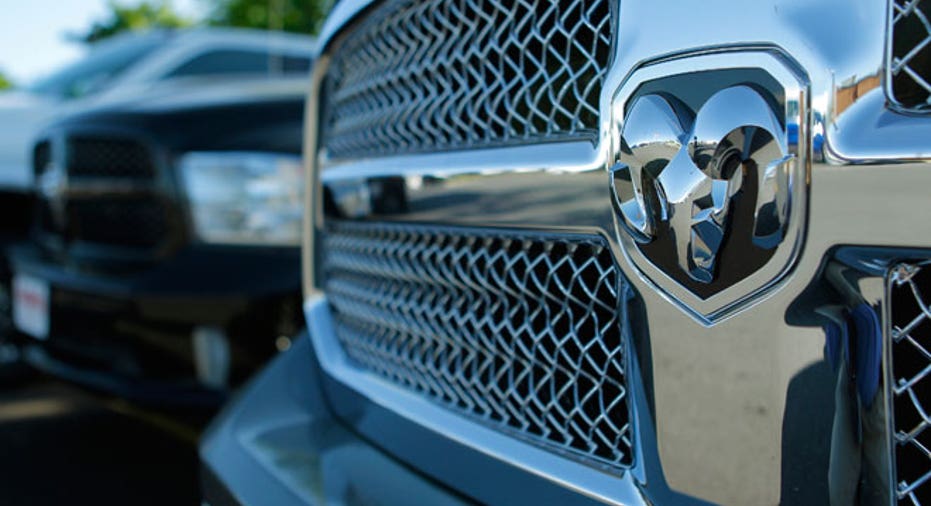 Automakers broadly topped expectations for August sales, raising expectations for a strong finish to the year.
Sales of new vehicles in the U.S.—fueled by low interest rates and a rebound in construction activity—have been a bright spot for the economy. The industry quickly got back into gear after a calmer July, even as analysts braced for another slowdown.
Kelley Blue Book and Edmunds.com provided forecasts that called for sales declines at most major automakers, including General Motors (NYSE:GM) and Ford Motor Co. (NYSE:F). August included the Labor Day holiday weekend but still had one less selling day compared to the year-ago month.
But Autodata said the seasonally adjusted annual rate for August checked in at 17.53 million units, well ahead of the 15.9 million a year earlier and 16.5 million in July. Total industry deliveries climbed 5.5% to 1.58 million vehicles.
TrueCar (NASDAQ:TRUE) president John Krafcik said the car-buying platform saw record traffic around Labor Day, an indication that retail sales picked up in the month's final days.
"August is about as good as it gets," Krafcik added, noting how the sales month had five weekends plus a holiday. "It's going to be a great year for the industry, and we think the trend will hold."
TrueCar believes industry-wide sales volume will increase by 100,000 to 200,000 units each of the next two years.
Jeep and Ram continued to buoy Chrysler, which booked a 20% increase in sales last month. Chrysler said Wednesday it sold 198,379 vehicles, its highest August total in 12 years.
An estimate from Kelley Blue Book called for Chrysler to report a sales gain of 11.1%. Edmunds expected an increase of 15.1%.
The addition of the Jeep Cherokee has helped the brand post strong growth since its release less than a year ago. August was the best month for the Cherokee to date, with sales reaching 18,674 units. The Patriot and Wrangler both scored double-digit gains.
Ram pickup trucks maintained their momentum. Sales were up 33% at 43,775 vehicles.
Sales at Dodge and Fiat were down year-over-year. Despite higher sales of the Dart compact car and Charger full-size sedan, Dodge's total sales dropped 6%. Fiat recorded a 20% decline.
Chrysler said its namesake brand's sales jumped 4% thanks to healthier demand for the 200 mid-size sedan and Town & Country minivan. After a slow start, the new Chrysler 200 saw sales of 10,810, up 39% compared to July.
Chrysler is nearing the completion of a merger with Fiat, creating Fiat Chrysler Automobiles. According to a statement released last month, Fiat expects to remain below a threshold that caps the number of shareholders who can exercise an option to sell their shares. Chief executive Sergio Marchionne said FCA could make its debut on the New York Stock Exchange around Oct. 13.
GM deliveries slipped 1.2% year-over-year to 272,423 vehicles amid a significant drop for premium sedans.
The results still beat expectations for a slightly sharper pullback. However, shares of GM fell 20 cents to $34.60 in recent trading.
Sales at Cadillac fell 17.8%, mostly due to weaker results for the ATS, CTS and XTS cars. Buick logged 10.2% fewer sales.
Truck sales lifted Chevrolet and GMC. Chevrolet's total deliveries retreated 1%, although the Silverado pickup truck climbed 12.8%. The GMC Sierra pickup jumped 10.2% to help the brand post an August sales gain of 10.4%.
Chevrolet's redesigned Suburban surged 43.6%, and the smaller Tahoe was up 20.5%. The Traverse sport-utility vehicle also improved.
Manufacturers are focusing incentives on car segments in an effort to fuel demand, Krafcik said. Sales of trucks and SUVs have dominated monthly reports this year. In fact, U.S. retail registrations of SUVs and crossovers recently surpassed sedans for the first time, according to IHS Automotive.
"From an OEM standpoint, it's still a tale of two industries," Krafcik explained, using the discrepancy between Chrysler's car and utilities volume as an example. "Chrysler's probably been the most adept at embracing the shift to trucks and crossover vehicles."
GM is slated to launch the new Chevrolet Colorado and GMC Canyon in the fall, marking the company's return to the mid-size pickup segment. GM has received nearly 28,000 orders for the Colorado so far, in addition to 14,000 for the Canyon.
Kurt McNeil, GM's U.S. vice president of sales operations, said the nation's top automaker by sales expects a strong fall selling season ahead for GM and the entire industry.
"Car-buying fundamentals like employment and energy prices are in good shape, consumer confidence has reached a post-recession high and business investment is increasing," McNeil added in a statement.
GM, which has suffered from a spate of recalls this year, is calling for total sales to finish the year near the high-end of its outlook provided in January. At the time, GM forecasted annual sales of 16 million to 16.5 million units.
The recalls, including ignition-switch defects connected to at least 16 deaths, have led to $2.5 billion in charges to cover repair costs.
GM's August fleet sales rose 9%. Retail deliveries, or dealer sales to individual consumers, fell 4%.
Citing J.D. Power estimates, GM also said its incentive spending as a percentage of average transaction prices was 10.4%, the lowest of all domestic automakers.
Krafcik said the industry has done a good job keeping incentives in check. While incentive spending has ticked higher, transaction prices are also up and demand for utilities, which generate better profit margins than cars, shows no signs of abating.
Ford sold 222,174 vehicles to book a modest increase of 0.4% in a month that marked solid demand for the outgoing 2014 F-150 pickup truck.
Kelley Blue Book and Edmunds were looking for Ford to a report a roughly 1% drop in August sales. Ford shares moved six cents lower to $17.55.
The No. 2 U.S. automaker is retooling factories to build the aluminum-bodied F-150, which will hit showrooms later this year for model-year 2015. Ford said it would stockpile the current model to keep dealer lots stocked as much as possible until the new truck is ready.
Ford said it delivered 68,109 F-series trucks in the latest month. That's the sixth consecutive month of more than 60,000 units sold. Krafcik believes Ford could have sold an additional 10,000 trucks under normal conditions for truck supplies and incentive spending.
"Ford had one hand tied behind its back," he said.
The Fusion mid-size sedan and Escape SUV each set August sales records, and Ford expects the Fusion to top 200,000 in annual sales for the first time. Sales of the redesigned Explorer SUV surged 25.4%. Overall, the Ford brand edged 0.4% higher.
Lincoln sales were down 0.6%. Weak car sales overshadowed a positive month for utilities with the addition of the Lincoln MKC. Ford said dealers are nearing full stock of the small premium utility, which coincides with a new advertising campaign.
Erich Merkle, U.S. sales analyst at Ford, said the automaker expects industry demand to remain strong through the end of year before tempering a bit in 2015.
Krafcik suggested the rebound in leasing is one reason for the industry to be optimistic.
"Leasing is higher than it has been in the place. This is a good thing for manufacturers because more consumers will be coming back on a shorter replacement cycle," Krafcik said.
Nissan Motor widely beat estimates when it reported sales of 134,388 cars and trucks, a gain of 11.5%. The Japanese automaker said it was the company's best August ever.
Nissan's new Rogue SUV had the best month, as sales increased 21%. A 15.3% gain for the Nissan brand offset a sales decline of 22.9% for luxury brand Infiniti.
Volkswagen Group recorded U.S. sales of 52,282 vehicles, including Audi. The 3.8% drop year-over-year was driven by continued weakness at Volkswagen, whose sales fell 12.8%. Edmunds projected an 8.5% decrease in combined sales.
Audi said its August sales marked its best month ever in the U.S. The luxury brand sold 17,101 vehicles, up 22.1%. Audi's sales are up 14.5% through the first eight months of the year.
Toyota (NYSE:TM) also stayed ahead of expectations with August sales of 246,100 units, beating Ford for the second consecutive month. Toyota, the world's top seller of cars and trucks last year, said the numbers were up 6.3% year-over-year, while analysts at Kelley Blue Book expected a loss of 4.6%.
Shares of Toyota were trading 19 cents lower at $116.01.
Honda Motor (NYSE:HMC) reported a surprise gain, sending shares up 18 cents to $33.95. The company sold 167,038 Honda and Acura vehicles, or 0.4% more than August 2013.
Honda said monthly sales have topped 150,000 units only twice before. The namesake brand's Accord and other cars drove demand, while SUV and truck sales struggled. Overall, Honda was up 1.5%. The Acura division booked a sales decline of 9.2%.
Hyundai and Kia reported combined sales that grew 5.5% to 124,670 vehicles, as both brands delivered a higher number of SUVs. Kia sales jumped 5.1%, largely due to better sales for the Soul and Sportage. Big gains for the Sonata and Tucson helped Hyundai boost deliveries by 6%.
"Sales continued to gain momentum as the month progressed and we finished the Labor Day holiday weekend strong," said Bob Pradzinski, Hyundai's vice president of national sales.