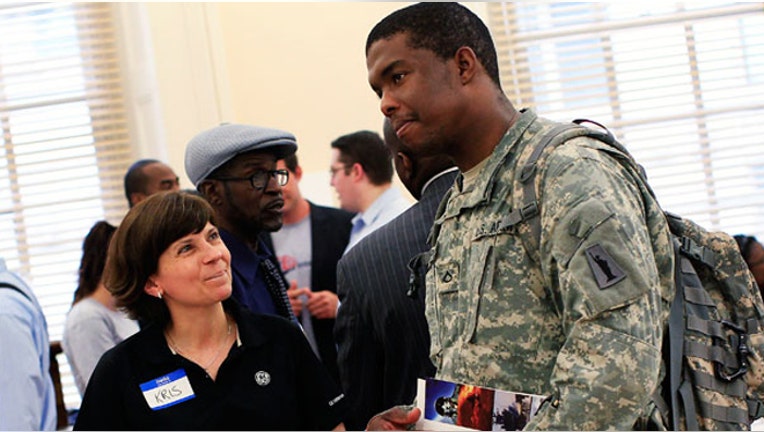 A recent government audit of a veteran job training program revealed more than half of its 99,000 available slots are unused. With the U.S. veteran unemployment rate hovering around 9.9% in March, according to the Labor Department,  some are questioning why vets aren't taking advantage of the program and if they are aware it exists.
The government-sponsored Veterans Retraining Assistance Program (VRAP) is available to veterans aged 35-to-60, and covers up to one year of payments or benefits with a monthly $1,564 stipend for enrollees, according to Curtis Coy, deputy under secretary for Economic Opportunity at the Department of Veterans Affairs.
As of press time, Coy says the VA had 113,000 applicants with more than 97,000 approved to leverage the programs' benefits, but only 43,000 have enrolled. After a vet is approved to proceed, the VA sends reminders to enroll in the program and leverage the tuition benefits, which apply to a list of 209 high-demand occupations. If they do not plan to leverage the benefits, the agency encourages them to withdraw to leave space for others.
"This is a 12-month program that we are not yet 12 months into," Coy says. "We have seen the enrolled numbers steadily climb and there is a difference between those who have been approved versus those who are actually enrolled."
Coy says the program targets a "sweet spot" for unemployed vets in that age group, and those who are receiving other benefits for education under the G.I. Bill are not eligible for VRAP.
In 2012, the Bureau of Labor Statistics reported 773,000 unemployed veterans, down from 945,000 in 2011. For veterans ages 25-to-34, the unemployment rate is 10.6%, compared to the non-veteran unemployment rate of 8.2% in 2012. Veterans under 24-years-old are unemployed at an even greater rate of 20.4%, compared to the non-veteran rate of same-aged-people of 15.0%. About 200,000 of these unemployed veterans in 2012 are post 9/11 vets.
Kevin Schmiegel, executive director of Hiring Our Heroes at the U.S. Chamber of Commerce Foundation, says the decisions many veterans make after coming home impact their hiring chances.
"When I would ask [veterans] what they would do next, many said they'd go home and find work when they got there," he says. "They would make a decision of the heart, and 80% of military families go back to their hometowns, or stay in and around military installations. They're [in] rural areas, so it could be as simple as them registering [for the program] but being in a community with no jobs." Schmiegel is a retired Marine Corps Lieutenant Colonel with 20 years of service, and has since worked with Hiring our Heroes on closing this unemployment gap.
What's more, Schmiegel says, 70% of vets are not willing to relocate for work.
The Hiring our Heroes program has a new tool at ResumeEngine.org to help veterans fine-tune their resumes to better showcase their skills and increase their hiring opportunities.
"It's not just about programs that train, but also about [veterans] making informed decisions," he says. "Most of the folks that are struggling went to high school and volunteered for the armed services. They are 24-years-old and under. After you give them the tools, it's up to them, but I don't think they have all of those tools."
Coy says the program will continue to take applicants until Oct. 1, and will continue to pay out benefits until March 2014, unless Congress extends the program further. For more information visit www.va.gov.